Beechwood dominates Russellville, plays for state final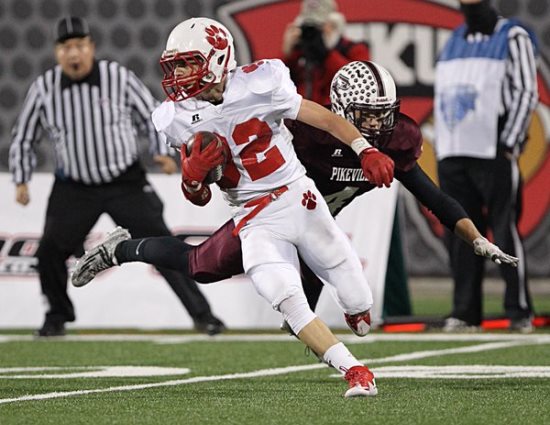 Ft. Mitchell, KY – The Beechwood Tigers knocked off the Russellville Panthers with an impressive 35-0 win on Friday night at Edgar McNabb Field to advance to the state finals.
Beechwood (13-1) held a 14-0 lead at the half and then really distanced themselves with a 90 yard kickoff return for a touchdown by junior James Davis to open the second half and seize total control of the momentum.
"It was enormous it deflated them a little bit, we thought we could win the special teams battle and I told the kids I thought we were 14 points better there." said Beechwood head coach Noel Rash.
The Tigers were also exceptional on defense holding Russellville (12-2), who came into the game averaging 312 rushing yards, to just 134 yards on the ground.
The Panthers opened the game with a 66 yard drive, all rushing yards, that stalled on the Beechwood 13 yard line and from there the Tigers only allowed 106 more yards of offense and just 68 rushing yards once they got settled into the big game environment.
"We didn't really have any adjustments, as a team we just came together and figured it out and got it done." said senior fullback and linebacker Trevor Soward.
While Russellville was unable to move the ball on the ground the remainder of the game Beechwood relied on their running game to secure the victory.
Senior running back Aiden Justice led the Tigers with 63 yards on 15 carries and an additional 18 yards on two catches and he scored a touchdown rushing and receiving.
On Justice's two scores he finished each play by plowing over a defender at the goal line, bringing his season count to 26 total touchdowns.
"Once I get to the goal line I don't think anything is stopping me because I want to get in there and win." said Justice.
It did take a big pass and run to get the Tigers going however as they opened the scoring in the second quarter with a 61 yard catch and run by junior wide receiver Daniel Mescher on a short pass from junior quarterback Brayden Burch.
Considering each team had only lost one game apiece this season to much larger schools such a decisive win was a bit of a surprise to many but it wasn't a shock to Coach Rash.
"I'm not sitting here surprised, our kids can perform that well and they've pretty much done it all year, it's a tribute to out kids." said Rash.
For the second season in a row Russellville's year ends in defeat to Beechwood in the round of four and they now turn their attention to 2017.
Beechwood returns to the Russell Athletic/KHSAA Commonwealth Gridiron Bowl finals for the second straight year and looks to win their first state title since 2008 when they take on Hazard (12-2) next weekend at Houchens/L.T. Smith stadium on the campus of Western Kentucky.
The only common opponent from this year for the two teams is Somerset who Beechwood knocked off 29-7 at home while Hazard lost to them at Somerset 33-15.