Sammons settles in at CHCA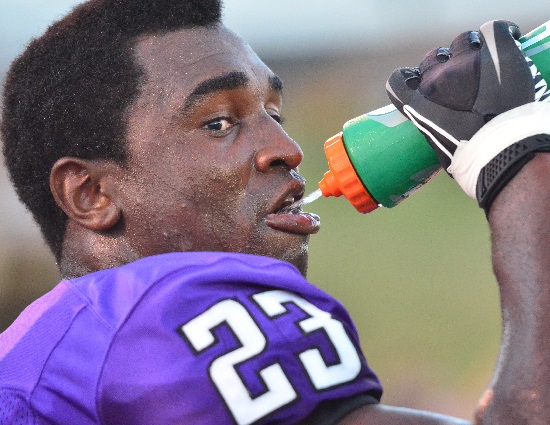 The road to football stardom is only just beginning but it has been a long strange, trip so far for CHCA defensive end Prince Sammons. At 6-foot-7 and 262 pounds with the speed of a gazelle Sammons is a gift from the football gods, but there is more to this young man than just his freakish physical tools.
Sammons just finished his first year of organized football and it was a huge success for the youngster as CHCA went 11-1 in 2013. As a sophomore he was in on more than 70 tackles and recorded 7.0 sacks for the Eagles. Sammons also earned his first four scholarship offers as well from Cincinnati, Akron Duke and Illinois.
This is a story of perseverance that hasn't come without sacrifice and tears along this journey. A native of Nigeria, Prince found his way to the states as an orphan after his parents were both killed back in his homeland. An AAU basketball coach from Wisconsin noticed his skills on the basketball court and brought him back across the Atlantic Ocean to capitalize on those talents. With only some loose change in his pocket and a shoulder bag with some clothes he made his journey to the states. Wisconsin would turn out not to be the "American dream' that was sold to Prince.
Sammons is Prince's adopted name. He took it after CHCA assistant coach, Brandon Sammons, and his wife, Betsy, heard about an African orphan living in Wisconsin who was in need of adoption. The couple agreed that taking in Prince was the right thing to do. Brandon drove to downtown Cincinnati to the Greyhound bus station and picked up Prince, sight unseen. Having never met, neither party knew what they were getting themselves into.
Paperwork problems in the adoption process caused its own set of headaches for the Sammons and Prince, but finally the young man was able to have a family to call his own and he has embraced it thoroughly and been very thankful for it.
Ask any student, coach or parent who is associated with CHCA about Sammons and their faces automatically light up. He has an infectious personality that people of all ages are drawn to. Prince is naively honest with a youthful exuberance that if you could bottle and sell it, it would make you a millionaire overnight. More importantly, it would make the world a better place almost instantly.
Despite all he has been through Prince has every right to be a guarded individual yet he embraces everything that comes his way, soaking up each moment like a sponge and everyone in his path is absorbed in it.
CHCA head coach Eric Taylor finally persuaded Prince to go out for football after his freshman year of school. He told Prince to think of playing football as insurance policy to fall back on in case he wasn't able to get to college on a basketball scholarship.
"Invest a few months each year and watch you hard work payoff, build upon it and you might just find a way to get the money (scholarship) you need to continue your education by playing football," Taylor told Sammons.
Prince has wasted little time taking advantage of the doors football began opening for him. He heads into his junior year with those four offers and more to come from prominent schools. With two more years left.
FINAL TAKE: On the field the sky is the limit for Sammons. The most exciting thing about next fall will be seeing what strides he has made in understanding the game. When his instincts take over for his thinking about where he has to be on each play – watch out! The day that happens will be the day he sets himself apart from his peers and becomes "elite" at each level he plays at. Being the best at all levels isn't far-fetched Sammons has an inner-drive to propel his motivation and that make him special.
Off the field, Sammons is a young man who has taught everyone around him that there is something special about life and how to live it. His becoming this great star of the future on the gridiron which appears to be his destiny doesn't matter to those who know him. It's the impact that Prince has made on them off the field that they will cherish forever. If his life were based solely on character Sammons would already be in the Hall of Fame.