Hornung racks up receptions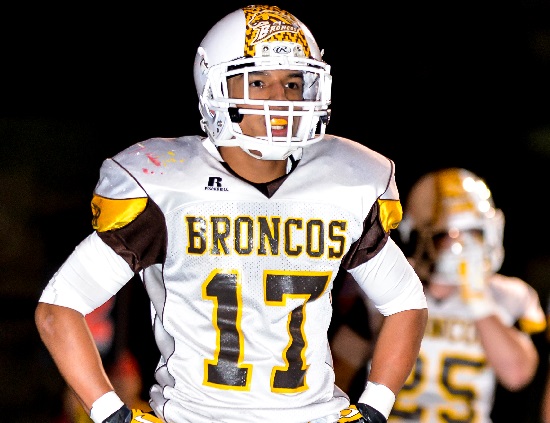 The Western Brown offense was built for a player like Eean Hornung. Over the last three years Hornung has thrived in the Broncos spread attack under former head coach, Evan Dreyer. This fall Hornung will be playing for Don Sizer who has built his reputation by running the football. Don't be surprised if Hornung has more yards rushing than receiving.
Here is a look at Hornung and his impressive career: By The Numbers.
1 – Kickoff return touchdown in his career
2 – Receiving touchdowns as a freshman
2 – Games with 100 yards or more rushing in his career
2 – Consecutive season with 70 or more receptions
3 – Rushing touchdowns as a sophomore
5 – Rushing touchdowns in his career
8 – Receiving touchdowns as a sophomore
9 – Games with two touchdowns in his career
11 – Games with 100 yards or more receiving in his career
12 – Total touchdowns as a sophomore
13 – Receiving touchdowns as a junior
13 – Most receptions in a game (done four times)
13 – Games with seven or more receptions in his career
14 – Total touchdowns as a junior
23 – Receiving touchdowns in his career
29 – Total touchdowns in his career
30 – Consecutive games with at least one reception
39 – Receptions as a freshman
71 – Receptions as a junior
75 – Receptions as a sophomore
127 – Yards rushing as a junior
129 – Yards rushing as a freshman
146 – Most yards rushing in a game (vs. Amelia 10/18/13)
155 – Kickoff return yards as a sophomore
174 – Kickoff return yards as a junior
185 – Receptions in his career
223 – Most yards receiving in a game (vs. Batavia 10/25/13)
310 – Yards rushing as a sophomore
329 – Kickoff return yards in his career
508 – Receiving yards as a freshman
566 – Yards rushing in his career
637 – All-purpose yards as a freshman
1,044 – Yards receiving as a junior
1,227 – Yards receiving as a sophomore
1,335 – All-purpose yards as a junior
1,632 – All-purpose yards as a sophomore
2,779 – Yards receiving in his career
3,604 – All-purpose yards in his career