Junior quarterbacks will have impact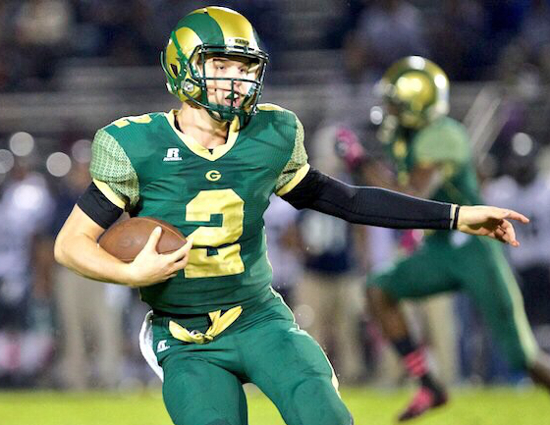 Bishop Gorman (Las Vegas, NV) will be a rankings focal point for the entirety of the upcoming high school football season.
The team got an early nod with placement atop the Pre-Preseason Top 25 Watch List after finishing No. 2 in the HSFB100 last year and claiming the Media Compilation title.
Much of the attention will be due to junior quarterback Tate Martell. Martell transferred from Poway (CA) last year and earned the Gatorade Player of the Year title in Nevada as a sophomore leading the team to the top of the rankings.
He is one of several junior quarterbacks that came into focus as NationalHSFootball.com began to dig into teams around the country for the upcoming season. While there are plenty of talent players those listed belong to squads that will have a hand in shaping the HSFB100.
The series began with five fresh faces in New Jersey and moved to transfers around the country. We also took a look at senior players that will need to rise to the occasion by matching the hype or simply staying healthy.
Martell has already been tabbed by coach Kenny Sanchez as a pivotal player on the Gaels roster.
"He is going to have to be a senior this year because the skill players are going to be young and Tate won't be able to rely on others to provide the leadership," Sanchez said. "Last year he was able to learn on the fly because of what was around him but now it will be his team and people will be looking at him first.
"There is no question in my mind if he can handle it, because he can. Tate is a great kid, he has a 3.5 GPA, and he works really hard but he is going to have to step up this year and be even better than he was last season for us to achieve our ultimate goal."
The step-it-up theme carries over to these Class of 2017 signal-callers.
PLAYER

SCHOOL (CITY, ST)

EXPECTATION BAR SET…

Chase Brice

Grayson (Loganville, GA)

Very high. 11+ wins.

Brice got onto the field as a freshman and closed out a rebuilding season for Grayson two years ago with a 3-3 record. His 477 yards passing, six scores and two interceptions left enough of an impression that the coaches made him the starter going into his sophomore campaign. In 2014 he guided the Rams into the playoffs and the HSFB100 by completing over 60-percent of his passes and tossing 20 touchdowns — forcing a staff that prefers to play with a ground-and-pound attack to open the offense. With a strong arm and another year under his belt the program expects to continue to play deep into the playoffs with Brice leading the way. The 6-foot-3, 195-pound, pro-style passer has shown well so far in the spring evaluation period and with more reps in 7on7 it will only help him develop timing with his receiving corps.

Sean Clifford

St. Xavier (Cincinnati, OH)

Up a notch. 10+ wins.

The GCL brings back a lot of talented players this year but junior passer Sean Clifford could be the one with the most pressure under center. The 6-foot-4, 205-pound prospect performed well last year for the Bombers — throwing for 832 yards and nine touchdowns, he also piled up 314 on the ground with two additional scores — but is expected to guide the team deeper into the playoffs this season. St. Xavier is generally known for being a defensive-first program but with what is returning on the offensive side of the ball there may be a reasonable expectation that the team is a preseason Top 4 team within the Buckeye State. St. X finished ranked for only the second time in the last seven season in 2014 and many speculate that the program will battle, again, with Cincy La Salle for the top spot in the league. If it is going to come out of the GCL unblemished it will be because of the Clifford taking the next step.

Avery Davis

Cedar Hill (TX)

Can you see that high? 11+ wins.

Cedar Hill has played in the last three Texas state finals behind a group of seniors that entered unheralded and left unrivaled at the program. Davis got a sampling of what that was like when he stepped in as the quarterback in the title game last year, replacing LSU-bound Justin McMillan, and leading the team back from a deficit to win. Now the 5-foot-11, 188 pound, dual-threat player is not going to take anyone by surprise as they know what is coming. Davis has added size and accuracy this offseason to go with offers from Kansas, Oregon State, Texas Tech and Utah State but he will have to prove himself capable for more than two quarters to keep a program that has been inside the Top 25 of the HSFB100 for the last three years inside the lofty standings. He won't be alone as fellow junior Jaylon Jackson will likely emerge as a go-to receiver replacing do-everything DaMarkus Lodge.

Kasim Hill

Gilman (Baltimore, MD)

A jump can be made. 9 wins.

Hill came onto the scene prior to his freshman year when he was offered during the summer circuit by Syracuse. Since then he has added Michigan State and Boston College to his resume as a 6-foot-2, 220-pound prospect with obvious talent. Hill is a soft-spoken prospect that has received mixed reviews seemingly at every stop he makes in the spring and coming off a year where his time was limited as a back-up to Kai Locksley the expectations are still moderate. Gilman runs an antiquated offense that should feature the skillset that Hill possesses although he fancies himself a pro-style quarterback that can use his legs more than a true dual-threat player. Gilman went 8-3 last year and missed the HSFB100 but with St. Edward (Lakewood, OH), Paramus Catholic (NJ), Good Counsel (Olney, MD) and the 100th battle with McDonogh (Owings Mills, MD) on the slate there will be plenty of opportunity to shine.

Tyler Lytle

Servite (Anaheim, CA)

Winning record? 6 wins.

Lytle will be stepping in full-time to lead a Servite program that has been on the wrong side of the scoreboard far too often the last three seasons — albeit playing one of the most difficult schedules each of those years. The 6-foot-4, 190-pound, pocket passer has better feet than recruiting analysts give him credit for and has already landed an offer from Miami with several other colleges giving him serious looks. The Friars will be without receiver Osiris St. Brown this year and that will hurt as the schedule is loaded with Bishop Gorman, De La Salle, the Trinity League and a scrimmage with Long Beach Poly. Lytle has the expectation bar set incredibly high for himself and his teammates which is why he made the list. External pressure will never he higher than his own but from the outside looking in it will take a stellar season to get Servite back to the HSFB100 again. With Mater Dei, Santa Margarita, Orange Lutheran, and St. John Bosco to go with the aforementioned programs the opportunity to exceed expectations is very real.
JOIN THE HSFB100 DISCUSSION: Create a user name | Post on The Varsity Board