Top 10 Cincinnati Area Recruit List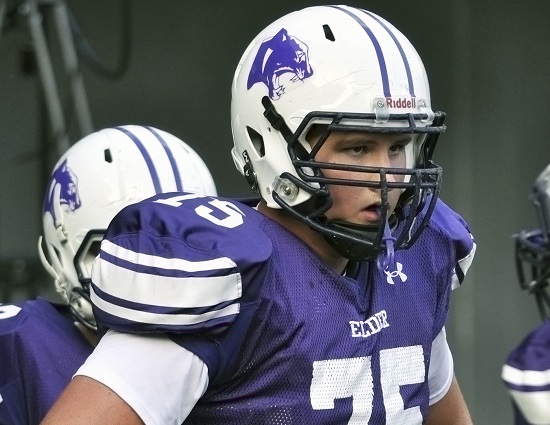 1) Tommy Kraemer, OL, SR, Elder – Committed to Notre Dame
Kraemer is considered the best player in the state in the 2016 class. He chose the Fighting Irish over the likes of Ohio State, Michigan, Penn State and Cincinnati. Last season, the 6-feet-5, 310 pound lineman was voted Division I All-Ohio, 1st Team All-SW District, and as a sophomore Kraemer was a First Team All-GCL South.
2) Jake Hausmann, TE, SR, Moeller – Committed to Ohio State
Hausmann made the choice to stay home and play for Ohio State after receiving 21 offers. The 6-feet-4, 228 pound tight end was second on the team with 598 receiving yards, and tied for first with five touchdowns. He was voted First Team Division I All-Ohio, and First Team All-SW District. Rivals.com ranks Hausmann as the second best player in the state. Currently Ohio State have the No. 1 2016 recruiting class.
3) Prince Sammons, DE, SR, CHCA – Undecided
There is a laundry list of schools that have either offered Sammons a scholarship or showed interest. The offers are from Ohio State, Michigan State, Oregon, Texas, Wisconsin and many more. Sammons is 6-feet-6, 260-pound strong-side defensive end has only played two seasons of football since coming to the United States from Nigeria. It only took his fourth game in sophomore season for him to receive a college offer.
4) Sean Clifford, QB, JR, St. Xavier – Committed to Penn State
According to St. Xavier coach Steve Specht, Clifford's heart is in Happy Valley. Clifford attended camp and fell in love with the school, and liked how the coaching staff showing interest in the junior quarterback. He is regarded as Ohio's best quarterback in the 2017 class.
5) Jerell White, RB, JR, La Salle – Undecided
White is ranked as a four-star, according to Rivals.com. He gained more than 1,500 yards and 20 touchdowns as a sophomore. He has already received offers from Cincinnati, Miami (OH), Illinois, Ohio and Toledo. Also on White's list is Ohio State, Michigan State, Louisville and Kentucky. White is actually expected to see more time on defense as an outside linebacker/strong safety to give him more options on the next level.
6) Jeremy Larkin, RB, SR, La Salle – Committed to Cincinnati
Larkin led the La Salle Lancers to a Division II state championship as a junior a year ago. Larkin rushed for over 2,500 yards and 38 touchdowns. That performance earned him a Division II Co-Player of the Year honors. Larkin decided on Cincinnati over Boston College, Wake Forest, and Northwestern. This season the Lancers are expected to be just as strong and one of the reasons is this man.
7) Sean Mahone, DB, SR, Lakota West – Undecided
Head north to West Chester and their lies the best defensive back in the Cincinnati area, According to Rivals.com Mahone is a three-star player that is ranked 50th in the country among defensive backs. Mahone is still undecided on his college choice, but strongly considering Purdue, Virginia and West Virginia.
8) Noah Davis, TE, SR, St. Xavier – Committed to Michigan State
According to Yahoo Rivals.com, Davis is the 38th best player in the state, but ranked 8th in the Cincinnati area. He joins the long list of future Spartans from the Cincinnati/Dayton areas. This 6-feet-5, 238 pound decided on Michigan State over Cincinnati, Kentucky and five Big Ten schools.
9) Thomas MacVittie, QB, Sr, Moeller – Committed to Pittsburgh
In his first three seasons with the Crusaders, MacVittie has been the backup to some good quarterbacks. Two years ago it was Gus Ragland, who is now at Miami University, and last season Matt Crable was atop the depth chart. MacVittie hasd only thrown nine passes on the varsity level, but that did not stop Pittsburgh from offering him a scholarship. Now 2015 is the year MacVittie takes over the reigns.
10) Matt Bockhorst, OL, Jr, St. Xavier – Undecided
This 6-feet-5, guard is a human wall on the o-line. He was a Second Team All-GCL as a sophomore. He is undecided on his college choice, but has offers from nine schools, including Cincinnati, Louisville, Michigan State and Penn State.