Top teams to be tested in openers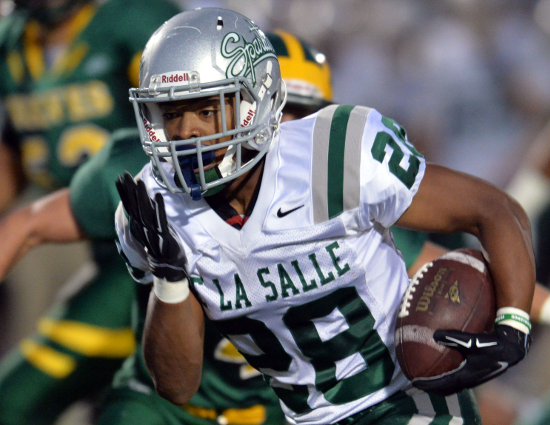 The opening week of high school football in Cincinnati has a playoff vibe to it. There are so many games that match favorites for 2015 postseason berths. It is the beauty of the non-conference schedule and those who fear no one on their roads to November. Grabbing a win to start the year is always a special thing but to get it against a quality opponent really builds confidence going forward. Here is a look at the Best Bets in Cincinnati for Week 1.
CINCINNATI
Lakota East @ Loveland – These two teams are fairly evenly matched. Both offenses are going to move the ball. This could actually be a contest where the crowd could play a major role. Loveland will have a definite home-field advantage. If the Tigers can have an effect on disrupting a "green" Lakota East defense it could really energize them. Milking the clock will be a must for the Thunderhawks' offense.
Centerville @ Fairfield at Lakota East HS – Visiting Centerville catches a break as improvements to Fairfield Stadium are behind schedule, forcing the game to be played at Lakota East. This is an audition for a Division I, Region 2 playoff berth. Offense should steal the show in this contest. Look for a high-scoring game. Centerville hasn't beaten team from the Greater Miami Conference since September 2010.
Mount Healthy @ Sycamore – The visiting Owls come into this affair having won 19 consecutive regular season games. A young Mount Healthy defense has a tough task trying to stop Sycamore's dynamic backfield duo of Clarence Dawson and Ra'Von Bonner. They both ran for more than 1,000 yards a year ago. Mount Healthy quarterback David Montgomery has almost 4,000 career yards rushing. This should be a fast game with both teams sticking to their entertaining ground games.
Amelia @ Glen Este – A preview of what is to come for West Clermont High School football. The opposing sophomores will be teammates in two years at WCHS. Glen Este is as deep as it has ever been. The Trojans are a favorite to make the playoffs in Division II, Region 6. They are going to be relentless so Amelia better be prepared to handle an onslaught of aggressiveness from its rival. It is going to take a monumental effort for the Barons to stay in this game. Amelia has to play like it is a veteran club which won't be easy with so many kids having never been in that position before.
Bishop Fenwick @ Anderson – Fenwick has the chance to be a real force in Division IV. The Falcons are going to give Division II Anderson all it can handle. This game in going to be won in the trenches. Fenwick has the horses to finish the race. The Redskins should be prepared for a war of attrition the Falcons won't concede just because they are the smaller school.
McNicholas @ Turpin – Since winning 12 games in 2012 Turpin has mired through a pair of 4-6 campaigns. The Spartans feel they can get back to the winning ways the program enjoyed prior to its recent slide. The McNicholas seniors have gone 19-5 over the last two seasons. The Rockets have reloaded the fuel and will be focused on a destination of a regional championship. For Turpin to grab a victory it will need to play its best game in more than two years.
Norwood @ Madeira – Stopping the outstanding Jordan Black will be the number one priority for the Madeira defense. The Norwood running back proved last season that he is capable of putting the Indians on his shoulders and carrying them to victory. The Mustangs are balanced on offense and should have no problem putting points on the board Friday night. It will be up to Nick Gelhaus, Jake Megois and the Madeira defensive front seven to keep Black in front of them for a Mustangs win.
INTERSTATE
Lawrenceburg (0-1) @ Taylor – "The Route 50 Rumble" parks in North Bend, Ohio, as Taylor hosts the battle. It appears that the Taylor football program has turned the corner under head coach Dave Huffman. The Yellow Jackets are coming off their first trip to the playoffs. Graduation took a large chunk of productive players for Taylor. A new nucleus has the talent to keep Huffman's troops near the top of the Cincinnati Hills League. Lawrenceburg saw what it takes to be the best as they were handled rather easily last week by reigning Indiana Class 3A state champions, New Palestine. The Tigers will play much better this Friday and should be able to keep this contest heading into the fourth quarter. Closing out the deal on the road is going to difficult proposition to fulfill.
Covington Catholic (0-1) vs. St. Xavier at Nippert Stadium – This St. Xavier has the pieces to be something special. The Bombers are a legitimate candidate to win a regional and state title. This a team that can bring talent at opponents in waves. It is going to overwhelm foes in the second half of games. Each week new stars are going to rise for St. Xavier they are deep and experienced. Covington Catholic has to stop the pass. The only way the Colonels stay close is if they make the Bombers one dimensional on offense.
Cathedral (Ind.) (1-0) vs. Moeller at Nippert Stadium – Cathedral was the Class 5A state champions in Indiana a year ago. The Fighting Irish are up to 6A this season. Year in and year out they play one of the toughest schedules in the Midwest to get ready for the postseason. Cathedral won't be in awe of the atmosphere at Nippert. Its next man up at Moeller. The beauty of where this program is at lies in its depth. There will be senior Crusaders we don't who finally get their chance that will shine in the opener. Patience is a virtue and good things come to those who wait for head coach John Rodenberg and his Moeller troops. The new cast of Crusaders won't disappoint in Week 1.
Carmel (Ind.) (1-0) vs. La Salle at Nippert Stadium on Sat. 8/29/15 – This has all the makings of a track meet. Both offenses are blessed with gifted athletes who can change the game on any given play. The defenses may get lost in the shuffle through three quarters but they will be the difference in the final 12 minutes. Carmel lost in 2014 Indiana Class 6A state finals. The Greyhounds went 7-1 in games decided by seven points or fewer last fall. They are no strangers to pressure. La Salle will come out crisp under first year head coach Jim Hilvert. The Lancers will look the part of a defending state champion. That includes a defense that we could be talking about as the game's biggest story when the clock finally ends.
Warren Central (Ind.) (0-1) vs. Colerain at Nippert Stadium on Sat. 8/29/15 – Even when Warren Central loses under third year head coach Jayson West, it falls in close affairs. The Warriors have the daunting task of playing Colerain, Carmel and St. Xavier this season. The Colerain defense could really shine if the Cardinals can build an early lead allowing the unit to unleash the fury on the Warren Central backfield. Colerain quarterback Deshaunte Jones is primed for a monster senior campaign. His plight will start early on Saturday night. Jones will get a jump on things and make his impact in the first quarter of this affair.