Ohio trio in HSFB100 Top 35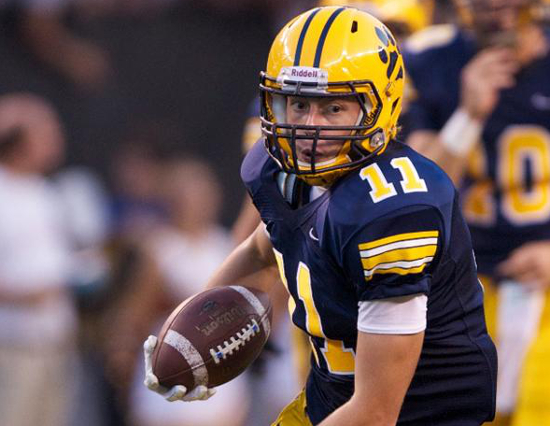 In an odd mix of national rankings evaluations three teams from Ohio were all bunched together between Nos. 26 and No. 34 heading into the season.
St. Ignatius (Cleveland), St. Xavier (Cincinnati) and La Salle (Cincinnati) are all in the front of this third group being released by NationalHSFootball.com following Nos. 100-76 and Nos. 75-51, coming in at 27, 31, and 34, respectively.
St. Ignatius figures to be an overwhelming favorite to advance to the state finals from Region 2. St. Xavier will battle with Moeller — ranked No. 54 — as well as Colerain — which will be in the Top 25 on Tuesday — to be in the finals of the Region 1 bracket.
La Salle enters the year as the program to bet on to repeat as Division 2 Champions but will face off with St. Xavier, Moeller, and Elder — which was ranked No. 9 in the state this preseason — in the GCL South.
In another odd twist, the teams in discussion here are all expected to be more talented on offense than defense — a rarity for most Ohio football powers.
St. Ignatius is bringing back three on the offensive line, two receivers — and a third that saw significant playing time last year — its quarterback and two running backs.
It's highest ranked prospect is Liam Eichenberg, a 6-foot-5, 284-pound lineman that is committed to Notre Dame. While Calvin Grback could play his way into college opportunities as he works back from injury.
St. Xavier will start a combined 18 seniors this year and it brings back many with playing experience.
The offense has 17 players that saw time with varsity last year. Injuries played a role in inflating the experience numbers as Sam Ankenbauer, Sean Clifford, Sean Prophit, Jon Brockhorst, and Stelljes paved the way for new players.
With Clifford coming back at quarterback the offense figures to be stabilized. He will be protected by Alex Deters, Matt Bockhorst, Brian Kemper, Alex Meyer and Jake Childs — of which all five played on varsity last year.
Tight end Noah Davis as well as receiver Colton Paul also come back to provide a threat through the air.
La Salle is returning Jeremy Larkin — the runningback we felt should have won Mr. Football in Ohio as a junior — as well as quarterback Nick Watson, two on the offense line, and a dangerous kicker in Drue Chrisman that can put points on the board from out of the range that other players can't.
Larkin will have standout 2017 prospect Jarell White to spell him or to have both in the backfield as weapons to pound teams.
The question regarding La Salle is whether it can get over the mental hump against certain foes — namely St. Xavier — to claim the GCL title as well as a state title. The team will be breaking in a new coach as Nate Moore left in the offseason and was replaced by Jim Hilvert from Thomas More College.
The trio will all be a factor in the rankings as the season wears on and their ultimate placements will be determined on the field as each will play one another as well as multiple other programs from the HSFB100 poll.
| | | |
| --- | --- | --- |
| 26 | Bingham (South Jordan, UT) | Miners will need QB Keaton Torre to be as advertised. |
| 27 | St. Ignatius (Cleveland, OH) | State finals or disappointment. That simple. |
| 28 | Spartanburg (SC) | RB Feaster is nasty. QB Scott needs to take next step. |
| 29 | Lake Taylor (Virginia Beach, VA) | Talented team. Secondary among the best nationally. |
| 30 | Mainland (Daytona Beach, FL) | The defense is really good. Especially the DL. |
| 31 | South Panola (Batesville, MS) | Tigers may get QB Pogue back midseason from ACL. |
| 32 | St. Xavier (Cincinnati, OH) | QB Sean Clifford is healthy. And quite good. |
| 33 | Laurel (MS) | QB Keon Howard could put team back in finals. |
| 34 | La Salle (Cincinnati, OH) | Two monster running backs will beat down foes. |
| 35 | Bergen Catholic (Oradell, NJ) | QB Guarantano is key to this placement. |
| 36 | Euless Trinity (TX) | QB Tyler Natee is a LB. Power run duo with Ja'Ron Wilson. |
| 37 | Don Bosco (Ramsey, NJ) | Back to basics after team had dual-threat QB in '14. |
| 38 | Gilman (Baltimore, MD) | So much on O. Will it open playbook enough to score? |
| 39 | American Heritage (Plantation, FL) | Will be tested by Hallandale, Coconut Creek in district. |
| 40 | Crespi (Encino, CA) | Will remain run heavy. Lost a little talent though. |
| 41 | Grayson (Loganville, GA) | A legit threat to win Georgia as O has balance. |
| 42 | Orange Lutheran (CA) | Boom or bust. Loaded schedule; lots of talent. |
| 43 | Rummel (Metairie, LA) | QB Chase Fourcade is a pivotal player for program. |
| 44 | Hoover (AL) | Talent down, lowest starting rank for Bucs in four years. |
| 45 | Mater Dei (Santa Ana, CA) | Balance would be nice. Great D, brutal O in '14. |
| 46 | Central (Phenix City, AL) | Back seven on D is best in the state. |
| 47 | Good Counsel (Olney, MD) | Will the Falcons return back to what it was a few years ago? |
| 48 | Central Catholic (Pittsburgh, PA) | Loaded D will push Vikings to WPIAL title, PIAA finals. |
| 49 | Hallendale (FL) | Pushed Miami Central last year, brings back tons of talent. |
| 50 | Mililani (HI) | QB Milton will lead high-octane offense. |
JOIN THE HSFB100 DISCUSSION: Create a user name | Post on The Varsity Board