Elder must avoid Pit-falls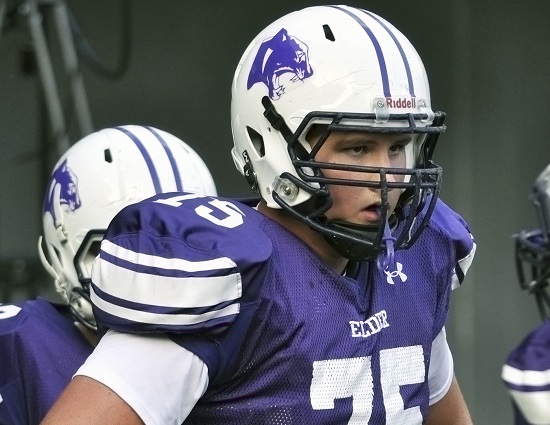 Seven home games at The Pit and a light travel schedule helped propel Elder into the post-season in 2014. This fall the road to the playoffs will test the Panthers harder than they could ever imagine. They will play four teams that have won state titles in the past two years. The 10 teams on Elder's schedule were a combined 89-35 in '14.
The Panthers have an established core that has performed well in big games. That should aid the team and help the youngster get past the Friday night prime time jitters. In the mold of typical west-siders it will be hard work that will make Elder's success well-earned and vastly appreciated in '15.
Division I, Region 2
2014 RECORD: 6-5, 0-3 GCL South
COACH: Doug Ramsey (148-63 @ Elder, 19 years, 148-63 overall in 19 years)
TOP RETURNEES
Tommy Kraemer, Sr, OL – The Notre Dame-bound Kraemer is one of the top Offensive linemen in the state. He was a First Team All-Southwest District and Special Mention All-Ohio selection in '14.
Peyton Ramsey, Sr, QB – An outstanding junior campaign saw Ramsey earn GCL South Co-offensive player of the year, First Team All-Southwest District and Special Mention All-Ohio honors. He threw for 2,062 yards, ran for 908 more while accounting for 25 touchdowns (13 passing, 12 rushing) last fall. Ramsey has verbally committed to Indiana.
.
Joe Schroer, Sr, DL – The Panthers motor on defense Schroer was a Second Team All-Southwest District pick as a junior. He has 13.5 career sacks and an offer from Air Force, Ball State and Toledo.
Nick Hall, Sr, WR – A healthy Hall looks to put up big numbers in '15. Hall has 41 career receptions for 616 yards and six touchdowns. He has an offer from Indiana State.
Ryan Furniss, Sr, LB – Cut out of the same mold of so many Elder linebackers that have gone before the three-year starter is a tackling machine in the middle of the Panthers defense. Furniss has 121 total tackles at the varsity level.
Ja'Vhari Portis, Sr, RB – After a solid start injuries took Portis down just five games into his junior year. He still managed to run for 316 yards and eight touchdown in his limited action.
Garren Messmore, Jr, RB – Injuries to the Elder backfield vaulted Messmore up the Panthers depth chart and he responded with flying colors. A threat as a runner and receiver with a knack of finding the endzone. Messmore rand for 327 yards, caught 31 passes for 305 yards and scored 11 touchdowns (eight rushing, three receiving) in his '14 varsity debut. He was named Second Team All-GCL South for his efforts.
Ben Allison, Jr, FS – The leader of the Panthers secondary Allison was in on 48 total tackles (37 solo) with an interception as a junior.
PLAYOFF HISTORY
(17 appearances, 29-15 overall) – 2014, 2013, 2012, 2009 (Regional Champions), 2008 (State Runner-up), 2007, 2004, 2003 (State Champions), 2002 (State Champions), 2001, 2000, 1999, 1996 (Regional Champions), 1995, 1991, 1989, 1988
2015 SCHEDULE
The Panthers will play home games against west side rival Oak Hills, Scott County, Centerville, Moeller and DePaul Catholic. The combined 2014 regular season record of those schools was 35-15. On the road the challenge doesn't get any easier at reigning Ohio Division I state champion St. Edward and Division II state champions LaSalle as well as Winton Woods, St. Xavier and Lakota West. Those five teams were a combined 36-13 during the '14 regular season and 14-2 in the playoffs.
DEFENSE NEEDS TO FUEL PURPLE POWER
Elder lost four of its last six games to end '14. The Panthers gave up 35.3 points per contest in that span.