Minton makes Wayne a class act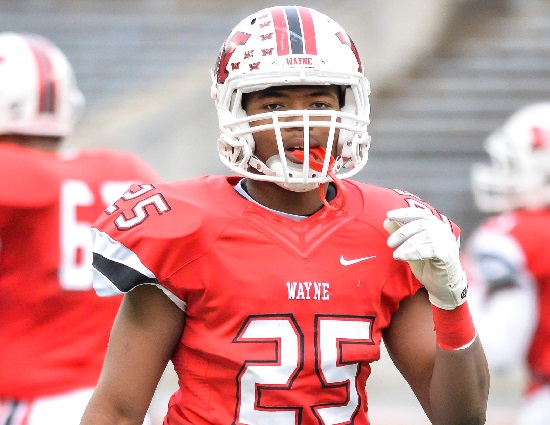 For the second time in five years the Wayne Warriors found themselves in the state championship game under head coach Jay Minton last December. The Warriors would fall to St. Edward but solidified their position as one of the premier public school programs in Ohio.
Minton as his troops go about their business in workman-like fashion. His players produce week in and week out with a very humble approach. When the year ends Wayne usually finds the rewards from their toils have very good results. Everyone knows their role and the good of the team is the top priority.
Winning builds character and it is never more apparent than in Minton players. His kids don't gloat. They are incredibly appreciative of they have accomplished but only when the body of work is completed. The handle everything with a touch a class a fitting tribute to their mentor Minton who has instilled such wonderful principles in them.
It doesn't matter who the next man up is for Wayne, Minton will have them well prepared. The Warriors may have lost a ton of experience and talent off of last season's squad but those who return are capable of taking the program on another deep playoff run.
Division I, Region 2
2014 RECORD: 13-2, 4-1 GWOC Central, State Runner-up
COACH: Jay Minton (145-53 @ Wayne, 18 years, 199-75 overall, 24 years)
HONOR ROLL
Tobias Gilliam, Sr, CB – Gilliam is a lockdown corner and one of the best in the state. A First Team All-GWOC Central selection a year ago Gilliam heads into his final season with 85 total tackles and seven takeaways (two fumble recoveries, five interceptions). He has verbally committed to Kentucky.
Matt Wilcox, Jr, WR – The Warriors finisher Wilcox is one of the top skills players in Southwest Ohio. He amassed 1,329 all-purpose yards, 53 receptions, 807 receiving yards, 482 rushing yards and 18 touchdowns (10 rushing, eight rushing) on his way to Honorable Mention All-Southwest District and First Team All-GWOC Central as a sophomore. Wilcox has offers from Offers from BGSU, Eastern Michigan and Toledo.
L'Christian Smith, So, QB/WR – Don't be surprised if Smith fills the role that Ahmad Wagner had at receiver a year ago. The 6-foot-5, 215 pound Smith had 12 receptions for 276 yards (23.0/catch) with two touchdown catches, one rushing and one passing score as a freshman. Most of that work was done in the post-season. Smith has an offer from Kentucky.
OTHER RETURNEES
Donyell Denson, Sr, DB – The Warriors top returning tackler, Denson does a great job of keeping the ball in front of him. That is incredibly important as Wayne builds big leads and sees opponents have to throw the ball early and often. He had 55 total tackles (32 solo) as a junior.
Mikal Toliver, Sr, DE – A relentless attacker Toliver registered 6.5 sacks and 46 tackles as a junior.
Richard Carpenter, Sr, DB – Carpenter had four takeaways (three interceptions, one fumble recovery) and 27 tackles in '14.
Nate Strong, Sr, K – A key member of the special teams Strong converted 60/66 extra points and 4/6 field goals for 72 total points as a junior.
NEWCOMERS
Messiah DeWeaver, Sr, QB – The transfer from Trotwood-Madison and Michigan State-commit comes in with some impressive credentials. A Division III Second Team All-Ohio performer as a junior DeWeaver has thrown for 4,736 yards and accounted for 71 touchdowns (58 passing, 13 rushing) in three season as a starter. DeWeaver has been under center for 14 playoff games going 11-3 in those affairs.
Daryl McCleskey, Jr., Sr, RB/WR – A transfer from Thurgood Marshall McCleskey ran for ran for 1,204 yards and found the endzone 13 times for the Cougars last season. His efforts earned him Division IV First Team All-Southwest District honors. Wayne hasn't had a 1,000 yard rusher since Anthone Taylor hit that mark in 2010.
Isaiah Trice, Jr, WR – The next member of the Trice clan who looks to make his mark on Wayne football.
Juniors Fred Pitts and Josh Foster will battle for carries out of the backfield.
PLAYOFF HISTORY
(17 appearances, 18-17) – 2014 (State runner-up), 2013, 2012, 2010 (State runner-up), 2009, 2008, 2006, 2005, 2003, 2002, 2000, 1999 (State runner-up), 1994, 1990, 1989, 1988, 1987
2015 SCHEDULE
Weeks two through five will see Wayne play three Division I, Region 2 playoff teams from a year ago – Moeller, Lakota West and Miamisburg. The Warriors went 4-0 versus that trio in '14. The GWOC Central portion of the schedule begins after that. Wayne is a combined 20-5 over the last five years versus their divisional rivals.
LIFE STARTS AT 40
Wayne lit up the scoreboard for 40 points or more nine times in its first 12 games a year ago. The Warriors offense found the endzone 76 times (41 passing, 35 rushing) in 15 games.