Moeller on center stage again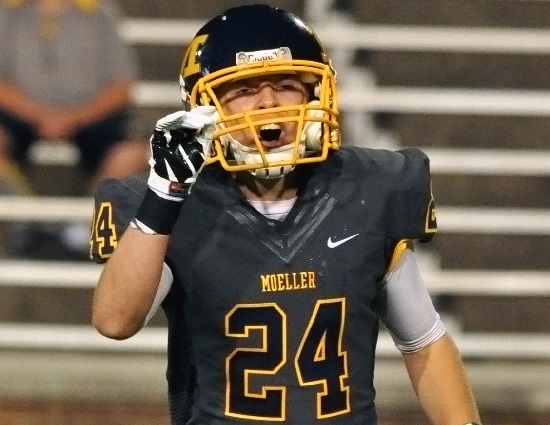 There is no substitute for experience and Moeller has that. There have been two state championships and a final four finish the last three seasons for the Crusaders. The seniors at Moeller know how to win in big games. They are going to have ample opportunities to make a splash in 2015 with a daunting schedule that will test Big Moe every weekend.
The program is loaded with depth and one of the best parts about that is seeing kids finally getting their chance to play and being well prepared when called upon. Lots of players in the system don't get to see the field for Moeller until their senior season and this fall will be no different.
The Crusaders are blessed with a core of battle-tested veterans who will be able to guide the "greener" troops through the struggles. For that reason alone you can bet on Big Moe being a factor once again come November.
Division I, Region 2
2014 RECORD: 10-4, 2-1 GCL South, Regional Runner-up
COACH: John Rodenberg (67-23 @ Moeller, seven years, 148-102 overall)
HONOR ROLL
Jake Hausmann, Sr, TE – The Moeller offense did a nice job of incorporating Hausmann into the passing game last fall. He ended up with 39 receptions for 598 yards and five touchdowns on his way to First Team All-Southwest District accolades as a junior. The 6-foot-5, 240 pound Hausmann has verbally committed to Ohio State.
Matt Coghlin, Sr, K – Coghlin is arguably the best kicker in the country, that's right the entire country. A special talent and a real "rock star" on the field Coghlin is a two-time First Team All-Southwest District and Post-season All-TriStateFootball.com member. He converted 35/36 extra points and 17/27 field goals for 86 points as a junior. For his career he has connected on 102/103 extra points and 27/41 field goals for 183 points.
Kyle Butz, Sr, WR – He's the kid that coaches love and a very good high school football player. Butz has never let size be a crutch from preventing him from being very productive with 1,954 all-purpose yards, 62 receptions and seven touchdowns at the varsity level of the past two campaigns. He was a First Team All-GCL South selection as a junior.
John Griga, Sr, LB – The heart and soul of the Moeller defense Griga was a Second Team All-GCL South honoree as a junior. He was in on 61 tackles with two sacks and two fumble recoveries for the Crusaders. Griga has an offer from Toledo.
Thomas MacVittie, Sr, QB – The 6-foot-5, 215 pound MacVittie finally gets to showcase the cannon he has for an arm after waiting in the wings the past two seasons. Too good to keep off the field MacVittie had 12 receptions for 164 yards in '14. MacViitie has verbally committed to Pittsburgh despite never starting a game under center.
Ryan Smith, Sr, DE – The converted tight end excelled on the other side of the ball as a junior getting in on 34 tackles with five sacks and a fumble recovery. The 6-foot-5, 280 pound Smith has verbally committed to Indiana.
Matt Dotson, Jr, TE – The beat keeps rolling at "Tight End High" as Dotson becomes the latest in a long line of Moeller studs at the position. The 6-foot-6, 215 pound Dotson already has offers from Cincinnati, Illinois and Tennessee.
OTHER RETURNEES
Alex Gall, Jr, OL – Already sitting with two varsity letters this could be a breakout year for Gall.
Hunter Hughes, So, RB – Injuries forced Hughes into action last season. He was the Crusaders workhorse out of the backfield carrying the ball 104 times for 428 yards and three touchdowns in four post-season tilts. Hughes did not have a rushing attempt during the regular season.
Jack Meyer, Sr, DL – Meyer really came on strong late last season look for that effort to carry over into '15.
Bradley Packer, Sr, LB – Part of a very good linebacking crew Packer recorded 35 tackles and 1.5 sacks a year ago.
Jack Quehl, Sr, DB – Quehl will be the leader of a young secondary that will be tested early and often.
Rick Raga, Sr, RB – A returning starter Raga was in on 55 tackles with three sacks as a junior.
Demetrius Yett, Sr, RB – After running for more than 500 yards and four touchdowns during the regular season Yett was slowed by injuries in the playoffs. He will be part of a potent 1-2 punch along with Hughes out of the Moeller backfield.
PLAYOFF HISTORY
(33 appearances, 49-24 overall) – 2014, 2013 (state champions), 2012 (state champions), 2011, 2010, 2009, 2008, 2007, 2006, 2005, 2004, 2003, 2002, 2000, 1999, 1997 (state runner-up), 1996, 1993 (state runner-up), 1990, 1989 (state runner-up), 1988, 1985 (state champions), 1984, 1983, 1982 (state champions), 1981 (state runner-up), 1980 (state champions), 1979 (state champions), 1977 (state champions), 1976 (state champions), 1975 (state champions), 1974, 1973
2015 SCHEDULE
Three state champions highlight an intense schedule that includes a six week stretch versus Don Bosco Prep (NJ), the three GCL South rivals, St. Edward and St. Ignatius. Getting to seven wins is not going to be easy.
DEFENSE IS THE KEY TO SUCCESS
Moeller had 10 wins a year ago. They held all of those victims to 17 points or fewer and seven squads to seven or less. The Crusaders gave up an average of 30.25 points in their four losses as all of those foes scored at least 24.
CROSSING THE GOAL LINE
The Crusaders offense had 63 scoring drives in 2015 of which 27 resulted in field goal attempts.