No fly zone Falcons to debut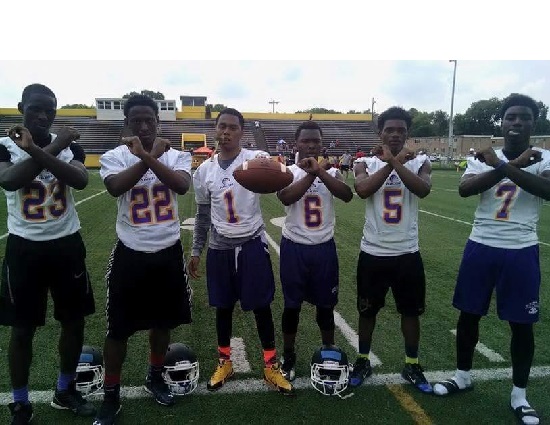 One of the most unheralded but one of the best coaching moves this off-season came when Aiken hired Jeremy Pflug to run the show. A program that has been a mess the past few seasons has found a leader turn things around. Pflug had success at Landmark Christian in 2014 going 7-3 in his first year as a head coach at the varsity level. He was the perfect candidate to infuse life into Aiken.
A fresh start for the Falcons as a member of the newly re-formed SWOPL National should benefit the teams overall quickness, speed, toughness and conditioning. A great group of skilled position players has showed well in off-season competitions. Like most teams in the conference depth and size on the lines is an obstacle that this squad will have to face.
"There is a new attitude and culture being built at Aiken High School. The players are really buying in to what is being taught. We have competed at two different 7-on-7 tournaments and finished third both times. Our players have started to believe that we can be very good and are up for the challenge," Pflug proudly states.
Division VI, Region 22
2014 RECORD: 2-8, 0-5 CMAC
COACH: Jeremy Pflug (0-0 at Aiken, first year, 7-3 overall, one year)
HONOR ROLL
Samonte Griffin, Sr, QB – Samonte brings to the table a perfect combination of speed and arm strength. He provides leadership and the determination necessary to lead the Falcons this season," Pflug says. Griffin threw for 1,730 yards with 13 passing and three rushing touchdowns on his way to First Team All-CMAC as a junior.
Josh Smith, Jr, WR/S – "Josh is a natural ball hawk. He possesses speed that not too many people in the league have and to mix that with his instincts, he will impact the defense in a huge way this year," chimes Pflug. He was a Second Team All-CMAC performer as a sophomore.
OTHER RETURNEES
Isaiah Lyles, Sr, OLB/TE – At 6-foot-5 and 225 pounds Lyles is a matchup nightmare. He has great speed and excellent hands to go with his size.
NEWCOMERS
Keivaughn Sanks, Fr, RB/CB – Sanks is blessed has great vision and agility go along with speed that will turn heads," Pflug laments about this rising star. He plays a solid corner and could end up going both ways by season end.
Monte Reece – Junior RB/LB – Reece is the "beast" in the middle of the Falcons defense with his nasty attitude and tenacity. He will be the key to the overall success of the unit this season.
PLAYOFF HISTORY
(0 appearances, 0-0)
2015 SCHEDULE
This team should strive for 3-0. The Falcons are capable of beating their first three opponents. The conference portion of the schedule starts after that and it will test Aiken to the fullest. A stretch versus Belmont, Ponitz and Woodward could mean the difference between a good and a great season if the Falcons could win at least two of those affairs. Aiken will play its final four contests in a 21-day span.
NOT SO FRIDAY NIGHT LIGHTS
Aiken only plays four games on Friday night with three each on Thursday and Saturday this fall. The Falcons will play five games on just six days rest. They will play two tilts on eight and two on nine days off.
HOLD 'EM DEFENSE
As good as the Aiken offense promises to be the defense will have to make vast improvements. The Falcons allowed 41 points or more five times in their last six games in '14.