Sidney hold on against Piqua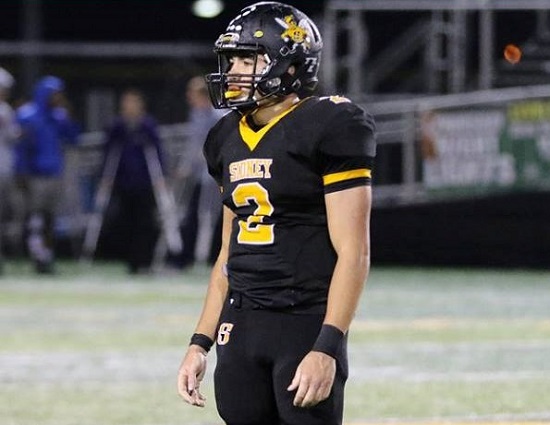 Sidney stops Piqua senior Ben Schmiesing from converting the two-point conversion with 45 seconds left in the game to hold onto a 34-33 win.
Schmiesing scored with 45 seconds left to narrow the Sidney lead to one, but failed to convert the two-point conversion to keep the undefeated season for Sidney alive. This was Schmeising's second touchdown of the night. He finished with 119 yards on 13 carries. He also led the team with 11 tackles as one of Piqua's top linebackers.
Going into the game, Sidney was ranked first in the conference in total yards per game and that held up again tonight. On Friday night, the Yellow Jackets were able to amass 419 yards against a Piqua defense that is ranked third in the conference. That is slightly below the season average after averaging over 500 yards per game.
Sidney senior running back Isaiah Bowser continued his excellent season with another 100-yard rushing game. Bowser is first in the conference in rushing, and added to his yard total with 186 yards and three touchdowns. This was the lowest yardage in any game for Bowser this season.
The explosive offense of Sidney was able to jump out to a 21-7 at halftime, but Piqua fought back in the third quarter with two unanswered touchdowns. The first came four minutes into the second half with a 29-yard touchdown pass from senior Austin Davis to receiver Hayden Schrubb, and then an 8-yard run by senior running back Devon Brown to close the gap 21-19 after a failed conversion.
Sidney junior quarterback Andre Gordon extended the lead a minute later on a 64-yard run to make the score 27-19 after the kick failed.
Schmiesing scored his first of two touchdowns to tie the game with nine minutes left at 27 all, but the Sidney offense capitalized again with just over two minutes left when Gordon found Ratez Roberts on a 21-yard pass to take the lead.
Piqua answered with Schmiesing's second touchdown, but the failed conversion gave Sidney the victory, and now will host Tippacanoe next Friday to see if the unbeaten streak continues. Piqua will look to get back in the win column against Greenville.
RECORDS: Sidney (6-0), Piqua (3-3)
UP NEXT: Sidney hosts Tippacanoe (3-3), Piqua visits Greenville (2-4)