Team of the Week: Week 8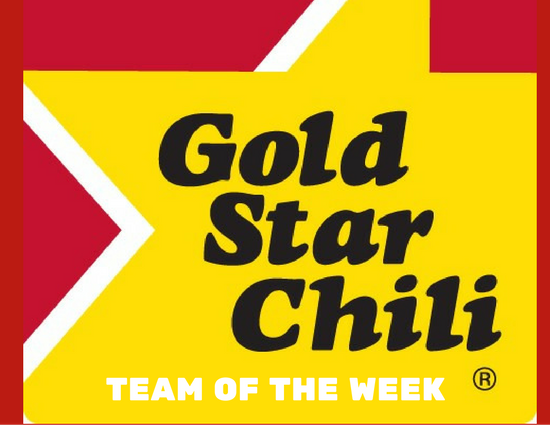 Gold Star Chili and TriStateFootball.com are partnering once this year to present the Gold Star Chili Team of the Week during the 2017 regular season. Each week 8-10 schools will be nominated from the Greater Cincinnati area to be included in an online voting poll to determine a winner.
The voting is open now until Thursday night at 6PM Eastern. Voters can vote once per hour, per IP address.
Once a team has won, they were ineligible to be nominated a second time. All of the winning teams will receive a trophy to be presented at their school by Gold Star Chili.
Taking advantage of the TSF-only deal at Gold Star this week:
Free Cheese Coney with purchase of 2 Cheese Coneys – PRINT COUPON
Here are this week's nominations:
BEECHWOOD (6-2)
The Tigers knocked off previously unebeaten Ludlow in district play, 63-0.
COLERAIN (6-2)
By taking down Fairfield 35-12 Colerain took full control of the GMC and further solidified their playoff position.
ELDER (5-3)
The Panthers outlasted Winton Woods in overtime to win on the road, 35-34.
FENWICK (4-4)
Fenwick pulled back to .500 on the season by handing Purcell-Marian a 36-6 defeat.
INDIAN HILL (7-1)
Indian Hill won for the seventh time in eight tries by defeating Finneytown, 49-13.
LAKOTA EAST (6-2)
Lakota East added to their playoff resume in a GMC affair by holding off Hamilton, 30-21.
MOUNT HEALTHY (4-4)
The Owls won for the fourth time in five games and remained unbeating in conference play by taking SWOC rival Northwest, 24-7.
RYLE (6-2)
The Raiders rolled Conner in a Saturday in front of a Saturday night TV audience as they prevailed 54-28.
SCOTT (5-3)
Scott grabeed their fifth win of the season by knocking off Bourbon County, 29-20.
SPRINGBORO (4-4)
The Panthers shutout Fairborn 41-0 to move back to .500 on the year.
You can send your weekly nominations to us on twitter @TSFootball or by email.
*Check out of this year's winning TEAMS OF THE WEEK.