TSF Player of the Week: Week 8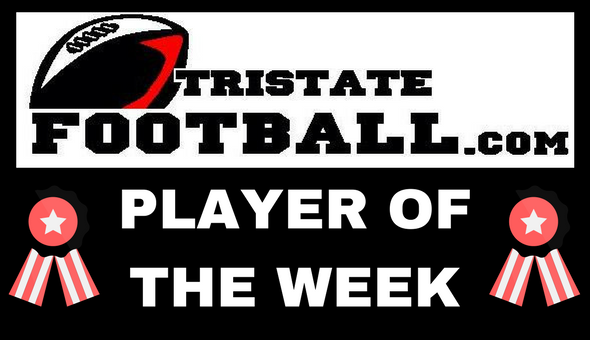 TriStateFootball.com is proud to once again present its TSF Player of the Week for the 2017 regular season. Players were nominated from the Cincinnati, Dayton, Northern Kentucky and Eastern Indiana areas.
Each week a small group of nominees will be selected from a large list of some of the area's top performances and will be included in an online voting poll to determine a winner. The poll will launch weekly on Sundays. Voters can vote once per hour, per IP address through Thursday night at 6PM E.T weekly.
Once a player won, they will be ineligible to be nominated a second time. All of the season winners will be recognized and receive a plaque at the TriStateFootball.com Year in Review Show in February (more details announced during postseason).
Here are this week's nominations…
Taking advantage of the TSF-only deal at Gold Star this week:
Free Cheese Coney with purchase of 2 Cheese Coneys – PRINT COUPON
David Afari, Lakota West, RB – Ran for 277 yards and three touchdowns as the Firebirds picked up their second victory of the year.
Tyler Baumgartner, Madison Senior, RB/DB – Got loose for 125 yards, scored four touchdowns on 11 carries, forced a fumble and had an interception in the Mohawks' shutout over Dixie.
Michael Bittner, Elder, QB – Amassed 308 yards total offense (240 passing, 68 rushing) and accounted for five touchdowns (two passing, three rushing) as Elder handed Winton Woods its first loss of the season.
Jake Chisolm, Ryle – RB – Carried the ball 31 times for 288 yards with five touchdowns rushing as the Raiders scored 40 second-half points in their win over Conner.
Kaleal Davis, Newport, DB – Corralled three interceptions as the Wildcats outlasted Holy Cross.
Seth Evers, Bellevue, ATH – Scored two touchdowns, had a two-point conversion, racked up 98 yards from scrimmage, recorded four solo tackles and picked off two passes as the Tigers outlasted Dayton in overtime.
Raveion Hargrove, Trotwood-Madison, RB – Racked up 257 yards from scrimmage (228 rushing, 29 receiving) and scored four touchdowns on 11 touches as the Rams boosted their record to 8-0.
Khalis Hicks, Sycamore, DB – Led the Aviators' defense with five solo tackles and three interceptions as they flew past Oak Hills.
Brennan Hobbs, Colerain, DL – Had three big sacks in the Cardinals' huge victory at Fairfield.
Owen Holtke, Bethel-Tate, RB/LB – Carried the ball eight times for 130 yards, had two receptions for 11 yards, found the end zone five times and kicked seven extra points as Bethel-Tate improved to 8-0.
Corey Kiner, Roger Bacon, RB – The freshman ran for 282 yards and scored five times as the Spartans picked up their first league win.
Ryan Mullaney, Moeller, DL – Registered 4.5 sacks, had four solo tackles, forced two fumbles and returned a fumble for a touchdown that gave Big Moe a lead they would never relinquish against previously unbeaten St. Ignatius.
Quincy Perrin, Scott, RB – Rushed for 228 yards on 20 carries and two touchdowns as the Eagles flew pays Bourbon County.
Kyle Proffitt, Goshen, QB – Went 11-of-19 for 254 yards with four touchdown passes as the Warriors took out previously unbeaten Clinton-Massie, 33-31.
Trey Robinette, New Miami, QB – Threw three touchdown passes on six completions, ran for 148 yards and another score in the Vikings' win over CCPA.
Ben Scott, Harrison, RB – Had 17 carries for 200 yards, three receptions for 50 yards and found the end zone four times (three rushing) in the Wildcats bouncing of Franklin County.
Hayden Schrubb, Piqua, WR/K – Scored 27 of the Indians' 33 points on four touchdown catches (eight receptions for 149 yards) and three extra points in a win over Butler.
Leonard Taylor, Springfield, QB – Went 15-of-19 for 245 yards and accounted for six touchdowns (four passing, two rushing) as the Wildcats rode a big second half past Beavercreek.
Jay Volpenhein, Anderson, QB – Accrued 540 yards of total offense (377 passing, 163 rushing) and accounted for seven touchdowns (four passing, three rushing) as the Redskins tore through rival Turpin.
Adam Wieczorek, Madeira, WR/DB – Amassed 293 all-purpose yards (173 rushing, 106 receiving), scored five times (four rushing) and had an interception as the Mustangs bucked Deer Park.
Elijah Williams, Edgewood, RB – Ran for 215 yards and three touchdowns on 11 carries as the Cougars roared by Talawanda.
You can send your weekly nominations to us on twitter @TSFootball or by email.
*Check out of this year's winning PLAYERS OF THE WEEK.