Playoff Primer: Sectional play begins in Indiana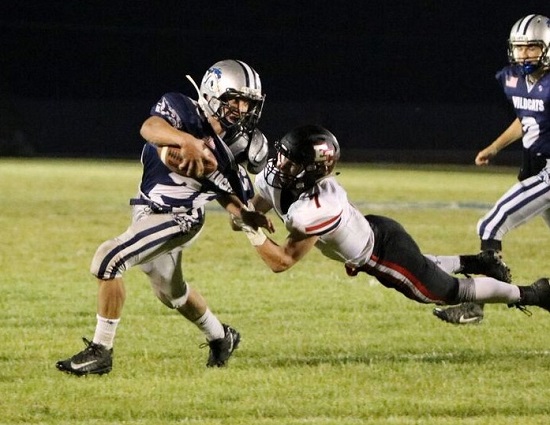 Franklin County RB Mitchell Orschell (photo by Linda Lyness Maxwell)
It is playoff time in the Hoosier state. The Eastern Indiana Athletic Conference has become a relevant force in the postseason over the past two years. Runs by East Central and Lawrenceburg have bolstered the league's status. Now they look to continue their success.
Life in the playoffs in Indiana can be cruel. Despite having won eight in a row Lawrenceburg draws a very good Brownstown Central squad to open sectional play. The Tigers beat Brownstown Central in the semi-state game a year ago. The loser of this affair deserves a far better fate for the 2017 chapter of their program.
We take a look at the EIAC teams and their roads to Sectional titles.
**All games played Friday, October, 20th at 7:00 pm
Class 3A, Sectional 31
BRACKET:
Brownstown Central (8-1) /Lawrenceburg (8-1) winner vs. Greensburg (3-6)/Salem (6-3) winner
Charlestown (4-5)/Batesville (6-3) winner vs. North Harrison (9-0)/ Corydon Central (1-8) winner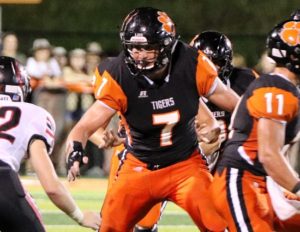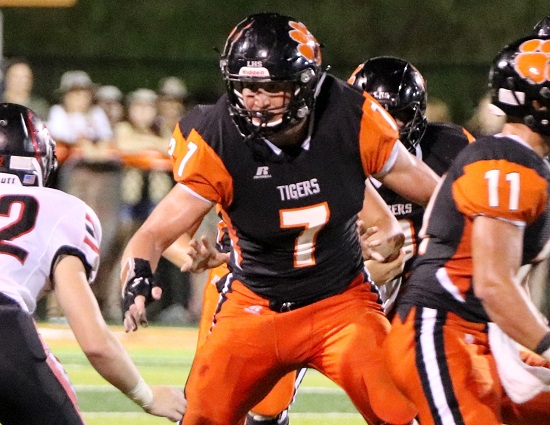 Lawrenceburg LB Mason Parris (photo by Linda Lyness Maxwell)
Brownstown Central at Lawrenceburg – A rematch of last year's Semi-state final that Lawrenceburg won, 41-40 in a game that went down to the wire. Expect a similar outcome on Friday night. The x-factor could turn out to be Lawrenceburg freshman QB Adam Burd. How he handles the pressure of his first playoff start will be key to the Tigers success. Seniors FB/LB Mason Parris, RB Hunter Privett and a veteran offensive line will need to step up and take control of the night.
Greensburg at Salem – After starting 1-3, Salem has reeled off five straight wins. The Lions are averaging 47.2 points during their winning streak. Finishing strong has not been a strength of Greensburg. That will have to change if the Pirates want to advance another round.
Charlestown at Batesville – It appears as if Batesville is peaking at the right time. The Bulldogs have won three in a row and have shown good team balance with more than 1,600 both passing and rushing this season. As long as they take care of the football the results will be positive.
Class 3A, Sectional 29
BRACKET:
Broad Ripple (0-9) vs. Bishop Chatard (4-5)/Northwest (4-5) winner
Rushville (0-9)/Cardinal Ritter (7-2) winner vs. Manual (5-4)/Indian Creek (6-3) winner
Rushville at Cardinal Ritter – It all comes down to putting points on the board. Ritter has scored 21 or more points eight times. Rushville is averaging 20.4 points per contest. The problem is that the Lions defense has allowed 49.9 points per game and every foe has scored at least 40. On the bright side Rushville returns an exciting nucleus next season led by RB/LB Cameron Craig who has run for 1,180 yards, amassed 1,554 all-purpose yards and found the end zone 16 times as a junior.
Class 4A, Sectional 23
BRACKET:
Franklin County (5-4)/Jennings County (2-7) winner vs. Madison (1-8)/Silver Creek (7-2) winner
East Central (6-3)/Edgewood (3-6) winner vs. Scottsburg (3-6)/South Dearborn (2-7) winner
Franklin County at Jennings County – This affair should be high scoring. Franklin County is led by senior Mitchell Orschell who is having a season for the ages. Orschell has run for 2,245 yards, racked up 2,627 all-purpose yards with 36 touchdowns (33 rushing). He's a difference maker who doesn't want his career to end. That desire could lead to Orschell carrying the Wildcats on his back for an extended playoff run.
East Central at Edgewood – Experience should win out in this battle. The East Central seniors have won nine playoff games with state runner-up and semi-state finishes the last two years. Trojans senior RB Logan Storie has run for 1,117 yards and has 13 touchdowns. Junior QB Alex Maxwell who has played with a broken thumb, had his cast removed last week. This will be a "get the rust off" game for him under center.
Scottsburg at South Dearborn – This is a clash between two squads that have had trouble putting points on the scoreboard. First team to 20 could very well be the winner. A two touchdown lead would be a huge advantage in this one. Sophomore RB Daulton Guthrie has emerged as a go-to guy from a good looking group of underclassmen for South Dearborn.
Class 4A, Sectional 22
BRACKET:
Mooresville (1-8)/Connersville (4-5) winner vs. New Castle (5-4)/Richmond (0-9) winner
Greenwood (7-2)/ Beech Grove (4-5) winner vs. Shelbyville (7-2)/Mount Vernon (3-6) winner
Mooresville at Connersville – Upper echelon teams have given Connersville fits all season long. Fortunately, for the Spartans, they have done very well against teams they should beat and that will be the case Friday night. Connersville will rely on the running game to get things done behind the guidance of seniors Dalton Dubois and Donovan Foreman. Dubois has run for 1,224 yards with 13 touchdowns. Foreman has 695 yards rushing with 10 trips to the end zone.