Dayton Roundup: The 'Burg is the Word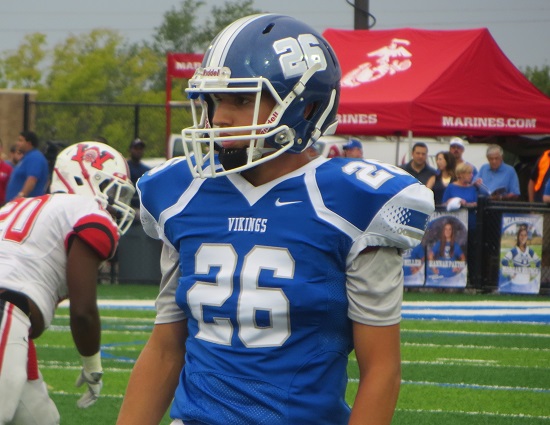 Miamisburg DB/K Colin Dillon has kicked for six or seven points in all four of the Vikings games. (photo by Greg Shoemaker/TriStateFootball.com)
MIAMISBURG 30, WAYNE 16
Miamisburg (4-0) made the football fans in the Gem City stand up and take notice as they took down Wayne (2-2), 30-16 in one of the biggest wins for the school in the 21st century. Wayne had owned the Vikings over the previous four seasons going 4-0 by an average score of 48.75 to 14.25 (34.0 points). This night was all Miamisburg. Jon Yerkins had 103 yards and two touchdowns rushing, He also had one of two key interceptions by the Vikings defense. Miamisburg controlled the line of scrimmage with a more than a 20-minute advantage in time of possession while holding the Warriors to just 2-10 on third and fourth down conversion attempts. The Vikings get another tough test on the road at Troy (4-0) Friday night. Wayne tries to stop its two game skid as they entertain Northmont (4-0).
SPRINGFIELD 49, CENTERVILLE 6
It was a night of total domination as Springfield (4-0, 1-0) imposed its will on Centerville (0-4, 0-1). The Wildcats after winning three games by six points or fewer saw a prosperous first half get them into the locker room up 42-6. The Springfield offense just couldn't be stopped. Three Wildcats ran for at least 145 yards – Tavion Smoot (164 yards/12 carries), Ra'Heim Moss (160 yards/10 carries) and Jeff Tolliver (145 yards/12 carries). Moss had touchdown runs of 69, 60 and 15 yards. He also threw a 48-yard touchdown pass to Moses Douglass. Tolliver hit paydirt three times including an 80-yard run. As for Centerville, the woes continue. The Elks are getting beat by an average of 20.0 points per game. They have a minus seven turnover ratio and have not gained more than 150 yards in each of their last two tilts.
CHAMINADE JULIENNE 38, PURCELL MARIAN 0
In a battle of unbeatens, Chaminade Julienne flexed its muscle over Purcell Marian. The Eagles built a 35-0 lead by intermission then picked up their first shutout of the year. In less than a quarter, junior Quincy Johnson doubled his season touchdown total to six with a 42-yard reception and a pair of short runs in a trio of unanswered scores between the first and second stanza's. Classmate Ryan Minor continued his mastery at quarterback with three more touchdown passes and 188 yards through the air. Minor now has 15 touchdown tosses on the season. Marquis Henry ran for 116 yards on 10 attempts. The victory sets up a GCL North showdown with Carroll. The GCL North is a combined 14-2 through the first four weeks of 2018. Purcell Marian is back on the road at McNicholas (1-3) in Week 5.
BELLBROOK 49, WAYNESVILLE 6
Big plays paved the way as Bellbrook (4-0) built a 42-0 halftime lead then closed the books on Waynesville (2-2) to remain perfect. The Golden Eagles remained stellar on defense. They have allowed just 15 points on the season. The Bellbrook offense was the star on this night with its best performance to date amassing 475 yards of total offense (375 rush, 110 pass). Quarterback Brendan Labensky went 4-4 passing of which three went for touchdowns. He finished with 110 yards through the air and had a rushing touchdown. Labensky has been very impressive with going 24-37 (64.9%) for 429 yards, with 10 touchdowns passing, two more rushing with no turnovers through four games. Classmate Sedrick Ferguson ran for 127 yards on four carries with scoring scampers of 66 and 44 yards. Bellbrook will host Franklin (1-3) on Friday. Waynesville will entertain Preble Shawnee (1-3).
MADISON SENIOR 48, PREBLE SHAWNEE 14
Mason Whiteman had three first quarter touchdowns on short runs as Madison Senior (4-0, 1-0) jumped out to a 22-0 advantage on its way to routing Preble Shawnee (1-3, 0-1). Whiteman ran for 74 yards on six totes, He also threw for a score. Junior Gabe Higgs found the end zone twice and had a game high 83 yards on the ground. The Mohawks defense held the Arrows to just 109 yards of total offense while forcing two turnovers. Senior Cole Pelgen was a force with a 40-yard pick six and a pair of sacks. He now has seven-and-a-half sacks on the year. Since beating Preble Shawnee last fall, Madison Senior has gone 14-1 with its only loss being to eventual Division IV state champion, Wheelersburg in the state semi-finals.
OTHER SCORES:
GWOC
Northmont 43, Butler 16 – Johnson Tosses 5 TDs as Northmont Stays Perfect
Trotwood-Madison 41, Sidney 7
Fairmont 24, Springboro
Troy 62, Stebbins 0
Piqua 29, Fairborn 14
Xenia 35, Greenville 0
Lebanon 41, Beavercreek 10
Tippecanoe 56, West Carrollton 26
GCL NORTH
Alter 49, Roger Bacon 14
Carroll 37, McNicholas 28
Fenwick  21, Badin 9 – Postgame Interview (audio): Dan Haverkamp, head coach, Fenwick
SWBL
Brookville 48, Eaton 13
Dixie 22, Carlisle 21
Franklin 24, Monroe 3
Milton-Union 26, Northridge 6
Valley View 31, Oakwood 7
DPS
Winton Woods 59,Thrugood Marshall 6
St. Francis DeSales 50, Belmont 6
Dunbar 42, Ponitz 33