2019 Snapshot: Sycamore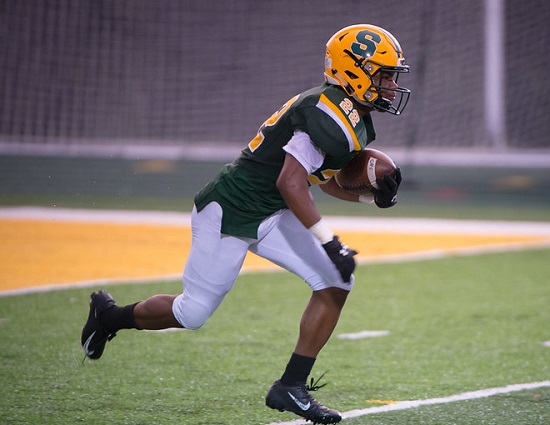 Sycamore RB Jordan McConnell (photo by Mitchell Cooke/MACfoto.com)
One thing is for certain, Sycamore teams under head coach Scott Dattilo almost always find themselves in the hunt for a playoff berth. Last year was no different. All four of the Aviators losses were to teams that made the postseason. Just one win there and Sycamore would have been playing in November. They finished 9th in the computer rankings, one spot shy of getting into the tournament.
The Aviators should be in the playoff hunt again this fall. "We have experience at the interior positions, speed at the skill positions and genuine commitment to the program," Dattilo states. There is enough talent to make this a dangerous Sycamore squad. This team has the opportunity to become the first in school history to make the postseason three times in a four-year period.
There will be hurdles as the Aviators are young at the skill positions and lack overall size. Those are obstacles that have presented themselves in the past. Dattilo has found ways for previous teams to overcome their so-called deficiencies. Expect the same in 2019. Sycamore will be a team that opponents will cringe at when the Aviators pop up on their schedule.
Division I, Region 4
2018 RECORD: 6-4, 4-4 GMC
COACH: Scott Dattilo (91-49 at Sycamore, 13 years; 108-63 overall, 16 years)
HONOR ROLL
Jordan McConnell, Sr, slot – It seems like McConnell has been around forever. A versatile talent who excels at the skill positions. McConnell is coming off a season in which he threw for 124 yards, ran for 489 yards, caught 30 balls for 425 yards and amassed 1,208 all-purpose yards. McConnell also found the end zone 12 times (six rec, five rush, one PR) and threw for a pair of scores on his way to First Team All-GMC honors.
Apollo Ford, Sr, OLB – An outstanding varsity debut by Ford saw him lead the Aviators in tackles with 61 in '18. He also had two-and-a-half sacks and a pair of fumble recoveries. That effort earned Ford First Team All-GMC acclaim.
Eric Buffington, Sr, OL – The 6-foot-4, 255-pound Buffington is the anchor of the Sycamore offensive line. He was a Second Team All-GMC selection a year ago.
Qai Williams, Jr, DL – There was no sophomore jinx for Williams. He recorded 45 total tackles, had two sacks and two fumble recoveries on his way Second Team All-GMC accolades.
TOP RETURNEES
Noah Blasé, Sr, SS – The leader of the secondary. Blasé has 32 career tackles and three interceptions.
Nick Stephenson, Sr, LB – Back for a second year as a starter, Stephenson tallied 40 total tackles as a junior.
Nate Clark, Sr, LB – A breakout junior campaign for Clark saw him get in on 26 total tackles, with one-and-a-half sacks, a fumble recovery and an interception.
NEWCOMERS
Junior QB Andrew Fehr takes over as the Aviators signal caller. He appeared in seven games, threw for 235 yards, ran for 65 more yards and accounted for four touchdowns (three pass, one rush) a year ago. A strong finish to last season for junior WR Gordy Anaple should leave him oozing with confidence. Anaple hauled in all seven of his receptions for 100 yards over the last four games including five catches in the finale versus Lakota West.
Even though they haven't settled into a position yet, bet on sophomores ATH William Ingle and ATH Justin Williams finding spots in the starting lineup. Classmate DL Evan Massey will add depth on the d-line.
PLAYOFF HISTORY
(seven appearances, 4-7) – 2017, 2016, 2012, 2011, 2007, 2006, 1996
2019 SCHEDULE
Fri – 08/30/19 – LOVELAND – 7:00 PM
Fri – 09/06/19 – at Kings – 7:00 PM
Fri – 09/13/19 – PRINCETON – 7:00 PM
Fri – 09/20/19 – at Lakota West – 7:00 PM
Fri – 09/27/19 – MASON – 7:00 PM
Fri – 10/04/19 – at Colerain – 7:00 PM
Fri – 10/11/19 – MIDDLETOWN – 7:00 PM
Fri – 10/28/19 – FAIRFIELD – 7:00 PM
Fri – 10/25/19 – at Hamilton – 7:00 PM
Fri – 11/01/19 – at Oak Hills – 7:00 PM
RUNNING ON EMPTY
The Aviators ran for just 1,212 yards last season. It was the fewest by a Sycamore team (and by 402 yards) in the Dattilo-era. It also broke a streak of seven straight campaigns of the team running for more than 2,000 yards (including six years of 2,300+ yards).

CHASING A LEGEND
Dattilo is three wins away from becoming the winningest coach in program history. Bud Acus went 93-38-10 (.660%) from 1953-69.
THE OT BLUES
Sycamore is 1-4 in overtime games over the last three years. The Aviators played two of those games in the playoffs, falling to St. Xavier in '16 and beating Milford in '17.