Cincinnati Round-Up: Princeton edges Lakota West, earns playoff berth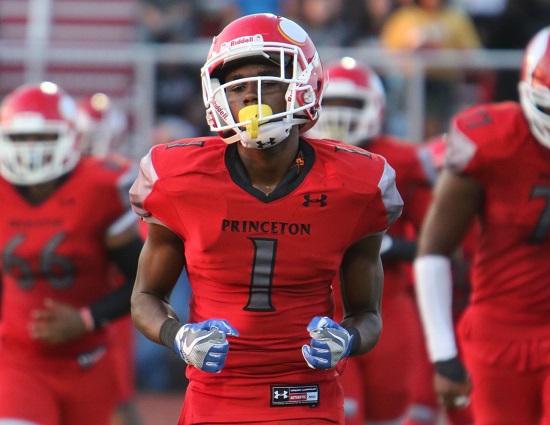 Princeton WR Sterling Berkhalter (photo by Dan Bieneke/TriStateFootball.com)
Eight minutes into this game #12 Princeton (6-3, 4-3) built a 14-0 advantage over #9 Lakota West and never looked back. The victory ensured the Vikings a spot in the postseason. Princeton hasn't been to the playoffs since 2007. This will be the school's 15th trip to the postseason overall.
It was bad news but good news for Lakota West. The Firebirds lost the game but clinched a playoff berth. It will be the schools sixth trip to the playoffs and first since 2014.
Princeton quarterback Dorian Durham threw for 228 yards and four touchdowns. Senior classmate Sterling Berkhalter was on the receiving end of to of those scoring tosses. Berkhalter finished with three receptions for 103 yards. Thomas Boyd led all rushers with 117 yards with a touchdown.
Seniors David Afari and Kurt Riesenberg had big nights for Lakota West. Afari ran for 96 yards and found the end zone twice. Riesenberg snared 11 catches for 106 yards and had a touchdown.
No. 7 Winton Woods 26, No. 4 La Salle 21
Winton Woods comes-from-behind to defeat La Salle, 26-21, at home Friday night to keep its playoff hopes alive.
The Warriors scored 19 unanswered points behind senior Miyan Williams to hand La Salle its first loss from an Ohio-based team this season. The Lancers other loss came against Covington Catholic. Winton Woods quarterback Mi'Chale Wingfield scored the first touchdown, but Williams was responsible for the other three during the comeback.
Williams made it onto the OHSAA Sports all-time career rushing yards list with 5,769 rushing yards. He finished the night with 145 yards on 32 carries to go with three touchdowns.
La Salle took an early lead behind senior running back and Northwestern commit Cam Porter. He caught a pass from Zach Branam across the middle and ran 70 yards for the Lancers first touchdown of the night. It was a three-play, 55-second drive after only four minutes into the game. Three minutes later, Porter scored again but this time on the ground with a 69-yard run.
The Lancers took a two-touchdown lead into the second quarter, but Winton Woods continued to battle after trailing 21-13 at halftime. The defense shutout one of the state's best offensive teams, and Cameron Sanders intercepted Branam's pass with 36 seconds left to seal the victory for the Warriors.
Now Winton Woods has a rare bye week so they must watch next week to see if this win is enough to get them into the playoffs. La Salle will finish the regular season at home against Elder, who has only one loss against Lakewood St. Edward.
No. 6 Colerain 34, No. 13 Lakota East 3
A stellar Colerain (8-1, 7-0) defense held Lakota East (4-5, 3-4) to just 133 yards of total offense as they cruised to their 75th consecutive GMC win. It was the third time in the last four games the Cardinals have given up seven points or less, all against ranked foes.
Hamzah Abdul-Waheed had a career high 182 yards with a touchdown for the victors. It was the seniors first 100-yard rushing performance. Junior quarterback Freddie Johnson threw a personal best two touchdown passes and ran for another score. Senior and University of Cincinnati commit, Deshawn pace had his second touchdown catch of the season. Pace has found the end zone five times on just 15 offensive touchdowns for the Cardinals.
The Colerain victory sets up a Week 10 thriller versus Fairfield (9-0, 7-0) for the GMC title. The Cardinals have won the last 19 conference crowns.
No. 10 Harrison 42, Mount Healthy 13
A sluggish start and the toughest first half that Harrison (8-1, 5-0) has seen in a while gave the Wildcats a bit of a scare at Mount Healthy (4-5, 2-3). With a 14-13 lead at halftime, Harrison scored 28 unanswered points after intermission to capture the SWOC crown outright and clinch a home playoff game.
Quarterback Connor Kinnett threw five touchdown passes for a second straight week and finished the night with 255 yards passing. He also ran for a score. Five different Harrison receivers found the end zone. Levei Tidwell led the Wildcats with five receptions for 79 yards and his 10th touchdown of the season.
Brandon Lanier paced Mount Healthy with 152 yards rushing and a touchdown. He legs were much better than his arm. The senior ended up with just one completion for eight yards. The loss officially eliminate the owls from the playoffs. They will host Edgewood (2-7, 1-5) in the regular season finale. Harrison will take on Northwest (1-8, 0-5).
Here are some other scores from Cincinnati teams ranked inside our Blitz 5 Top 25:
#1 Elder 31, Clarkson North 20
#2 Fairfield 50, Oak Hills 0
#11 Turpin 59, Withrow 13
#19 Hamilton 14, #14 Sycamore 7
#15 Mason 41, Middletown 22
#16 Anderson 34, Walnut Hills 31
#17 Wyoming 44, Taylor 0
#22 Little Miami 41, Edgewood 24
#23 Clinton-Massie 45, New Richmond 16
#24 Ross 63, Thurgood Marshall 12
#25 Franklin 41, Brookville 24
Still to play: #5 St. Xavier at St. Ignatius (Saturday)
*Stay updated on high school football updates by following @TSFootball on Twitter.