Trotwood holds off Bishop Hartley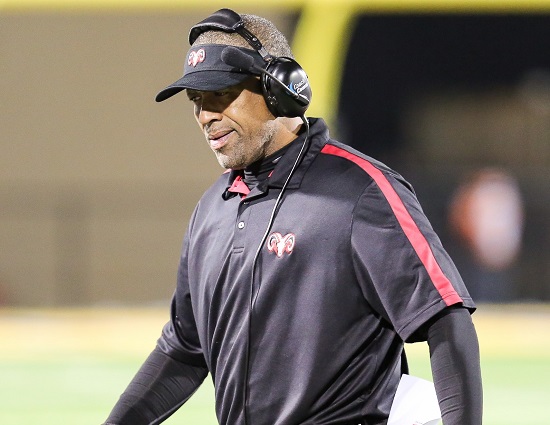 LONDON, Ohio – The Trotwood-Madison Rams dominated their matchup against the Bishop Hartley Hawks for the first 36 minutes and then had to hold off their opponent to punch their ticket to Canton as they won the contest, 24-19.
Sammy Anderson, a UC commit, was the star of the game for the Rams, scoring all three of their touchdowns. The first two came on first-quarter TD catches from Cooper Stewart. The other on a 40-yard punt return in the third quarter.
Anderson's biggest plays, however, came on defense in the game's final minutes with the Hawks threatening to take the lead. After Bishop Hartley scored three fourth-quarter TD's they were driving to attempt a fourth.
A defensive holding penalty set the Hawks up at Trotwood's 13-yard line, but Anderson made a heads up play from his cornerback position and came up with a huge sack. Then he finished off the night by intercepting a desperation pass on 4th-and-long to seal the victory.
Bishop Hartley had more total yards of offense (306-298), but were done in by three turnovers and 12 penalties.
Stewart finished the night completing 4-of-8 passes for 92 yards and two touchdowns and added 31 more yards rushing on 10 carries. Hezekiah Hudson-Davis contributed 80 yards rushing on 15 carries and one catch for 24 yards in the win.
With the win Trotwood-Madison moves on to face Mansfield Senior 3 p.m Friday at Tom Benson Stadium in Canton. It will be the Rams' sixth state title game appearance. They won state championships in 2011 and 2017.
SCORING BY QUARTERS
Trotwood-Madison 14-3-7-0-24
Bishop Hartley 0-0-0-19-19
SCORING PLAYS
T: Cooper Stewart 35-yard PaTD to Sammy Anderson (Carter Mims kick)
T: Cooper Stewart 26-yard PaTD to Sammy Anderson (Carter Mims kick)
T: Carter Mims 18-yard FG
T: Sammy Anderson 40-yard punt return
B: Jalan January 2-yard RuTD (pass failed)
B: Jalan January 1-yard RuTD (pass failed)
B: Jalan January 1-yard RuTD (Ryan Hawk kick)
RECORDS: Trotwood-Madison (11-3); Bishop Hartley (12-2)
UP NEXT: Trotwood-Madison vs. Mansfield Senior (13-1) – Division III State Championship