Mayer named Kentucky's Mr. Football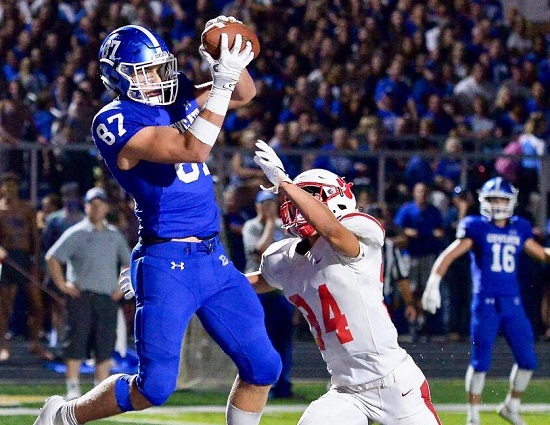 There was not any suspense on National Signing Day on where Covington Catholic senior Michael Mayer was heading. The five-star recruit already signed with Notre Dame months earlier. However, Mayer would wind up grabbing some big headlines on Wednesday as we was named Kentucky's Mr. Football by the Associated Press.
Mayer already had named the Gatorade and Kentucky Football Coaches Association Player of the Year. The Colonel was also one of three Greater Cincinnati area players named to the Army All-American Bowl and he scored a touchdown in that game.
He was also recently named as the First-Team Athlete on the 2019 Postseason All-TSF Team and is among our finalists for Northern Kentucky Offensive Player of the Year.
Michael Mayer (Covington Catholic '20)
2019 Kentucky Gatorade Player Of The Year
2019 Kentucky Football Coaches Association Mr. Football
2019 Kentucky Associated Press Mr. Football
2019 KHSAA 5A State Championship MVP@MMayer1001 @CovCathColonels @CovCathFootball @Colonels_ pic.twitter.com/Pt6tq6UHMf

— CCH Football Alumni (@CovCathFBAlumni) February 5, 2020
Though he's widely considered one of the top tight end recruits in the country, Mayer also made a major mark on defense for the Colonels in their run to the Class 5A state title this past season and was named the MVP in the state championship game. It marked the second time in three years the Colonels won the title and Mayer was key cog in both teams.
He led CovCath with 970 yards receiving on 50 catches and scored a total of 17 touchdowns. On defense, he finished with a team-high 99 tackles, five forced fumbles and four interceptions. He was named First-Team All-State by the AP on both sides of the ball.
Mayer is the first-ever player from Covington Catholic to win this honor and just the fifth player to take home the honor from Northern Kentucky.
Highlands' lineback Brycen Huddleston also received First-Team All-State honors. Walton-Verona's Travis Brauer was recognized as a Second-Team All-State defensive back. Several local players were named All-State Honorable Mentions by the AP including: Kaleal Davis, Newport, DB; Vuk Sajlovic, Simon Kenton, DL; Lucas Jones, Covington Catholic, OL;
Caleb Jacob, Covington Catholic, QB; and Quincy Perrin, Scott, RB.
Mayer will be one of many area players recognized with an award later this month at the TSF 2019 Year in Review Show at Holy Grail.