Dayton Round-Up: GWOC is hotly contested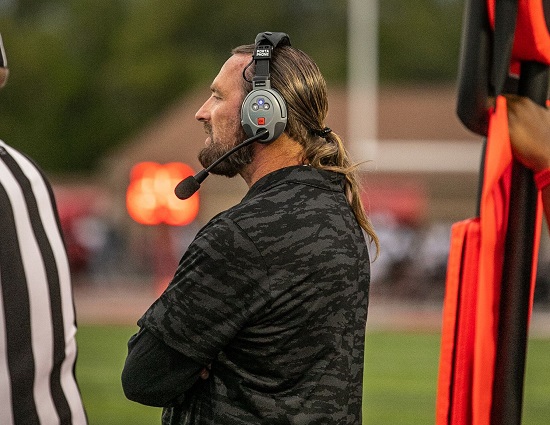 Northmont head coach Tony Broering (photo by Shelby Frieszell/TriStateFootball.com)
The GWOC schools have played 11 games this season. six of them have been decided by seven points or less. Take out Beavercreek's three losses by and average of 41.3 points per game and that number goes to six of eight contests being decided by seven points or fewer. The other two games were decided by 14 and 11 points. It's going to be a wild finish in this conference.
Here are scores from Dayton area teams in action on Friday night:
GWOC
Northmont 42, Beavercreek 8
Caden Rice continued his hot start throwing for 269 yards and three touchdowns as Northmont (3-0) cruised past Beavercreek (0-3) to remain unbeaten. Rice now has 10 scoring strikes on the season. Classmate and Michigan commit Markus Allen caught a touchdown pass for a 10th straight game. Cameron Jones scored on two short runs for the Thunderbolts.
Wayne 28, Centerville 23: For a second straight week QB Cam Fancher guided Wayne (2-1) to a fourth quarter comeback win. Down by nine heading into the final stanza, Fancher pulled the Warriors to within two points on a one-yard run with 9:30 left in the contest. With just 0:14 remaining Fancher found Bryan Kinley on a 35-yard touchdown pass for the game-winning score. Fancher finished the night with 175 yards through the air and 58 on the ground while accounting for three touchdowns (one pass, two rush). Centerville (1-2) junior quarterback Chase Harrison threw for 268 yards with three touchdown passes. It was the seventh time in 23 varsity games that Harrison has tossed three or more touchdown passes.
Springfield 27, Fairmont 21: Less than four minutes into the second half Springfield (3-0) built a 27-7 lead over Fairmont and never looked back. Fairmont ran 60 offensive plays compared to just 28 for the Wildcats. The Firebirds also won the time of possession battle by 21:48 minutes (31:54 to 13:06). Springfield quarterback Te'Sean Smoot ran and threw for a score. It was the sixth time in the junior's career that he has had at least one rushing and passing touchdown in the same game. The Wildcats are 6-0 when that happens.
Springboro at Miamisburg – Cancelled
MVL
Troy 28, Butler 14: Sophomore Nick Kawecki ran for a career high 205 yards as Troy (2-1) took down Butler (0-3). Senior La'Manual Kemp-Short added 66 yards and two touchdowns on the ground for the Trojans. Butler quarterback Luke Mitchell accounted for 315 of the Aviators 392 all-purpose yards (149 pass, 96 rush, 70 ret) in the game.
Stebbins 26, Xenia 23: Stebbins is now 3-0 with wins by three, three and two points. Sources say the last 4-0 start for the Indians was in 1994, when they finished 9-1.
Piqua 49, Greenville 0: A second straight victory for Piqua (3-0) over a team that doesn't have a win this season.  Five different Indians scored touchdowns in the first quarter of this affair. Greenville has been outscored 133-0 to start the season.
New Richmond 21, Sidney 7: Despite outgaining New Richmond 342-261 yards, four turnovers doomed Sidney (1-2). All four takeaways for the Lions were by Isaiah Bowman (three INTs, one FR). His 74-yard pick six was a fourth quarter back-breaker for the Yellow Jackets. Ironically, Sidney has forced 12 turnovers on the year.
Fairborn at Tippecanoe – Cancelled 
GCL CO-EDS
Badin 40, Chaminade Julienne 14: Four Chaminade Julienne (1-2) turnovers were too much for the Eagles to overcome as Badin (3-0) stayed perfect. Rams backfield mates, Landyn Vidourek and Jack Walsh each ran for a pair of touchdowns. Chaminade Julienne has lost the time of possession battle by an average of 6:39 per game in all three of their contests.
McNicholas 28, Carroll 7: Carroll (1-2) couldn't build of its success of beating rival Chaminade Julienne two weeks ago after getting flustered by the McNicholas (3-0) rushing attack and defense against the Patriots run. McNick sophomore Tyler Snyder had career highs of 117 yards and two touchdowns rushing. Rockets junior Wyatt Gear ran for two scores for a third straight game.
Alter 49, Fenwick 12: Patrick Connor had two touchdown receptions for the second time this season as Alter (1-2) grabbed its first win  in beating Fenwick (0-2). Junior CJ Hicks, an Ohio State-commit, was a beast for the Knights defense with seven solo tackles, a forced fumble and a 42-yard pick six.
SWBL
Brookville 35, Oakwood 7: After spotting Oakwood (0-3) to a 7-0 lead, Brookville reeled off 35 unanswered points by the end of the third quarter to put away Lumberjacks. Senior Dylan Bruchs had the final two scores on a 27-yard scoop-and-score and a 14-yard touchdown run. Red Devils have yet to give up more than seven points in a game.
Bellbrook 28, Valley View 21: Despite a furious 14-point fourth quarter comeback, Valley View (2-1) still falls in overtime. Bellbrook (3-0) junior Seth Borodny scored on a six-yard run in the extra period for the Golden Eagles who remain unblemished. Bellbrook has won eight in a row dating back to last season. The Golden Eagles are 21-3 dating back to the beginning of 2018.
Waynesville 28, Milton-Union 6: It didn't take long for Waynesville (2-1) to get back on track after a Week 1 loss at Bellbrook. Spartans quarterback Jake Amburgy threw for 256 yards and had a touchdown passing and running. It was Waynesville's second straight as it downed previously unbeaten Milton-Union (2-1). The Spartans are 10-2 in their last 12 games.
Franklin 28, Preble Shawnee 0: The Franklin (2-1) defense was the star on this night. The Wildcats held Preble Shawnee (1-2) to 43 yards of total offense (42 rush, one pass) on 47 plays, 2-17 on third down conversions attempts, had three sacks and three takeaways (one FR, two INTs). It was their second shutout of the season. Izak Proctor had two sacks and Gunner Lakins recovered a fumble and recorded a sack for the victors.
Monroe 30, Eaton 23: Collin Deaton ran for 226 yards, had touchdown scampers of 70 and 59 yards, and threw a touchdown pass to lift Monroe (1-2) into the win column. Fighting Hornets sophomore Elijah Jackson had a career high 204 yards rushing and touchdown for the winners. Eaton (1-2) came into this game allowing just 203.0 yards (114.5) per contest. Monroe grounded the Eagles with 465 yards of total offense of which 436 yards came rushing.
Carlisle 34, Northridge 14: Talon Borders racked up 250 all-purpose yards (112, rush, 83 rec, 58 ret), had all three of the teams receptions including two touchdown catches as Carlisle (2-1) picked up its second victory of the year.
Middletown Madison 38, Dixie 6: A pair of losses by seven and one point to start 2020 saw Madison Senior (1-2) take out their frustrations on Dixie (1-2). The Mohawks churned out 361 yards and five touchdowns on the ground. They were led by junior Dontai Pendleton and his career high 151 yards and three touchdowns rushing. Logan Gibson also had 114 yards and a touchdown rushing.