Flashback: 2009 Highlands Bluebirds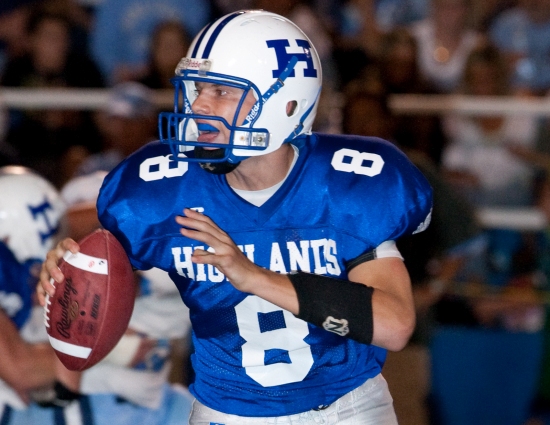 The 2015 season will be our 10th year of covering area high school football. We are celebrating by looking back at some of the greatest teams and players from that span.
The 2009 Highlands Bluebirds rolled to a perfect 15-0 season to claim their third straight and 19th overall state title. The effort nearly earned them a national title as they finished the season ranked second in the country in the USA Today Super 25.
Led by one of the most talented senior classes in the storied history of the program, the Bluebirds treated fans to an unforgettable run and left a lasting mark in the process. Head coach Dale Mueller calls it one of the greatest teams in school history.
Let's take a game-by-game look at Highlands's 2009 campaign:
GAME #1 – HIGHLANDS 19, DUPONT MANUAL 8
The first game of the season wasn't a pretty one for the Bluebirds, but it looked good on their overall record as they escaped Manual with a win. Austin Collinsworth ran 14 times for 66 yards and two touchdowns. Tyler Fennell had the other touchdown as he rushed six times for 19 yards. The defense came up big in this one. Cameron Dierig recovered two fumbles and Ty Seidl added an interception for the 'Birds.
GAME #2 – HIGHLANDS 37, RYLE 14
Highlands played their second straight road game to open the season, but at least they were back in Northern Kentucky for this one. Collinsworth was exceptional against a Ryle team with high hopes. He carried 13 times for 124 yards and four touchdowns and had 232 all-purpose yards. Will Bardo had nine carries for 57 yards and a score as well as the Bluebirds dominated the Raiders in Union.
GAME #3 – HIGHLANDS 48, BEECHWOOD 20
Bardo showed off his arm in this one as he completed 15 of 25 passes for 295 yards and three scores as the Bluebirds knocked off 1A powerhouse Beechwood. Collinsworth had his third straight multiple touchdown game with eight carries for 161 yards and two touchdowns. Josh Quillen also got in on the scoring action with two carries for five yards and a score.
GAME #4 – HIGHLANDS 21, WITHROW 0
It was again a couple of big defensive plays that kept the game comfortably in the Bluebirds favor as Drake Bruns came up with an interception and Mark Snyder recovered a fumble on the defensive side of the ball. On offense, Collinsworth was impressive again with 13 carries for 188 yards and two touchdowns. Bardo finished the game with 12 carries for 80 yards and a score on the ground and was also 6-of-11 for 125 yards passing.
GAME #5 – HIGHLANDS 36, BOONE 14
Bardo got the passing game going against the Rebels as he completed 10-of-21 passes for 245 yards and three touchdowns. Nick Buten was the primary beneficiary of those passes as he caught three of them for 94 yards and two touchdowns. John Drennan also hauled in three passes for 83 yards and a touchdown of his own. Jordan Streeter had a good game rushing as he carried eight times for 70 yards and a touchdown. Fennell got five carries for 48 yards and a score. On the defensive side, Bruns and Brandon Roller both came up with interceptions.
GAME #6 – HIGHLANDS 12, ST. XAVIER (OH) 7
This may not have been as important as a state title to the team, but to the fans this was by far the biggest game of the season. People tuned in across the country to see the Bluebirds knock off Ohio powerhouse St. Xavier. Bardo had a big game with 16 carries for 133 yards and the only touchdown of the game. Unfortunately, the win and big game from Bardo came with a price as he knocked out of the starting quarterback position for the rest of the season when he was tackled from behind going out of bounds and injured his throwing arm. The defense came up huge in this one. Roller and Austin Abner and each came up with an interception and Colin Rosenhagen picked up a fumble.
GAME #7 – HIGHLANDS 52, DIXIE 9
In a game that many touted as the "ultimate trap-game" for the Bluebirds, they came out and took care of business. Collinsworth rushed 21 times for 148 yards and three touchdowns to give new quarterback, sophomore Patrick Towles, a comfortable lead in his first start. He responded well as he was 11-of-19 for 178 yards and three touchdowns. Buten caught five of those passes for 81 yards and a score and Drennan brought in three of them as well for 68 yards and a score of his own. Streeter also had a good game rushing the ball with eight carries for 99 yards and a touchdown.
GAME #8 – HIGHLANDS 36, COVCATH 7
The FOX19 Friday Prep Rally made a Saturday stop in Park Hills for a battle of district foes. The score looked closer on this one than it actually was as fumbles cost the Bluebirds in the redzone on a few different possessions. Even still Collinsworth ended up with 26 carries for 229 yards and two touchdowns. Fennell carried 10 times for 51 yards and two scores and Towles tacked on a rushing touchdown as well. Another standout player was lost for the Bluebirds as Collinsworth broke his thumb.
GAME #9 – HIGHLANDS 60, SCOTT 27
Bardo returned to the lineup but as a running back to give the Bluebirds offense a boost. He ran six times for 71 yards and two scores. Towles, who took his place at quarterback after the injury, rushed for a touchdown and was 7-of-12 passing for 93 yards and a touchdown through the air as well. Fennell carried six times for 53 yards and two touchdowns. Streeter had a nice game with 10 carries for 73 yards and a touchdown. The receivers were led by Buten, who had three catches for 62-yards and a score. Jake True also had a 22-yard touchdown catch. On the defensive side of the ball Rosenhagen and Beau McGhee both had interceptions and Austin Hollinsworth had a fumble recovery that he returned seven yards for a score.
GAME #10 – HIGHLANDS 31, RYLE 14
Fennell broke out for 203 yards on 20 carries in the rematch between these two teams. Streeter carried seven times for 32 yards and a touchdown. Towles again ran for a touchdown on 14 carries for 29 yards and threw for a touchdown while going 5-of-14 for 92 yards. Buten caught two passes for 64 yards and a score. Defensively, it was Rosenhagen coming up with an interception for the second straight week and Ty Seidl picked one off as well.
GAME #11 – HIGHLANDS 60, MONTGOMERY COUNTY 13
The first round of the playoffs looked more like preseason in Fort Thomas as the Bluebirds rolled over their opponent. Fennell carried seven times for 70 yards and two touchdowns. True carried six times for 59 yards and two touchdowns also. Bardo made the most of his three carries going for 47 yards and two scores. Towles ran three times for 60 yards and completed 6-of-12 passes for 133 yards and two touchdowns. Daniel Gold hauled in two passes for 33 yards and a score. Bardo caught a 36-yard touchdown pass and Drennan caught one pass for 35 yards. Jake Meyer and Josh Quillen both picked off a pass on the defensive side.
GAME #12 – HIGHLANDS 49, DIXIE 0
The second round of the playoffs didn't prove to be much tougher for the 'Birds as they disposed of the Colonels 49-0. Fennell carried nine times for 87 yards and a touchdown. Collinsworth returned to the lineup and was able to rack up 77 yards and a score on 11 carries. Gold also broke off a 17-yard touchdown run. The passing game saw success as well. Towles was 5-of-10 for 213 yards and two touchdowns. Carter New completed his only pass of the game for a 15-yard touchdown. Drennan had a huge game receiving with three catches for 141 yards and two scores. True was the recipient of New's 15-yard touchdown strike. Abner and Quillen both came up with interceptions in this one.
GAME #13 – HIGHLANDS 42, JOHNSON CENTRAL 21
Collinsworth was back in full force as he carried 14 times for 159 yards and three scores. Fennell ran seven times for 46 yards and two scores and Towles ran four times for 20 yards and a score. In the passing game Towles completed 4-of-6 for 91 yards. Three of those passes were to Drennan who racked up 93 yards. Quillen came up with an interception in his third straight game and Billy Huddleston picked up a fumble.
GAME #14 – HIGHLANDS 52, PULASKI COUNTY 12
The Bluebirds weren't going to be denied a return trip to the state title as they dominated Pulaski County from start to finish. Collinsworth carried seven times for 127 yards and a score. Bardo racked up 37 yards and two touchdowns on eight carries. Fennell also had two touchdowns and 22 yards on five carries. True also got a touchdown and 21 yards on just five carries. Towles was an efficient 6-of-9 in the passing game for 181 yards and a touchdown. Buten caught three of those passes for 101 yards and a score. Drennan had the majority of the other yards with two catches for 78 yards. Travis Alford picked up a fumble and returned it 26 yards for the defense.
GAME #15 – HIGHLANDS 35, JOHN HARDIN 7
The Bluebirds made it back to the big stage with a chance to three-peat, and Collinsworth showed up in a big way. He carried 25 times for 176-yards for and three scores. Towles carried eight times for 73 yards and a touchdown. He only attempted two passes the entire game, one of which he completed for 16 yards on the opening drive on third-and-long. Buten caught that only completion. Bardo made a big play for the special teams as he returned a kickoff back for a 98-yard touchdown. The defense had a big game holding John Hardin to just seven points and forcing three turnovers. Bruns picked off a pass and Mark Snyder and Brendan Sullivan each recovered a fumble.
Milestones and More:
-Austin Collinsworth had a year to remember as he finished with 1,502 yards, which was good for second in the state at the 5A level, and 23 touchdowns. He will continue his career at Notre Dame.
-Despite not starting until the seventh game of the season, Patrick Towles was still among the state leaders in passing 1,138 yards and 10 touchdowns compared to only two interceptions.
-Nick Buten and John Drennan combined for a formidable duo at the receiver position. Both were among the state leaders. Buten finished with 796-yards on the year and eight touchdowns, while Drennan finished with 770-yards and four touchdowns.
-This senior class finished their careers with a 54-1 overall mark. They were 10-0 as freshman and 44-1 the following three years.