Wins but no playoffs for New Richmond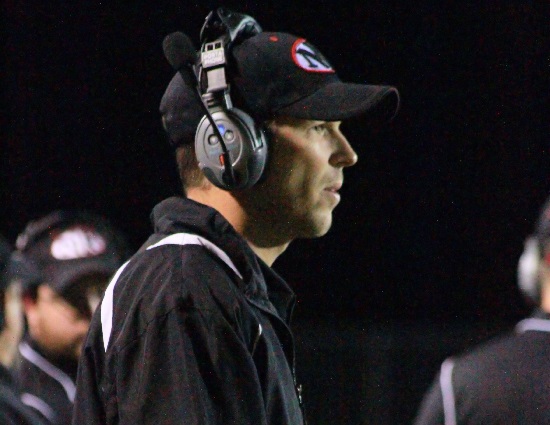 Despite going a combined 16-4 over the past two seasons New Richmond has no playoff appearances to show for its hard work. A hunger for the post-season is enough to motivate the 2015 version of the Lions.
Head coach Josh Stratton loves what he is seeing out of this dedicated pride of Lions. New Richmond will be strong and experienced on both sides of the line. They will have depth on defense and the best team speed that Stratton has had at the school in his three years. All of those factors should bring the positive results this program has pushed so hard to try and achieve.
If New Richmond can overcome some inexperience in the secondary and at receiver, which are obstacles that can be conquered and made into a positive then this team will be playing in November for the first time since 2009.
Division IV, Region 14
2014 RECORD: 7-3, 3-1 SBAAC American
COACH: Josh Stratton (16-4 at New Richmond, two years, 29-15 overall, four years)
HONOR ROLL
Tyler Sammons, Sr, OL- The 6-foot-2, 287 pound Sammons is the real deal. He earned Division III First Team All-Southwest District honors as a junior. Sammons was also a Second Team All-Southwest District selection as a sophomore.
Jacob Cyrus, Jr, LB – A pleasant surprise last fall Cyrus was named Second Team All-SBAAC American after finishing second on the team in tackles.
Brian Waddle, Sr, DE – Waddle was fourth in tackles for the Lions in '14. He was a Second Team All-SBAAC American pick as a junior.
Michael Williamson, Sr, RB – A Second Team All-SBAAC American pick as a junior Williamson will finally get his chance to shine after the graduation of Tyler Anderson who rewrote the New Richmond record books.
OTHER RETURNEES
Austin Torrens, Sr, QB/WR/K – Torrens is healthy after a season ending injury last year in Week 3. He will get a look at quarterback this season. Coach Stratton told TSF a year ago that "any time Austin has the ball in his hands, we feel like we can score." There will be no better way for Torrens to prove his coach right than by doing it under center.
Dan Troxell, So, OL – Compliments about the 6-foot-2, 250 pound Troxell spew from Stratton who call him "the next Tyler Sammons on our offensive line."
Kennith Moore, Jr, ILB – A returning letterman Moore will be a staple at linebacker for the Lions.
Ryan Brunk, Sr, LB- Brunk is a returning starter and probably one of our most reliable players on the Lions roster.
Chase McDonald, Jr, OL – The 6-foot-1, 320 pound McDonald is a returning starter on the o-line.
Nick Sanchez, So, DE – Young Sanchez earns high praises from coach Stratton who calls the 6-foot-2, 215 pound defensive end "Our most explosive player up front who will be on everyone's radar after his sophomore season."
Gage Kramer, Jr, TE/DE – After two years of playing sparingly under center the 6-foot-5, 215 pound Kramer will transition to tight end and defensive end. "Gage could possibly be a two way player for us at TE and DE. He just keeps growing," Stratton exclaims!
Derik Anderson, Sr, DB – Stratton call Anderson a "great cover guys and the best tackler in the New Richmond secondary. I think he should be the best defensive back in our league."
Erik Anderson, Sr, LB/RB – Derik's twin brother who returns at linebacker but could also play some running back for Lions.
Peyton Schweickart, Jr, OL/DL – Schweickart will move from tight end to OL/DL "because he is too good a blocker to not be on our o-line. He is the strongest junior I have ever had," says Stratton.
Jesse Troy, Sr, LB – Troy will be a three-year letterman. "Jesse is our utility player on defense playing multiple positions," Stratton states.
NEWCOMERS
Corey Waters, Sr, OL – Waters came on at the end of last year. He should be a fixture on a pretty solid offensive line.
Sophomores WR/DB Jessup Durbin, DB Nick Edmonson, WR/DB Corey Bozic, RB/DB TJ Gelter and WR/OLB Chandler Kinhalt have the foundation to be a very special class "This sophomore group of skill players may be the most athletic group in our program or that our school has seen in a while. If they grow up fast it could really elevate our team speed," Stratton emphatically states.
PLAYOFF HISTORY
(four appearances, 3-4 overall) – 2009, 2001, 2000, 1999
2015 SCHEDULE
Nine of the 10 teams that New Richmond will face this fall finished '14 with .500 or better records. Five of those made the playoffs – CHCA, Taylor, Western Brown, Norwood and Walton-Verona. That means plenty of opportunities to snare first and second level Harbin points for the Lions.
BIGGER AND BETTER THAN EVER
Coach Stratton is really pleased and proud of the effort he is seeing out of this Lions squad. "This group is the most positive and fun loving bunch I have been around. They have really excelled in the weightroom and become the strongest team I have ever coached either as an assistant or a head coach. All I can say is I am having more fun than I ever have ever had in the weightroom," an elated Stratton boasts.