Health is key at CNE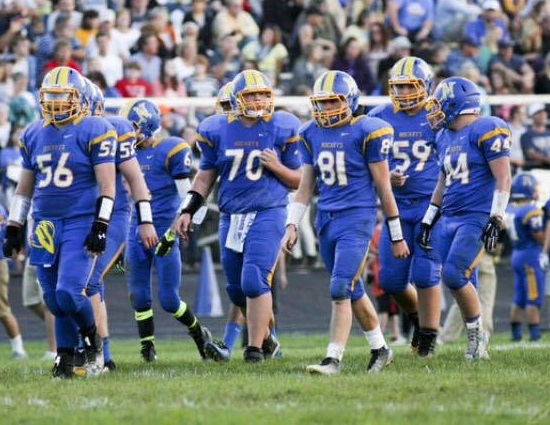 Despite back-to-back 1-9 seasons Clermont Northeastern has a legitimate shot to win An SBAAC National title this fall in what appears to be a wide open race. The Rockets are big up front with an offensive line that averages 6-foot-1 and 278 pounds. They will be paving the way for some very capable and experienced skills players in the backfield. The one downfall to the team is that they are not deep with a roster of only 35-40 players so avoiding the injury bug will be key to their long-term success.
"There is a lot of excitement heading into this season. We return seven players on offensive and six on defense. The commitment to our off-season strength and conditioning has been outstanding and will be noticeable when we take the field this year," head coach Scott Gildea says.
Getting out of September healthy is paramount for a stretch run that could produce a rare conference crown for the program. If CNE can pull that off they are going to be a menace within its division.
Division V, Region 18
2014 RECORD: 1-9, 0-4 SBAAC National
COACH: Scott Gildea (1-9 @ Clermont Northeastern, one year, 5-15 overall, two years)
OTHER RETURNEES
Luke Newton, Jr, FB/LB – A breakout sophomore season saw Newton be named Second Team All-SBAAC National. He is the Rockets only returning captain.
Dalton Miracle, Sr, RB/LB – Miracle looks to stave off injuries and return to the form that saw him earn First Team All-SBAAC National honors as a sophomore. When healthy Miracle has produced with 842 yards and seven touchdowns rushing to go along with 101 total tackles in 14 career games.
Mark Aselage, Jr, OL/DL – A budding star for CNE the 6-foot-5, 290 pound Aselage is starting to get serious looks from Division I colleges.
Donald Hahn, Sr, OL/DL – The 6-foot-3, 310 pound Hahn returns after missing last season with a torn hamstring. Hahn was a Second Team All-SBAAC National selection as a sophomore.
Joey Groeber, So, OL/DL – Groeber started all 10 games for the Rockets as a freshman. Coach Gildea sees the youngster as a vital cog up front.
Shawn Lykins, Jr, QB – Back for a second season as the Rockets starter under center look for Lykins to step up as a leader. Expect his numbers to improve dramatically with help around him. Lykins threw for 462 yards and ran for another 130 as a sophomore.
Dustin Lykins, So, TE/LB – Gildea calls Lykins a "gifted athlete who we are expecting a lot out of this year." He registered 56 total tackles in six games as a freshman.
Logan Fishback, Sr, FB/DE – The hard-nosed Fishback will be a playmaker on both sides of the ball for the Rockets.
NEWCOMERS
Devin Campbell, Sr, DL – Another "big 'un" in the trenches the 285 pound Campbell will add depth on the Rockets d-line.
Tyler Cole, Sr, OL/DL – 2016 OL/DL The 6-foot-1, 290 pound Cole returns after missing last season with a torn labrum.
PLAYOFF HISTORY
(0 appearances, 0-0)
2015 SCHEDULE
The non-conference games in September will be trying with tilts versus larger schools Amelia, Hillsboro and Goshen. How the Rockets perform in the trenches in those affairs will tell us plenty about how far CNE has come under Gildea's guidance.
FINDING PAYDIRT
Clermont Northeastern did not score more than 19 points in a game last fall. The Rockets scored six points or fewer on seven occasions. Only one time in the last 20 games has the program scored more than 20 points in a contest.