What identity will Broncos show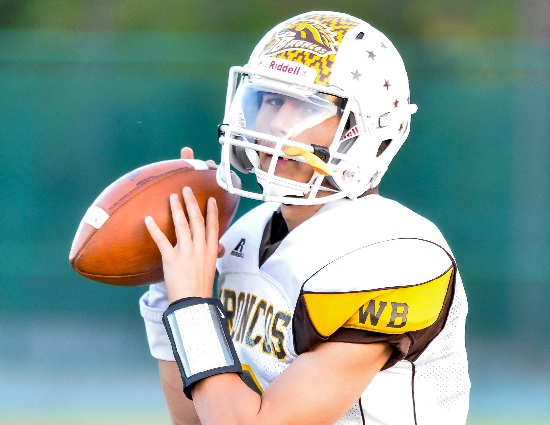 One of the most intriguing changes this off-season came at Western Brown. The Broncos will turn the reins over to Don Sizer for a second time in program history. He replaces Evan Dreyer as the teams head coach. Dreyer, who took the Oak Hills job in early 2015 compiled a 43-19 record in six seasons including Western Brown's second and third playoff appearances the last two falls. His wide-open, pass-happy spread offense saw his Broncos squads rewrite the record books at the school during his tenure.
Sizer took Western Brown to its first playoff tilt in 2008 with a powerful run game led by 2,000-yard rusher, Shawn Davis. In 2011 Sizer left the Broncos to become Batavia's head coach. He went 18-14 with the Bulldogs in three years which included and undefeated regular season and the school's first ever victory in '12. He left Batavia and became Western Brown's defensive coordinator in '14 in large part because his kids were still in school there. When the job opened he was a natural choice to fill the void left by Dreyer.
No matter which way Sizer decides to play it offense his biggest asset will be that he has proven winners taking the field on Friday nights. The Broncos returnees have been part of 19 wins the past two falls. They have also been humbled in the post-season. They know what it takes to get to the top yet still have to work for more. It will be a focused and experienced group that will adapt to whatever style Sizer settles in on offense.
Division III, Region 10
2014 RECORD: 9-2, 3-1 SBAAC American
COACH: Don Sizer (79-54 overall, 13 years)
HONOR ROLL
Steven Craddock, Sr, OL – The 6-foot-4, 305 pound Craddock was a First Team All-Southwest District and Special Mention All-Ohio selection as a junior.
Chaiten Tomlin, Sr, QB – An impressive varsity debut saw Tomlin throw for 3,519 yards, run for 698 yards and account for 50 touchdowns (42, passing, eight rushing). He was named Second team All-Southwest District for his efforts as a junior.
Eean Hornung, Sr, WR – Hornung has had back-to-back season of more than 70 receptions and 1,000 yards receiving. Don't be surprised if he runs for 1,000 yards this fall. An Honorable mention All-Southwest District honoree as a junior and a Second Team -Southwest District pick as a sophomore Hornung has 185 receptions for 2,779 yards, 566 rushing yards, 3,604 all-purpose yards and 29 touchdowns (23 receiving, five rushing) in his career as a Bronco.
Zach Gagen, Sr, OL – Gagen was a Second Team All-SBAAC American selection as a junior.
OTHER RETURNEES
Jacob Altman, Sr, DL – The leader of the Broncos defensive front Altma was in on 68 total tackles with four sacks in '14.
Eli Crall, Jr, WR – Crall will play a bigger role in the Broncos offense after catching eight passes for 118 yards and a touchdown as sophomore.
Blake Colliver, Jr, LB – Played really well the last half of his sophomore year look for that trend to continue.
Noah Hill, Jr, DL – Hill recorded 31 tackles as a sophomore.
Malachi Marlow, Sr, DB – Marlow is a central figure in the back eight for Western Brown. He registered 55 tackles and recovered a fumble last season.
Michael Otis-Hensley, Sr, LB – Otis-Hensley is all-league material and will be a leader at linebacker for the Broncos. He ha 49 tackles a sack and two fumble recoveries in '14.
Ryan Osborne, So, LB – A rising star sas Osborne get in on 45 tackles in his freshman debut.
Shade Stewart, Sr, DL – A returning starter Stewart had 30 tackles and a fumble recovery as a junior.
2015 SCHEDULE
The Broncos are going to face some very physical teams this season. A trio of non-conference affairs versus SWOC schools Little Miami, Ross and Harrison will be big tests for this squad up front. Sandwich in a tilt with the smash-mouth style of Campbell County and there are bound to be some bumps and bruises along the way. WesternBbrown has to stay healthy and mentally-focused for SBAAC play.
PLAYOFF HISTORY
(three appearances, 0-3) – 2014, 2013, 2008
SENIOR SUCCESS
Since taking the field as freshmen the Western Brown seniors have been part of 27 wins and only five losses at the varsity level. A second half collapse at Norwood last October is the only thing that is keeping them from chasing a third consecutive undefeated regular season.
PUTTING POINTS ON THE BOARD
In Western Brown's 27 wins over the past three seasons they has scored 41 points or more 21 times. Three times they put up 60 or more and seven times at least 50 points.
TAKING THE NEXT STEP
The Broncos have never won a playoff game. It all comes down to playing defense. The last two seasons they have been outscored by an average of 39.0 in the post-season (65.5 to 26.5). Western Brown has lost three regular season games in the last three campaigns giving up 41.3 and losing by a 15.0 margin in those affairs.