Where they're headed: FCS (Division I-AA)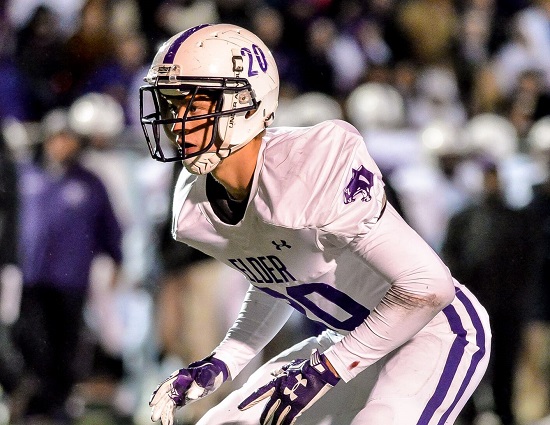 The Pioneer League continues its corner on the market plucking up some Southwest Ohio's top talent once again with the Class of 2016. The Dayton Flyers got some big time "gamers" in Division V First Team All-Ohio and Southwest District Offensive Player of the Year QB Johnny Noyen, the tough, very productive WR Kyle Butz and finisher RB Sean Prophit.
Also in the PL, Morehead State made defense a priority with ballhawks S Ben Allison, LB Brett Slusher, LB Elijah Payne and LB Jake Megois. Valparaiso added quintet of winners from top-notch conferences. They all played on teams that made the playoffs last season with four of the five starting in the post-season for the last two campaigns.
A surprise player in the area on National Signing Day was East Tennessee State. The Buccaneers inked a quartet of proven defensive studs who have tremendous upside and all with frames capable of getting larger. The ETSU pass rush will benefit from DL Olajuwon Pinkleton and his ability to knock down passes while DE Blake Bockrath has always found a way to get to the quarterback. The good thing for these kids is that they're going to get a chance to play right away. The 2016 season will be just the second since the school revived the football program after it was dropped in 2003. The Bucs will play in the Southern Conference.
Here is a look at the area's FCS (Division I-AA) signees:
Pioneer League (PL)
Butler: Mason Brunner, Harrison, LB, 6-2/215; Logan Gearhart, Fenwick, WR/DB, 6-2/180; Kavanaugh McCarthy, Lakota West, OL, 6-4/266; Eric Perry, Wyoming, OL, 6-3/265; John Stomps, Fenwick, OL, 6-6/250
Davidson: Vince Durham, Fenwick, LB, 6-0/220
Dayton: Kyle Butz, Moeller, WR, 5-10/165; Michael Newbold, Loveland, DL; 6-4/195; Johnny Noyen, CHCA, QB, 6-1/190; Sean Prophit, St. Xavier, RB, 6-0/205; Brennan Quigley, Mason, OL, 6-4/280
Morehead State: Ben Allison, Elder, S, 6-1/190; Hunter Burdno, Lakota East, DL, 6-1/261; Jovon Cobbs, Sycamore, DB, 5-10/175; Jake Megois, Madeira, OL/LB, 6-1/185; Jesse Orona, Talawanda, TE, 6-4/230; Elijah Payne, St. Xavier, FB/LB, 6-1/230; Brett Slusher, Beechwood, WR/LB, 6-2/190
Valparaiso: Cody Boxrucker, Badin, FB/LB, 5-11/200; Keegan Brown, Springboro, DB, 6-0/179; Kyle Farwick, La Salle, LB, 6-1/194; Brannen Martin, Elder, TE, 6-0/241; Michael O'Brien, Mason, LB, 5-10/205
Missouri Valley Conference (MVC)
Indiana State: Seth Crissman, Glen Este, DL, 6-4/315; Nick Hall, Elder, WR, 6-4/195; Zach Larkin, Badin, QB, 6-4,175; DeAngelo Simmons, LB, 6-0/210, Indiana State
SoCon Conference (NEC)
East Tennessee State: Blake Bockrath, Kings, DE/OLB, 6-4/218; Colton Lakes, Loveland, LB, 6-3/215; Olajuwon Pinkelton, Mount Healthy, OL/DL, 6-6/225; Ja'Vonte Williams, Mount Healthy, DB, 5-11/175
Northeast Conference (NEC)
Robert Morris: Alex Hundemer, Lakota East, RB/LS, 5-10/220 (PWO); Brian Loose, Beavercreek, DL, 6-3/235, Robert Morris
Ohio Valley Conference (OVC)
Eastern Kentucky: Daryl McCleskey, Wayne, RB/LB, 5-10/170
Sunbelt Conference
Georgia State: Nick Meyer, St. Xavier, OL, 6-5/275
Ivy League (IVY)
Brown: Michael Hoecht, Oakwood, FB/LB, 6-4/265; Jakob Prall, Tippecanoe, RB, 6-2/179
Princeton: Alex Deters, St. Xavier, OL, 6-2/265; Rick Raga, Moeller, LB, 6-2/225, Princeton
Mid-eastern Athletic Conference (MEAC)
Howard: Ken Larkin, Wyoming, DE, 6-4/210, Howard
Colonial Athletic Conference (CAA)
Albany: Hayden Specht, St. Xavier, DB, 5-9/175
James Madison: JT Timming, Lakota East, OL, 6-2/290