NKY on National Signing Day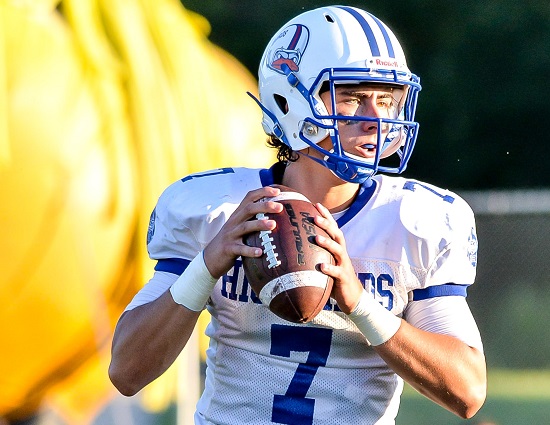 National Signing Day was a big day for a number of high school athletes, including many football players in the Northern Kentucky area.
Highlands, Ryle and Grant County all had three players being signed to play at the next level.
Ryle finished 9-3 in 2015, losing in the second round of the 6A Gridiron Bowl to Simon Kenton. Notable wins in 2015 included ones versus Highlands and Class 5A runner-up Lexington Catholic.
Class 6A semifinalist and TSF NKY Team of the Year, Simon Kenton, had two players sign National Letters of Intent, including star running back Dillon Powell, who will be taking his talents to Wayne State University in Michigan.
Powell took to Twitter to express excitement in his commitment.
"I'm blessed to say that I've committed to play football at Wayne State University," Powell said. "Very excited to become a Warrior."
Powell finished his 2015 campaign with the most rushing yards in Class 6A with 1,780 yards and added 23 touchdowns to the Pioneers' state semifinal season.
Highlands kicker Jared Dougherty, who set both school and state records as one of the most accurate kickers in team history, signed to kick and punt at Lindsay Wilson College. Dougherty will be joined by teammate Bo Hebel, Ryle's Jacob Hiles and Grant County's Roman Gillespie at Lindsay Wilson.
Notable absences from announced signings are Covington Catholic's Cameron Pitzer and anyone from the state runner-up Newport Central Catholic team.
Here is a list of Northern Kentucky players who have signed a National Letter of Intent to play football at the next level:
Beechwood: Brayden Hermes – Georgetown (KY)
Grant County: Charlie Wilcoxen – Kentucky Christian; Triston Wallace – Pikeville; Roman Gillespie – Lindsey Wilson
Highlands: Bo Hebel – Lindsay Wilson College; Jared Dougherty – Lindsay Wilson College; Austin Hergott – Central Michigan
Holy Cross: Joe Wilder – Pikeville
Ryle: Colin England (Union), Jacob Hiles – Lindsay Wilson; Jake Rabe – Pikeville
Scott: Deondre Pleasant – Cincinnati Christian
Simon Kenton: Dillon Powell, RB – Wayne State; David Sandlin – Georgetown (KY)
Be sure to follow all of our updates on signings on our RECRUITING TRACKER.