Springboro Sets School Record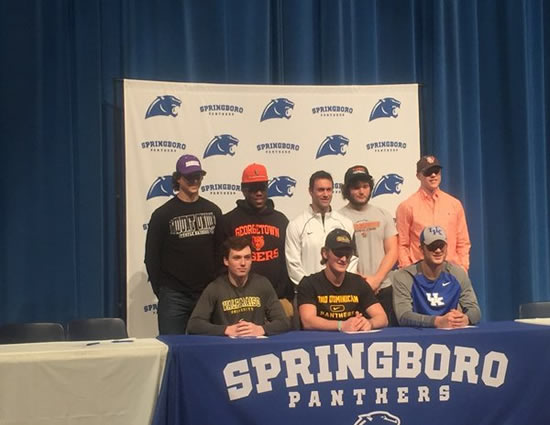 Springboro High School had a school-record seven players sign letters of intent, Wednesday on National Signing Day. The previous record was five signees in 2012.
The seven players were quarterback Elijah Cunningham (Bowling Green), tight end Justin Rigg (Kentucky), defensive lineman Danny Welsh (Ohio Dominican), linebacker Tyler Stephenson (Georgetown College), defensive back Keegan Brown (Valparaiso), linebacker Nic Thomas (Georgetown College) and wide receiver Alex Feldman (Mount Union).
"These players on the stage set an example of hard work and dedication and total commitment to the program," said Springboro head coach Ryan Wilhite.
Rigg verbally committed to the Wildcats close to a year ago. He joins a recruiting class that ranks 29th in the nation, according to Yahoo. Rigg will join GWOC foes, Springfield defensive tackle Kordell Looney and Wayne defensive back Tobias Gilliam in Lexington. He becomes the third sibling to play college football as both older brothers were also recruited.
Cunningham decided to attend Bowling Green last May. Cunningham is nominated for Tri-State Football Dayton Player of the Year after leading Springboro to a 9-3 record. The 6-feet-2 quarterback was recruited by the previous coaching staff that moved onto Syracuse, but the current coaching assured Cunningham he was still a target for this recruiting class. Bowling Green had 20 commits, including 6-feet-5 Lakota West offensive lineman Tim Tanner-Blair. Cunningham is the only quarterback in the Falcons 2016 recruiting class.
Stephenson and Thomas will both attend Georgetown. Unfortunately for Thomas he missed the entire 2015 season, but Wilhite said his junior film was good enough to get noticed. This will give Stephenson and Thomas an opportunity to continue playing linebacker at the same school and take advantage of losing last year together.
After missing his junior season with an injury, Feldman bounced back to finish second on the team with 737 receiving yards and eight touchdowns. One of his best games of the season was in the Division I second round loss to Wayne where Feldman caught nine passes for 126 yards and a touchdown.
These seven players are part of history for Springboro High School. Current football players and other athletes were in the crowd of the auditorium while these future college players signed their letters of intent. This was an honor for the college bound players, but also could help encourage underclassmen to be on the same stage in the future.
"It's my hope that our current players get inspiration from seeing guys who've gone through the same process that they are going through, have that kind of success," said Wilhite. "It's a 'that could be me' kind of thing."