Where They're Headed: Division II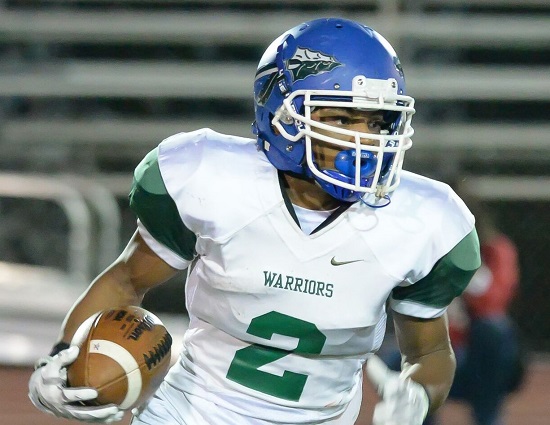 One of the best things about living in the Midwest if you are a player who wants to continue a gridiron career but aren't good enough to play major college football is the area has very strong Division II conferences that gobble up talent that slips through the Division I cracks.
The Great Lakes Intercollegiate Athletic Conference found some real gems to bolster the depth throughout the league. The big winner from the GLIAC on National Signing Day, locally was Ohio Dominican. The Panthers inked a whole ton of size in o-linemen Danny Welsh, Ephram Averhart, Jake Garrison and defensive big men Andrew Greenspan and James Abrams. Athlete Jayden Davis could be the biggest future benefactor of the boys in the trenches. Davis who ran for more than 2,000 yards in 2015 is also a stellar defensive back. The future3 is extremely bright for the former Kenton Ridge Cougar.
Out of the Mountain East Conference, Urbana continues to accumulate quality out of Southwest Ohio. A trio of running backs Ja'Varhi Portis, Jalen Lumpkin and Nykwaun Presswood could make for a dynamic Blue Knights offense moving forward provided that Urbana can block for them. Mabrey will feel right at home with three other of his Winton Woods teammates joining him in Champaign County. Linebacker Joey Davidson a two-time CBC Mad River Defensive Player of the Year might be one of the biggest steals for UU. He has the tools to be not only All-MEC but an All-American.
Here is a look at the locals who signed with Division II schools:
Great Lakes intercollegiate Conference (GLIAC)
Ashland: Eli Elton, Waynesville, OL, 6-5/265; Nick Hofmeier, Lakota East, 6-3/294;
Alex Nees, Piqua, DB, 5-11/176; Chase Rowe, Stebbins, DB, 6-0/175; Conor Ryan, Alter, DL, 6-3/255
Findlay: Brandon Bronaugh-Ayers, Wayne, OL, 6-1/290; Jacob Bronson, Stebbins, OL, 6-2/250; Drew Ogletree, Northridge, WR/DB, 6-5/209
Lake Erie: Trey McFadgen, Wayne, DB, 5-11/170; Josh Weaver, Fairfield, LB, 5-9/180, Lake Erie
Malone: Xavier Garland, Springfield, RB/LB, 6-0/228
Ohio Dominican: James Abrams, Northmont, DL, 6-5/270; Ephram Averhart, Springfield, OL, 6-4/265; Jake Garrison, Clinton-Massie, OL, 6-3/290; Andrew Greenspan, Beavercreek, OL/DL, 6-4/260; Jayden Davis, Kenton Ridge, RB/DB, 5-11/193; Danny Welsh, Springboro, OL, 6-3/225
Tiffin: Eethan Edwards, Middletown, DB, 6-0/167; Zach Exalus, Winton Woods, WR, 6-4/190; Hunter Fentress, Clinton-Massie, 6-1/175; Cameron Fox, Talawanda, DE, 6-2/240; Mason Kuhn, Talawanda, DB, 6-0/190; Nick Watson, La Salle, QB, 6-1/185
Wayne State: Dillon Powell, Simon Kenton, RB, 5-10/190
Mountain East Conference (MEC)
Notre Dame College: Myron Brown, Northwest, ATH, 5-10/175
Urbana: Deonta Belser, Elder, DE, 6-4/225; Tyshon Cappell, Winton Woods, DB, 5-11/175; Joey Davidson, Indian Lake, LB, 6-0/205; Tommy Harris, Withrow, LB, 5-10/255; Elijah Miller, Withrow, DB, 5-9/185; Alex Parker, Winton Woods, DE, 6-3/232: Jalen Lumpkin, Winton Woods, RB, 5-10/225; Kenny Mabrey, Winton Woods, WR, 5-8/160; Ja'Varhi Portis, Elder, RB, 6-0/210; Nykwuan Presswood, Taft, RB, 5-10/184; Steve Schrodi, Northmont, OL, 6-0/250; Roman Sneed, Wayne, WR, 6-0/185; Jalen Spears, Colerain, LB/DE, 6-2/205; Brayden Underwood, Springfield, LB, 6-3/205; Stanley Williams, Withrow, LB, 5-9/225, Urbana
University of Charleston: Sawyer Klingelhoffer, Oak Hills, LB, 6-3/205; Parker Clemons, Milford, DL, 6-3/261
West Virginia State: Jamal Fox, Wyoming, DL, 6-3/245; Jeremiyah Hairston, Walnut Hills, LB, 5-10/2015
Southern Intercollegiate Athletic Conference (SIAC)
Central State: VerQuavion Robinson, Princeton, OT, 6-4/320; Darius Thomas, Winton Woods, OL, 6-0/265
Kentucky State: Charlie Wilcoxen, Grant County, OL, 6-6/265
Pennsylvania State Athletic Conference (PSAC)
Indiana (PA): Nate Richmond, Centerville, WR, 6-3/190
Seton Hill: Davionne Laney, Summit Country Day, OL/DL, 6-0/220