2017 Snapshot: Walton-Verona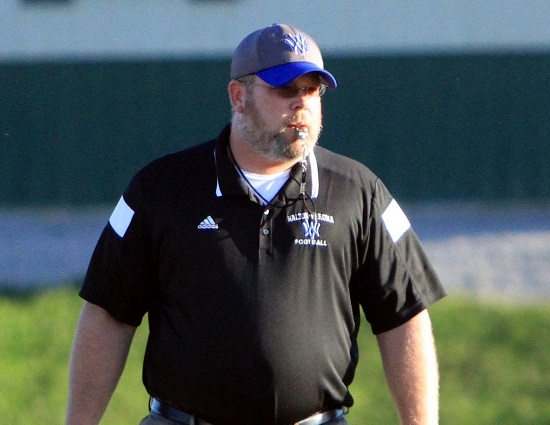 Walton-Verona head coach Jeff Barth (photo By Carla Martin/TSF)
The first decade of football would be deemed a success for the Walton-Verona program. The Bearcats now look to take things to an even higher level over the next 10 years.
Walton-Verona has averaged seven-and-a half wins a season over the last eight campaigns under current head coach Jeff Barth. The problem is that the Bearcats have only gotten past the second round of the playoffs just one time. They have not been able to solve the riddle of their rivals from Class 2A, District 6 in the postseason but that may be about to change.
"We have a strong, good nucleus of players returning. We have nine total returning defensive starters and several on the offensive side of the ball including four of five offensive linemen," Barth said. The Bearcats defense already has an identity, donning the moniker, "Brick Squad."
One concern is under center. "We will have an inexperienced quarterback at the helm but we should be able to throw the ball more successfully than at any other point in program history," Barth states. Walton-Verona has plenty of weapons at the skill positions. That will take the pressure of the signal-caller. These Bearcats will be one of the most balanced offensive teams to ever wear the blue and white.
This is a team loaded with players who have seen a lot of snaps in their careers. Add in depth from a '16 junior varsity team that has been winning big since its pee wee days, achieving bigger and better things is closer than ever.
Class 2A, District 5
2016 RECORD: 7-5, 4-0 Class 2A, District 5
COACH:  Jeff Barth (60-34 at Walton-Verona, eight years; 60-34 overall)
TOP RETURNEES
Mason Smith, Sr, RB/LB – A potential District Player of the Year candidate. Smith is an elite level wrestler who returned to football last season. Had a fantastic year at linebacker with 77 total tackles and 12 tackles for losses. He also came on strong at running back finishing with 370 yards from scrimmage and.
Colton Catlett, Sr, OL/DL – This will be the fourth season starting for Catlett on the defensive side of the ball. He is an excellent interior d-lineman who is capable of taking on double teams and making plays. As a junior he tallied 41 total tackles and four sacks. The 6-foot-0, 255 pound Catlett is also a very solid offensive tackle.
Hunter Michael, Sr, OL/DL – Will be a three year starter on defensive side of the ball. Michael has the ability to string out and make plays on the ball carrier. He also plays tackle on offense.
Zach Clinkenbeard, Sr, WR/DB – The passing game will play a larger role in '17  for the Bearcats and Clinkenbeard will be a big benefactor. The 6-foot-6, 195 pound senior has excellent hands and is a strong route runner with good speed. He is a dangerous threat on long and short routes. Clinkenbeard also played solidly at safety a year ago.
Grant Grubbs, Jr, OG/LB – A starter since his freshman year. Grubbs was second on team with 71 total tackles and had five sacks last season. He is excellent versus the run, can put pressure on the quarterback and solid in pass coverage. On offense, Grubbs is Walton-Verona's best pulling guard. He has an elite level motor, flies around on both sides of the ball.
Garrett McElroy, Sr, C/DL – The Bearcats starter at center last fall, McElroy will wee more time on defense as a senior.
Garet Talbott, Sr, RB/DB – A speed demon who is in just his third year of organized football. Talbott emerged at running back as the season progressed last fall. He ended the campaign with 539 yards from scrimmage while averaging 7.4 yards per carry with four touchdowns.
Kam Pardee, Jr, WR/DE – Another Bearcat with tons of varsity experience. Back for his third season as a starter on defense, Pardee is long and lean at 6-foot-4 and 180 pounds. He is very good at the point of attack, stringing out plays and rushing the quarterback. Pardee should be a pivotal part of increased passing game in '17.
Garrett Jones, Jr. QB/DB – Has come on strong this offseason, showing an accurate arm and command of the offense while competing for the starting position at quarterback. Played a very good safety position as a sophomore.
Micah Alford, Jr, FB/LB – The junior gives Walton-Verona productive snaps on both sides of the ball. On offense, Alford is a powerful runner between the tackles and an effective blocker at fullback. He should be a featured player in the running game. On defense, Alford rotated at linebacker last season and performed well. He is a sure tackler with a good nose for the football.
Tyler Schrader, Jr, RB/DB – The junior is back for his third year as a starter in the secondary. Schrader played both cornerback and strong safety in '16. He is solid in run support, a hard hitter, sure tackler and excellent in coverage with very good ball skills. Look for him to become more of a factor at running back this fall.
Logan Boone, Jr, OL/DL The 5-foot-9, 320 pound Boone was a valuable rotation player last year at both nose guard and defensive tackle. Boone has elite level strength and worked on agility and foot quickness over the offseason.
Travis Brauer, So, QB/DB – Will compete for the starting job at quarterback and for one in the secondary. Brauer is tall, agile and has a big arm. He led a very strong junior varsity unit to eight victories as a freshman.
NEWCOMERS
Tyler Wagner, Jr, RB/LB – Wagner played the last two seasons at Beechwood after being a key player on the Walton-Verona middle school championship team. Wagner brings elite level athleticism that could make an impact on both sides of the ball.
PLAYOFF HISTORY
(7-7 overall)
District Runner-up (1) – 2012
2017 SCHEDULE
Fri – 08/18/17 – at East Jessamine – 6:00 PM (Jessamine County Bowl)
Fri – 08/25/17 – at Kentucky Country Day – 7:30 PM
Fri – 09/01/17 – HOLMES – 7:30 PM
Fri – 09/08/17 – HOLY CROSS – 7:30 PM
Fri – 09/15/17 – at Lexington Christian Academy – 7:30 PM
Fri – 09/22/17 – OWEN COUNTY – 7:30 PM
Fri – 09/29/17 – BYE
Fri – 10/06/17 – at Trimble County – 7:30 PM
Fri – 10/13/17 – CARROLL COUNTY – 7:30 PM
Fri – 10/20/17 – at Gallatin County – 7:30 PM
Fri – 10/27/17 – At Bellevue – 7:00 PM
DISTRICT DOMINANCE
Walton-Verona is a combined 19-1 in district play over the past five seasons.  The Bearcats have won 15 of those games by 27 points or more. They have lifetime winning records against all-district foes: Gallatin County (7-1), Carroll County (6-2), Trimble County (6-2) and Owen County (5-1).
GANG TACKLING
Six Bearcats have more than 50 total tackles in their careers – Grubbs (124), Catlett (89), Smith (87), Schrader (68), Michael (57) and Pardee (51).
GETTING INTO THE BACKFIELD
The aforementioned six players have combined for 75.5 tackles for losses at the varsity level – Catlett (22.5), Grubbs (15.5), Smith (14.0), Michael (9.0), Pardee (7.5) and Schrader (7.0).