2017 Snapshot: Turpin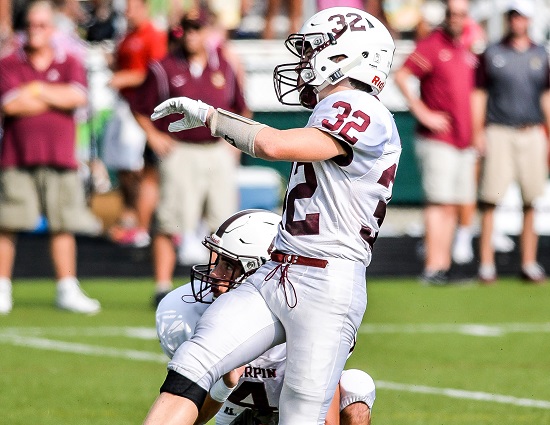 Turpin K Harry Sand (photo by Mike Noyes(TSF)
The sidelines will look a little bit different this fall at Turpin but expect the on field product to remain the same. A new era begins as Rob Stoll stepped down as head coach after last season. He is replaced by former Harrison front man, Kent McCullough. The Spartans winning ways shouldn't miss a beat despite the transition.
McCullough's task of keeping the high bar that was set during the Stoll years has some obstacles ahead. Eight starters are gone on offense including all five linemen. The defense must replace seven starters. Turpin is going to be very "raw" up front. "This is a very hungry group of players that will be thrown into the fire early. They will be expected to keep the standard of being the "King of the Hill"," McCullough states.
Not all is gloomy as the Spartans have weapons at the skill positions on offense, an outstanding kicking game on special teams and a core of defensive backs that are very good at creating turnovers. Those are good foundations to build upon in all phases of the game.
Blocking will be paramount to Turpin's success. They will score points if they can move the chains just a little bit. Even though the Spartans lost so much to graduation expect them to get to seven or eight wins and be knocking on the door for a third straight playoff berth in Region 8.
Division II, Region 8
2016 RECORD:  11-1, 7-0 ECC
COACH:  Kent McCullough (0-0 at Turpin, first year; 39-26 overall, six years)
HONOR ROLL
Will Hausfeld, Sr, DB – Hausfeld really came into his own as a junior racking up 481 yards rushing, catching 27 balls for 301 yards, amassing 954 all-purpose yards, finding the end zone nine times (seven rushing, two receiving), recording 31 tackles and intercepting six passes. That effort earned him Special Mention All-Ohio and First Team All-Southwest District honors at defensive back.
Harry Sand, Sr, K – Lots of opportunites arose for Sand in '16. He connected on 43/48 extra points and all 10 of his field goal attempts for 73 points on his way to First Team All-Southwest District accolades. Twice, Sand scored 11 points in a contest.
Griffen Durso, Sr, DB – Back for his third season as a starter Durso was named Second Team All-ECC as a junior. He has 85 total tackles, a sack, a fumble recovery and seven interceptions in his career.
Jake Silverstein, Sr, WR/P – Over the past two seasons Silverstein has quietly put up some pretty good numbers. The '16 Second Team All-ECC performer has 37 receptions, 592 yards receiving and six touchdown catches at the varsity level.
Lucas Smith, Sr, QB – Smith was awfully poised in his first year as a starter on a team that finished the regular season undefeated. He threw for 1,607 yards, churned out 354 yards on the ground, accounted for 25 touchdowns (17 passing, eight rushing) with only eight interceptions on his way to Second Team All-ECC honors as a junior.
OTHER RETURNEES
Ryan Scoble, Sr, OL/DL – The Spartans top returning pass rusher with two sacks.
Nick Haddad, Jr, DB – It looks as if Haddad is following in the footsteps of his teammate and peer, Durso. He had two interceptions as a sophomore.
Eliot Davis, Sr, DB – Had three takeaways (One fumble recovery, two interceptions as a junior.
NEWCOMERS
Quintin Wilson, Sr, C – This transfer from Walnut Hills is a much welcomed addition to the offensive line. The 6-foot-3, 293 pound Wilson has verbally committed to Kentucky.
PLAYOFF HISTORY
(10 appearances, 11-10) – 2016, 2015, 2012, 2011, 2010, 2009, 2008, 2007, 2006 (Regional Champions), 1995
2017 SCHEDULE
Fri – 08/25/17 – McNICHOLAS – 7:00 PM
Fri – 09/01/17 – at Northwest – 7:00 PM
Fri – 09/08/17 – WESTERN HILLS – 7:00 PM
Fri – 09/15/17 – at Milford – 7:00 PM
Fri – 09/22/17 – WALNUT HILLS – 7:00 PM
Fri – 09/29/17 – at Kings – 7:00 PM
Fri – 10/06/17 – at Withrow – 7:00 PM
Fri – 10/13/17 – ANDERSON – 7:00 PM (Senior Night)
Fri – 10/20/17 – at West Clermont – 7:00 PM
Fri – 10/27/17 – LOVELAND – 7:00 PM
DEFENSE WINS CHAMPIONSHIPS
A large reason Turpin finished the regular season unblemished in '16 was ferocious defense which helped the school win its second ECC championship outright and third league title overall. The Spartans allowed just 12.1 points per game. They held seven foes to eight points or less and had 48.0 sacks which lead to 38 takeaways (29 interceptions, nine fumble recoveries).

PICK ARTISTS
The Spartans return four players who had at least two interceptions in '16 – Hausfeld (six), Durso (three), Haddad (two) and Davis (two).
POINT PRODUCTION
Turpin returns .54% of its point production from a year ago – Sand (73), Hausfeld (54), Smith (48)….