Jordan looks to make history at Aiken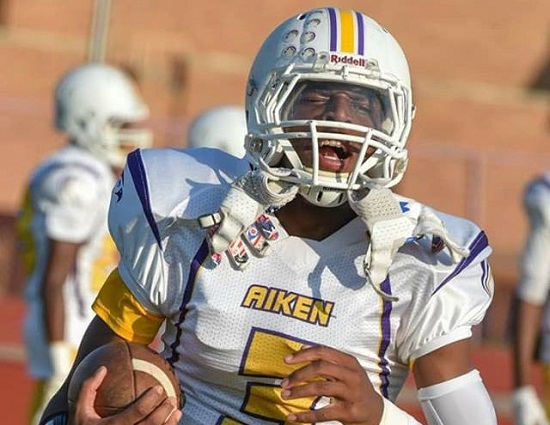 Aiken QB Timothy Jordan (photo by Cincy Photography)
It's hard to believe but the Aiken football program has never had a player run for 1,000 yards in a season. That all could change Thursday night as Falcons quarterback Timothy Jordan heads into tonight's finale against Riverview East needing just 178 yards to reach the mark.
That may seem like a ton of yardage to pick up but that is where this story gets good. Jordan was called into duty in Week 6 after senior Tim Williams, the reigning SOPL National Offensive Player of the Year, went down with an injury.  Without a passing or rushing yard to his name the first four weeks of the season, Jordan took to the position under center like a fish to water.
The junior is averaging 200.25 yards with 10 touchdowns rushing in his four starts, all wins for the Falcons.  Jordan ran for a career high 263 yards against Shroder. Not only is Jordan doing it with his legs, his arm is pretty good, too. He has thrown for 425 yards and eight touchdowns.
As for Williams, he returned to the lineup two weeks ago and is making an impact at receiver with six receptions with three touchdowns catches since coming back. He also has three interceptions on defense in the last two contests.