Long and Winding Roads to Madeira for Stewart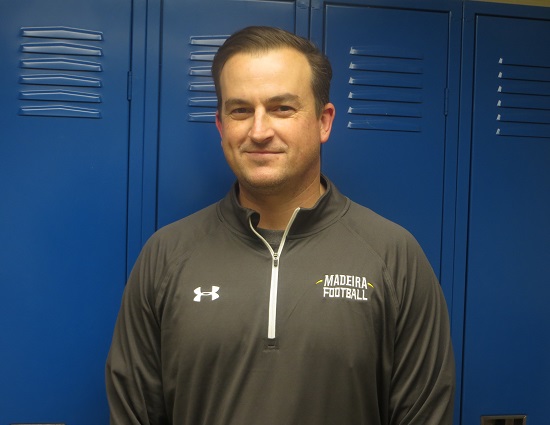 Madeira head coach Chris Stewart (photo by Greg Shoemaker/TriStateFootball.com)
If you want something bad enough you will go the extra mile to get it. New, Madeira head coach Chris Stewart has been a road warrior on his way to landing his first job at the helm of a program.
Stewart starts his day leaving his home in West Chester and heads to Wyoming where he teaches school all day. Then it's off to Madeira to coach his Mustangs. That driving is a piece of cake compared to the last two years Stewart spent on Evan Dreyer's staff all the way out at Anderson. The man is wearing out some tires.
Stewart grew up in Schenectady, New York, graduated from Niskayuna High School then onto Miami (OH). Coaching is in his blood. The reason he will be successful is what he has absorbed from the coaching staffs that he has been on along his journey to Madeira. Stewart's father was a longtime and well-respected coach in upstate New York. After college he landed an assistant coaching position on Bernie Barre's Wyoming staff (along with current Cowboys head coach, Aaron Hancock). Then he ran into Dreyer, the pair hit it off and another chapter was written.
Every step of the way, Stewart has been able to surround himself with quality coaches. He's ready for this. This we know, his Madeira squads are going to be very well prepared and if they play with his passion, which should rub off on them, then the Mustangs fans are going to have plenty to cheer about during his tenure.