2018 Snapshot: Piqua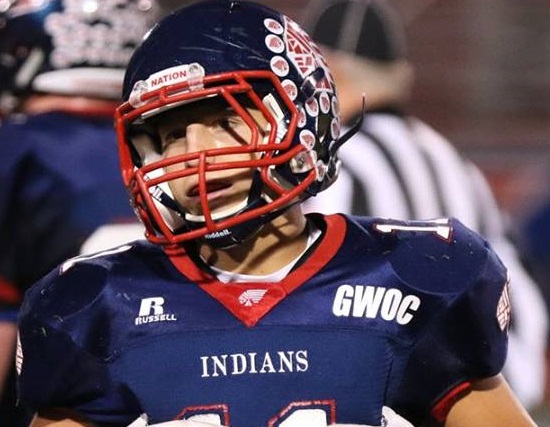 Piqua LB Micah Karn (photo courtesy of ScoutingOhio.com)
All signs point to this being a special season for Piqua. Indians head coach Bill Nees is seven wins from 200 for his career. If Piqua gets to that number there is a good chance they will be in the playoffs for just the second time since 2007. Playing in November would be icing on the cake for a momentous 2018.
In order for that to happen many things have to go right for Piqua. Plenty of new faces must to step up and show that Friday night lights aren't too big for them. The Indians scored 46 touchdowns a year ago. Players who accounted for all but four of those have graduated.
The bright side of this, is that Piqua's strength is in the trenches. They return four of their five ginormous starting offensive linemen. A group of unknown commodities in the backfield are going to get their chances to shine with the holes that will be opened up for them.
This is a squad that will have to grow up fast. There is little room stubbing their toes versus a schedule that is loaded with landmines. The Indians will be able to move the ball on the ground. That will shorten the game and limit their foes possessions. The defense must not allow the opposition to match the offense's work. The more stops the Piqua defense makes the more the milestones will pile up.
Division III, Region 12
2017 RECORD: 6-4, 3-2 GWOC American North
COACH:  Bill Nees (193-95, 27 years at Piqua, 193-95 overall)
HONOR ROLL
Caden Clark, Sr, OT – The 6-foot-3, 305 pound Clark is the anchor of the Indians o-line. He earned Second Team All-GWOC American North honors a year ago.
Zayne Arbogast, Sr, DL – A high motor guy, Arbogast was named Second Team All-GWOC American North as a junior. He has 50 total tackles in his career.
Brennan Toopes, Sr, DL – A Special Mention All-GWOC American North performer after a junior campaign in which he tallied 53 total tackles and had a sack.
Micah Karn, Sr, OLB – Karn had a breakout season in '17. He recorded 82 total tackles (47 solo), forced two fumbles, recovered a fumble and snared two interceptions on his way to Special Mention All-GWOC American North accolades.
OTHER RETURNEES
Owen Toopes, Sr, WR – Hauled in 11 receptions for 120 yards and a pair of touchdowns in seven games as a junior.
Riley Hill, Jr, OL – A force up front, the 6-foot-2, 285 pound, Hill is a returning starter on the line.
MaKeegan Kuhn, Jr, LB – Kuhn made a huge impact in his varsity debut last fall. He was in on 41 total tackles, forced a fumble and had two interceptions including a 69-yard pick six against Greenville.
Colin Roe, Jr, WR – Had at least one reception in eight of the nine games he played in as a sophomore. Finished the year with 13 cathces for 105 yards.
NEWCOMERS
A pair of seniors who missed much of last season to injuries TE/DL Tyler Bolin and DL Grant Toopes will bring much needed depth on the lines.
PLAYOFF HISTORY
(11 appearances, 19-10) – 2015, 2007, 2006 (State Champion), 2001, 2000 (State Runner-Up), 1999, 1994 (Regional Champion), 1993 (Regional Champion), 1992 (Regional Champion), 1991, 1990 (Regional Champion)
2018 SCHEDULE
Fri – 8/24/18 at Chaminade Julienne 7:00 PM
Fri – 8/31/18                                 7:00 PM
Sat – 9/8/18 at Meadowdale 1:00 PM
Fri – 9/14/18 FAIRBORN 7:00 PM
Fri – 9/21/18 at Trotwood-Madison 7:00 PM
Fri – 9/28/18 at Sidney 7:00 PM
Fri – 10/5/18 GREENVILLE 7:00 PM
Fri – 10/12/18 at Butler  7:00 PM
Fri – 10/19/18 TIPPECANOE 7:00  PM
Fri – 10/26/18 TROY  7:00 PM