Dayton Roundup: Don't Count Out Wayne, Yet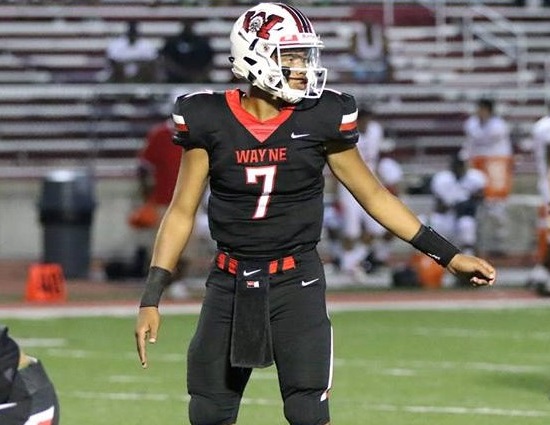 Wayne QB Rashad McKee photo courtesy of ScoutingOhio.com)
WAYNE 49, NORTHMONT 20
When quarterback Rashad McKee is on, it's hard to bat Wayne (3-2). Northmont (4-1) found that out on Friday night. McKee amassed 432 yards of total offense (319 pass, 113 rush) and accounted for seven touchdowns (five pass, two rush) as the Warriors snapped a two-game skid while knocking the Thunderbolts from the ranks of the unbeaten. Receiver Steven Victoria caught eight passes for 183 yards with three touchdowns for the victors. Down 14-7 with just over two minutes left before halftime, Wayne caught fire outscoring the T-bolts 42-6 the rest of the way. The Warriors held Northmont to a season low 20 points and was aided by three Thunderbolts turnovers.
MIAMISBURG 31, TROY 14
There was no let down for Miamisburg (5-0) after knocking of Wayne in Week 4. The Vikings built a 17-0 halftime advantage and never looked back as they handed Troy (4-1) its first loss of the year. Quarterback Tate Vongsy ran for two touchdowns and threw for another in the winning effort. The Miamisburg defense was stellar once again holding its fifth straight opponent to 14 points or less. The schedule doesn't get any easier for the Vikings who will host Fairmont (4-1) on Friday. Troy entertains Tippecanoe (3-2) who has won three of its last four.
CHAMINADE JULIENNE 61, CARROLL 30
The red-hot Chaminade Julienne (5-0, 2-0) was too much for Carroll (4-1, 1-1) to handle. The Eagles who are averaging 48.0 points per game put a season high 61 on the scoreboard. Junior Marquis Henry ran for six touchdowns on 15 carries and 245 yards for CJ. Classmate Quincy Johnson chipped in with 126 yards on 10 totes and a pair of scores. Henry (597-9) and Johnson (404-7) have combined for 1,001 yards and 16 touchdowns rushing through five weeks. Friday night, Chaminade Julienne travels to Roger Bacon (2-3, 0-2) who has dropped three in a row. Carroll looks to regroup on the road at Badin (3-2, 1-1).
SPRINGFIELD 28, LEBANON 0
The great start continues for Springfield (5-0) as the Wildcats shutout visiting Lebanon (3-2). Tavion Smith led the Springfield defense with a fumble recovery and 44-yard pick six. The senior now has six takeaways (four fumb rec, two int) on the year. Quarterback Ra'Heim Moss had career highs of 261 yards and two touchdowns passing for the Wildcats. Teammate Larry Stephens had 117 yards receiving on four catches with a touchdown. It was the first 100-yard receiving game of the junior's career. Springfield who has yet to give up more than 14 points in a contest will host Xenia (3-2) in Week 6.
BELLBROOK 21, FRANKLIN 17
Justin Sloan found the end zone late in the fourth quarter as Bellbrook (5-0, 1-0) pulled of a come from behind win oevr a game Franklin (1-4, 1-1) squad to remain perfect. Sloan finished with 108 yards rushing. It was the eighth time in his last 12 games that the senior has topped the 100-yard mark on the ground. The Golden Eagles hit the road this Friday for a SWBL Southwestern clash with Valley View (3-2, 2-0).
OTHER SCORES:
GWOC
Greenville 35, West Carrollton 34 OT
Butler 13, Xenia 7 OT
Trotwood-Madison 48, Piqua 13,
Springboro 35, Centerville 0
Tippecanoe 52, Stebbins 0
Sidney 40, Fairborn 12
Fairmont 42, Beavercreek 0
GCL NORTH
Alter 45, Fenwick 20; Alter Cruises Past Fenwick
SWBL
Madison Senior 34, Milton-Union 0
Oakwood 40, Eaton 12
Waynesville 31, Preble Shawnee 17
Northridge 41, Dixie 0
Valley View 21, Monroe 0
Brookville 42, Carlisle 2
DPS
Belmont 26, Thrugood Marshall 21
Meadowdale 20, Ponitz 18,
Dunbar 22, Woodward 20