Preview: Batesville at East Central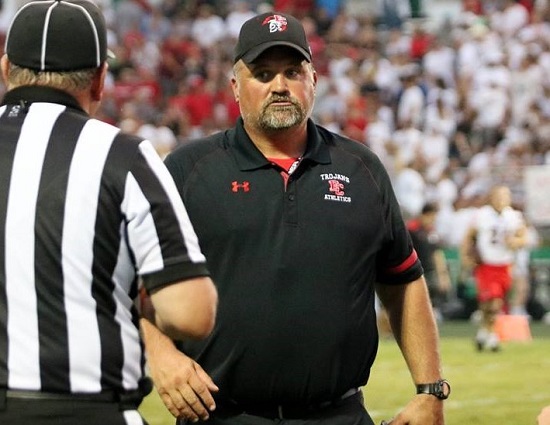 East Central head coach Don Stonefield (photo by Linda Lyness Maxwell)
It's out to the Hoosier state for this week's U.S. Marines Battle of the Gridiron Series. Reigning Indiana Class 4A state champion East Central looks to fend off rival Batesville on homecoming. The affair promises to be filled with plenty of offensive fireworks. Both schools are loaded with explosive players who can change the momentum of a game on just one snap. It should be one highly entertaining night.
BATESVILLE BULLDOGS (3-1) at EAST CENTRAL TROJANS (3-1)
Kickoff: 7:30 p.m at Trojan Field
Follow on Twitter @TSFootball
PLAYERS TO WATCH: For Batesville, everything runs through QB Trey Heidlage who was named IFCA All-State Junior 3A a year ago. He can beat you with his feet and arm. Classmate WR Austin Siefert is his top target. Siefert has more than 50 receptions, 1,000-plus yards receiving and 12 touchdowns since the beginning of 2017. The Bulldogs defense is led by MLB Adam Bedel, a IFCA All-State Junior 3A selection last fall and DB Tyler Myers.
On offense for East Central it all starts with IFCA All-State Junior 4A, QB Alex Maxwell who has amassed 645 yards of total offense (424 pass, 221 rush) and accounted for 12 touchdowns (two pass, 10 rush).  Maxwell is nearing some milestones in his career. He is 24 yards from 2,000 passing, 172 yards from 3,000 rushing and one rushing touchdown away from 50. It has been a breakout senior campaign for RB Eric Rosemeyer who has 500 yards and five touchdowns rushing. The 6-foot-6, 275 pound sophomore  OT/TE Luke Collinsworth caught his first touchdown pass last week. Junior LB Kyle Krummen has come into his own with 10 tackles for losses. He has had a pair of sacks in each of his last two games. Senior LB Bret Fox leads the Trojans with four-and-half-sacks. East Central is outstanding on special teams with DB/RS Devon Donawerth having three punt returns for touchdowns and K Caden Browndyke with 10 field goals at the varsity level. Rosemeyer averages 40.0 yards per punt.
TEAM TRENDS: Batesville has topped the 40-point mark three times. The Bulldogs have outscored their opponents by a combined, 88-7, in the first half of their three victories.
Since losing to Oak Hills in Week 2, East Central has scored 49 and 58 points in back-back wins. They have had 15 touchdown drives in that span, 14 of which have been four minutes or less. Nine of those have been by two minutes or fewer including their last seven trips to the end zone. The Trojans are averaging 41.5 points per contest.
BATESVILLE'S KEYS TO VICTORY: Putting points on the board is a must and preferably early. Batesville has yet to prove it can score versus upper echelon competition. The Bulldogs were shutout by Class 4A South Dearborn. They must to score in unconventional ways to keep this one close. On defensive, Batesville needs to force turnovers. Getting the ball back into Heidlage's hands on as many possessions as possible can only lead to good things.
EAST CENTRAL'S KEYS TO VICTORY: The Trojans have been dominant up front. They have been running downhill and steam rolling over opponents. The defense needs to stop Heidlage and force other Bulldogs to try and beat them. Confidence is high on this team right now. East Central just needs to stay true to the identity it has established the past two weeks.
Prediction: EAST CENTRAL 42, BATESVILLE 14