Former Highlands' star Jared Lorenzen dies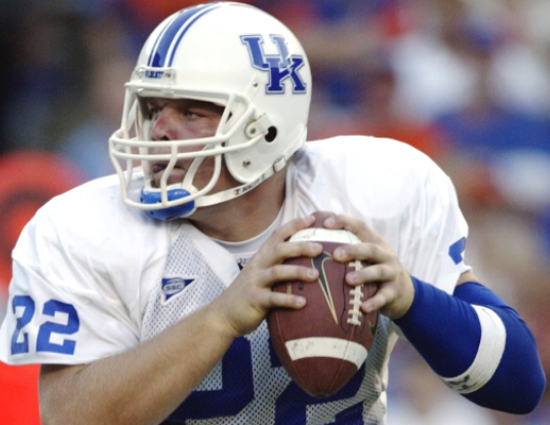 Jared Lorenzen, a local high school and college football legend, passed away on Wednesday at the age of 38 after being hospitalized since Sunday battling heart and kidney issues.
Lorenzen was named Mr. Kentucky in 1998 after leading the Highlands Bluebirds to an undefeated season and Class 3A state championship. That Highlands' offense averaged more than 53 points and 493 yards per game during that campaign. That team's 801 offensive points was the state record until the 2011 Highlands' team beat it.
That season was one of the most prolific efforts ever turned in by signal caller in the state of Kentucky. Lorenzen passed for 3,392 yards and 45 touchdowns and rushed for 15 more scores and an additional 904 yards on his team's way to a 15-0 mark.
During his junior season he also led the Bluebirds to a state title while passing for a then-Northern Kentucky record 2,759 yards and 37 touchdowns in 13 games.
Check out this TSF interview with Jared Lorenzen  and Patrick Towles (Aug 2011)…

After his prolific high school career Lorenzen went on to start at the University of Kentucky from 2000-2003. The quarterback was inducted into the UK Hall of Fame in 2015.
Lorenzen still holds several school records, including career total offense (10,637 yards), career passing yards (10,354), career pass attempts (1,514), career completions (862), single-season passing attempts (559) and single-game passing yards (528). He ranks second in program history in career passing touchdowns (78) and 300-yard passing games (15).
Following his time in Lexington, Lorenzen signed with the New York Giants as an undrafted free agent in 2004 and earned a Super Bowl ring as Eli Manning's backup in 2007. He appeared in just four games during his NFL career, completing four of eight passes for 28 yards and rushing two times for a total of four yards. 
He had a brief stint with the Indianapolis Colts after his time in New York, but didn't make it out of training camp. The rest of his professional career would come playing for a variety of indoor teams, including his stint with Northern Kentucky River Monsters. A broken leg playing for them in 2014 put an official end to his playing career.
When he was born in 1981 he was featured on the local news as he weighed 13 pounds. During his time in college he was affectionately pegged as the "Hefty Lefty" and "Pillsbury Throwboy" by Wildcats' fans. 
Over the last decade his battle with weight was well documented. He told ESPN's E60 in 2017 that he weighed 571 pounds and he recently launched the "Jared Lorenzen Project" to chronicle his journey with weight loss and to help others battling with obesity.
Ultimately his battle with weight became the battle of his life and one of the few times he would come out on the losing side of the ledger.  Lorenzen leaves behind a legacy that was larger than life.
A statement from family members reads, "It is with heavy hearts that the family of Jared Lorenzen, would like to extend our sincere thanks and appreciation for all of your support and prayers the past six days. We are deeply saddened to announce the passing of Jared today, July 3, 2019. Again, we appreciate all of the warm wishes and prayers, but as a family, we would request your respect and privacy. We will offer arrangement information in the coming days. Please keep Jared's family and especially his children, in your thoughts and prayers."
*Image from UK Athletics
REACTION FROM TWITTER
Jared Lorenzen was one of the finest people I have known….a better person than a player. He was a huge part of our KSR family and an even larger part of the BBM family.

My heart is broken for his family and friends. God Bless the soul of our amazing friend

— Matt Jones (@KySportsRadio) July 3, 2019
Thanks for the memories, J Lo. #22 pic.twitter.com/5gmEe3Bq4p

— Kentucky Football (@UKFootball) July 3, 2019
We mourn the passing of former @Giants quarterback Jared Lorenzen. Rest In Peace. pic.twitter.com/YZ8lwI3HDF

— NFL (@NFL) July 3, 2019
Jared Lorenzen was a warm, caring, deeply introspective man, totally committed to his family. He was really funny, too–and man, what an athlete.

— Jeremy Schaap (@JeremySchaap) July 3, 2019
Rest in Peace to a college legend.

Jared Lorenzen was a baller. pic.twitter.com/iHpnv2B9ER

— The Checkdown (@thecheckdown) July 3, 2019
Eli Manning on former Giants teammate Jared Lorenzen: 'Jared was a great teammate and friend. … I will always remember his competitive spirit and his good nature'https://t.co/BxiChAGxrY pic.twitter.com/JDN3lYyGqH

— Around The NFL (@AroundTheNFL) July 3, 2019
Listening to this interview from Jared Lorenzen in 2016 is heartbreaking. Please say a prayer for his family.

"Life's too short to cry about stuff. So get out there laugh, smile and have fun doing it." pic.twitter.com/82ZvKYtwZ1

— Lee K. Howard (@HowardWKYT) July 3, 2019