2019 Snapshot: Dixie Heights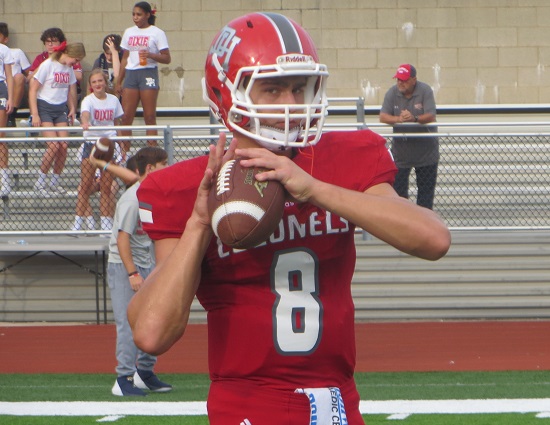 Dixie Heights is coming off one of their worst seasons in program history. Head coach Dave Brossart talked about how they can make sure a season like 2018 doesn't happen again.
"When coming off a season to forget, it's all about attitude," Brossart stated. "We have to pick ourselves up, put last season behind us, and move in a positive direction."
He also went on to say that experience is strength to this team, because they will come back hungry with revenge on their mind.
"Our work ethic has been really good," the coach added. "Guys have been getting after it and pushing each other in the weight room and on the practice field. I feel like we are in a good spot in that aspect."
In terms of what his team could work on, Bossart pointed out that his a little bit smaller than they would like. The overall numbers of the players is less than ideal as well
"Overall, I'm very excited about our upcoming season. We had a great off-season and our returning players improved in strength and development," Brossart said. "Team chemistry has improved and our guys are very unselfish."
Class 6A, District 6
2018 RECORD: 1-10, 0-2 Class 5A, District 5
COACH: Dave Brossart (37-46 at Dixie Heights, seven years; 61-77 overall, 12 years)
TOP RETURNEES
Jeremy Adams, Sr, QB: Adams quietly had an above average junior year. He threw for 1,562 yards, ran for 619 yards and accounted for 20 touchdowns (11 rush, nine pass).
Dylan Sears, Sr, WR/ DB: The team's top receiver a year ago, Sears hauled in 37 receptions for 496 yards and four touchdowns. He also ran for 119 yards and a score.
Leon Marshall, Sr, RB: Should emerge as the Colonels' top option out of the backfield, taking some pressure off of Adams. Marshall finished his junior campaign with 270 yards and three touchdowns rushing. He also had 39 total tackles for the defense.
Nicholas Smedley, Sr, OL – Will be a factor on both sides of the line for the Colonels. Smedley recorded 16 total tackles and a sack as a junior.
Zach Ernst, Jr, DL – A returning letterman who played in every game for the Colonels as a sophomore. Ernst will be counted on to have a big impact on defense.
Rhys Brown, Jr, DL – Like classmate Ernst, the Dixie Heights' coaching staff is expecting Brown to breakout this fall.
Seth Young, Sr, DB – A solid secondary performer, Young tallied 58 total tackles as a junior.
Colin Chisenhall, Jr, OL – Will be a leader up front after playing in all 11 games in 2018.
NEWCOMERS
Coach Brossart is hoping that a trio of newcomers CJ Nadler, Colin Smith and Pierce Rohlman can ease some of the depth worries that the Colonels have. These guys are all very capable of leaving their mark on this team despite the lack of exposure to Friday night lights.
PLAYOFF HISTORY
State Runner-up (one) – 2014 (6A)
2019 SCHEDULE
Sat – 08/24/19 – at Cooper – 7:30 PM (Roy Kid Bowl)
Fri – 08/30/19 – GEORGE ROGERS CLARK – 7:30 PM
Fri – 09/06/19 – CONNER – 7:00 PM
Fri – 09/13/19 – at Covington Catholic – 7:00 PM
Fri – 09/20/19 – BYE
Fri – 09/27/19 – at Madison Central – 7:30 PM
Fri – 10/04/19 – BEECHWOOD – 7:00 PM
Th – 10/10/19 – at Simon Kenton – 7:00 PM
Fri – 10/18/19 – RYLE – 7:00 PM
Fri – 10/25/19 – at Campbell County – 7:00 PM
Fri – 11/01/19 – SCOTT – 7:30 PM
STRUGGLING ON DEFENSE
In 2014, the Dixie Heights program won 13 games before falling to Trinity in the Class 6A state finals. The Colonels are 13-33 in the four years since. Including that state championship appearance, the Colonels' defense has given up 40 or more points in 20 of the 47 games that it has played.