Dayton Round-Up: Springboro stays perfect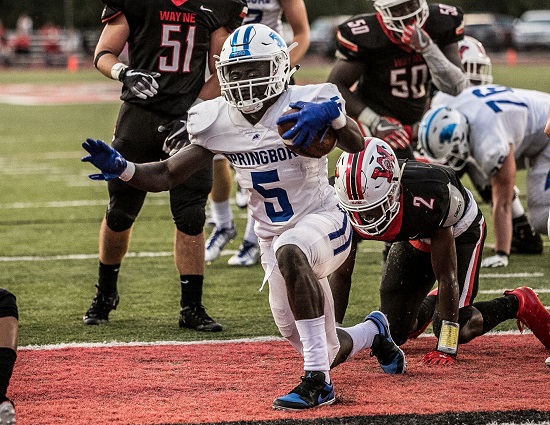 Springboro RB/DB Timmy Keseday (photo by Shelby Frieszell/TriStateFootball.com)
It was night to remember for Springboro (4-0) senior Timmy Keseday who came up large in a 42-27 victory at Wayne (0-4). Keseday secured three of the Panthers five takeaways (two FRs, one INT), had a sack and scored two touchdowns on short runs. The Warriors miscues helped Springboro mount a 28-0 lead by halftime. Fireplug, Moise Armbruster ran for 162 yards and the game's first two scores. The Panthers junior has run for 125-plus yards three times on the year.
Wayne was its own worst enemy. The Warriors racked up 534 yards of total offense, 196 more than Springboro. Quarterback Cam Fancher threw for a career high 308 yards but had three interceptions. He also ran for 83 yards. Devin Nelson kept the Warriors in it late with three touchdown run in the games last 15 minutes. It was the second straight Friday that Nelson has found the end zone three times.
Springboro is 4-0 for the first time since 2012 when the ran they table in the regular season going 10-0. The Panthers are averaging 39. 5 points per contest.
Checkout these great photos from this game from Shelby Frieszell:

SPRINGFIELD 28, NORTHMONT 17
The Smoot boys were the stars for Springfield (3-1) on Friday as the Wildcats came from behind to top Northmont (2-2), 28-17. Senior Tavion Smoot ran for a game and season high 138 yards with two touchdowns for the victors. Sophomore Te'Sean Smoot threw for 250 yards and a pair of scores. Springfield receiver Larry Stephens had six receptions for 112 yards and a touchdown. It was the third time in four games that Stephens has gone over the 100-yard mark receiving. Northmont (2-2) took its first lead of the game less than a minute into the fourth quarter at 17-14 but the excitement was short-lived. Springfield would go back ahead for good 1:57 later when Te'Sean Smoot connected on a 56-yard touchdown pass to Jalen Minney. Tavion Smoot would put the nail in the Thunderbolts coffin with a 68-yard scamper to paydirt with just over two minutes left in the contest.
LEBANON 41, BEAVERCREEK 35
Running back Keith Farr is on fire for Lebanon. The junior ran for four touchdowns and 150 yards as the Warriors eked out a close one at Beavercreek (2-2). Farr topped the 100-yard mark rushing in every game this season. All 10 of his touchdowns have come in the last three Lebanon contests, all wins. The see-saw battle saw three ties and four lead changes including the final flop when Lebanon quarterback, Ethan Marsh scored on a 39-yard run with 2:16 left in regulation. Marsh finished the evening with 184 yards through the air and 65 yards on the ground. Nick Brown fueled the Beavers. The senior quarterback ran for a career high 208 yards and three touchdowns. Beavercreek sophomore Devin Garnes also ran for a career high 108 yards and a touchdown. He came into the affair with just 14 yards rushing on the year.
GREENVILLE 29, FAIRBORN 26
Don't do a double-take, Greenville is 3-1 after controlling the game from start to finish in a 29-26 win at Fairborn. The Green Wave scored on their opening drive and never trailed the rest of the night. Tyler Beyke threw for 174 yards, ran for another 80 yards and accounted for four touchdowns (two pass, two rush) for the Wave. Hunter Warner wasn't going to let the Skyhawks go down without a fight. The junior had career highs of 141 yards and three touchdowns rushing. He was also in on 16 total tackles for the Fairborn defense. The fast start for Greenville may be a bit misleading. The Green Wave have beaten three teams that are a combined 2-10. The good news is, they are beating teams that they are supposed to and that's a good sign in their march to a winning season and playoff berth.
CARLISLE 21, DIXIE 8
The weight has been lifted as Carlisle (1-3, 1-0) knocked off Dixie (2-2, 0-1) ending its 13-game losing streak. The last time the Indians had won a game was on October 27, 2017. They were led by rising star Talon Borders who amassed 208 all-purpose yards, had a rushing touchdown and an interception. The sophomore has hit the century mark rushing in every one of Carlisle's games this season. Brice Naylor chipped in with 118 yards and two touchdowns on the ground for the winners.
Here are some other scores from Dayton area teams in action on Friday night:
GWOC
Trotwood-Madison 24, Fairmont 15
Centerville 49, Miamisburg 14

GCLC
Bishop Hartley 47, Chaminade Julienne 26
Bishop Watterson 41, Carroll 28
DeSales 35, Alter 31
MVL
Xenia 42, Stebbins 0
Troy 14, Tippecanoe 7
Piqua 29, Sidney 0
Greenville 29, Fairborn 26
DPL
La Salle 37, Dunbar 7
Washington 33, Ponitz 0
Clyde 51, Thurgood Marshall 8
SWBL
Valley View 42, Oakwood 0
Waynesville 21, Bellbrook 20
Brookville 28, Eaton 21
Franklin 35, Monroe 7
Milton-Union 47, Northridge 8
Madison Senior 41, Preble Shawnee 14