NKY Round-Up: NewCath knocks off Newport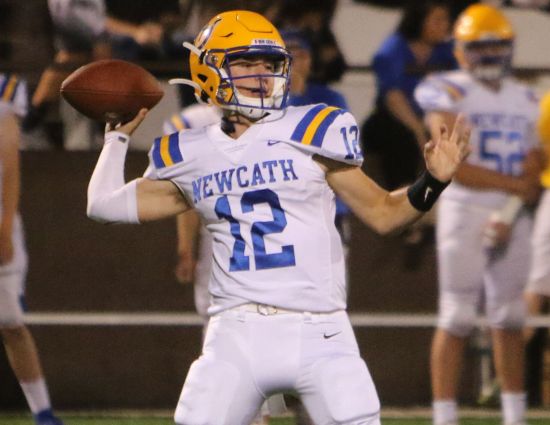 Newport Central Catholic moved to 2-0 in Class 2A, District 6 play and won their third straight game Friday night as they took down their neighborhood rivals, the Newport Wildcats, 37-6.
Newport, who entered the game with a perfect 5-0 mark, gave NewCath all they could handle early on. Both defenses set the tone early in a physical affair as the opening quarter ended scoreless.
The Thoroughbreds got on the scoreboard first when senior quarterback Paul Kremer connected with Caleb Jefferson on a 9-yard TD strike at the 9:29 mark in the second quarter. The teams went to intermission with NCC up 7-0.
NewCath added a 29-yard field goal midway through the quarter to take a 10-0 lead, but the Wildcats would answer when quarterback Kaleal Davis found Simon Keating on a beautiful 31-yard TD strike. The PAT was blocked, however, and Newport would trail by four with less than three minutes to play in the quarter.
The Wildcats would run out of steam in the fourth quarter though and NCC would take full advantage, outscoring their opponents 27-0 in the final frame. Kremer started off the quarter with his second TD pass as he Tanner Daunt on a 7-yard TD pass. NewCath led 17-6 with 9:44 left.
Newport fumbled the ensuing kickoff and NCC recovered it at the Wildcats' 33. Three minutes later Jahmir Ackerson scored a 13-yard TD run and just like that the Breds broke the game open.
They would add two more touchdowns before the quarter ended. The first was a 35-yard interception for a touchdown by Jefferson. The latter was a 7-yard rushing score by Joey Doeker.
Newport will look to rebound next week as they welcome Belleuve. Meanwhile, Newport Central Catholic has a Week 6 bye before hosting Ludlow on October 10.
No. 6 Covington Catholic 45, Cooper 6
Covington Catholic picked up their sixth straight win to open the season as they breezed by Cooper, 45-6. The Colonels registered 420 yards of total offense, most of which came in the first half as they opened up a 38-0 lead.
Running back Daniel Felix scored both of his touchdowns in the first quarter on a 1-yard and 2-yard run. He finished with five carries for 39 yards. Senior Michael Mayer caught four balls for 83 yards and a pair of touchdowns. Caleb Jacob completed 10-of-13 passes for 117 yards and three touchdowns.
The Colonels host Boone County next Friday night. The Jaguars will travel to George Rogers Clark.
Conner 39, Boone County 7
The Cougars spoiled Homecoming Night for the Rebels as they came away with a 39-7 victory at Owen Hauck Stadium on Friday night.
Quarterback Jared Hicks continued his stellar campaign by rushing for 38 yards and three touchdowns on five carries. He also completed 12-of-15 passes for 180 yards and a TD pass. Colton Roy pulled in seven of those catches, finishing with 126 yards receiving a score.
Conner moves to 5-1 on the season and now gets set for a big matchup next week at Highlands. After winning the first two games, Boone County has dropped four straight. Things won't get easier next week when they travel to Covington Catholic.
Here are some other scores from NKY teams in action on Friday night:
#2 Elder (OH) 49, #22 Ryle 7
Boyle County 30, #11 Highlands 0
Johnson Central 49, #19 Simon Kenton 11
Dayton 41, Bracken County 14
Dixie Heights 38, Madison Central 23
Holy Cross 22, Bishop Brossart 19
Ludlow 54, Nicholas County 14
Scott 54, Rowan County 18
Walton-Verona 48, Gallatin County 0
*Stay updated on high school football updates by following @TSFootball on Twitter.