Cincinnati Round-Up: Mason gets big win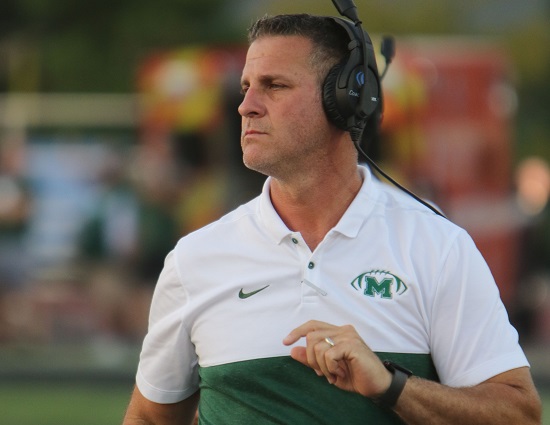 The Battle of the Skies did not disappoint. The rivals played a hard fought, defensive showdown, with Comets coming out with their second win in as many weeks.
Both teams were neck-and neck in the majority of the statistical categories. Mason held a 188-140 edge in passing yards, but Sycamore had the edge on the ground with 132 yards rushing to 102 for the visitors.
The two biggest reasons Mason brought home the victory was turnovers and keeping drives alive. The Comets forced two crucial turnovers while not turning the ball over themselves. On third down Mason went 5-of-9 while the Aviators struggled, going 2-of-10.
Senior Collin Brown connected on 12 of his 18 passes for 188 yards and two touchdowns, including the game-winning score on 65-yard fourth-quarter scoring strike to classmate Alec Dardis. The senior wideout finished with a team-high 99 yards on five catches.
These teams are going in different directions. The Comets have won two straight, while the Aviators have now lost two straight. Mason still has a long way to go if they want to be a part of the playoff picture. Although after a big win tonight, there is reason for encouragement.
No. 1 St. Xavier 27, No. 24 Moeller 24
The opening game of the GCL South schedule turned out much closer than many expected. Moeller entered tonight being shutout in three of their last four. St. Xavier has looked like one of the best teams in Ohio, and many thought this would get ugly quick. The Crusaders were having no part of that.
Moeller jumped out to a quick 21-12 lead by the beginning of the second quarter. But the Bombers had an answer just like they have all season. Receiver Liam Clifford was ungaurdable again tonight. He totaled 13 catches, 173 yards and 2 TDs.
Matthew Rueve was efficient as well, going 31-of-46 for 341 yards and 3 TDs.
Moller played better than we thought, but this game was still dominated by the Bombers. They outgained Moeller 460-251 in total yards, and owned the time of possession 29-18.
No. 14 Turpin 27, Kings 24
Both teams traded blows continuously tonight, but Turpin was the last team standing, and the Spartans stay undefeated on the season.
Turpin outgained Kings 326-203 on the ground. Reece Evens had a career day, accounting for 288 yards and four touchdowns. Ty Sylski had a great day for Kings, gaining 166 yards with a pair of scores.
The Knights' big downfall came on penalties. They had 11 penalties for 152 total yards. They had their chances forcing Turpin into multiple turnovers, but were not able to take advantage.
Kings forced Turpin into multiple turnovers, but weren't able to capitalize and take the lead.
No. 13 Harrison 28, Edgewood 10
The Wildcats solidified themselves as the class of the SWOC tonight with a dominating performance against a very good Edgewood team.
Through five weeks, Harrison's defense has yet to allow more than 10 points. Offensively they handled their business as well.
Conner Kinnett had 3 TD passes, and the scoring of wealth was distributed. Cam Hering had a 39-yard rushing score. Livi Tidwell and CJ young each contributed a touchdown as well.
Here are some other scores from Cincinnati teams ranked inside our Blitz 5 Top 25:
#2 Elder 49, #22 Ryle (KY) 7
#3 Colerain 41, Middletown 14
#4 Fairfield 33, #9 Lakota West 7
#7 La Salle 45, Buffalo St. Joseph's (NY) 0
#16 Princeton 28, #12 Lakota East 24
#15 Hamilton 31, Oak Hills 21
#18 Anderson 48, Withrow 14
#20 Wyoming 21, Mariemont 0
West Clermont 24, #21 Walnut Hills 14
Ross 48, #23 Mount Healthy 30
Little Miami 41, #25 Talawanda 19
*Stay updated on high school football updates by following @TSFootball on Twitter.