Cincinnati Round-Up: La Salle wins GCL South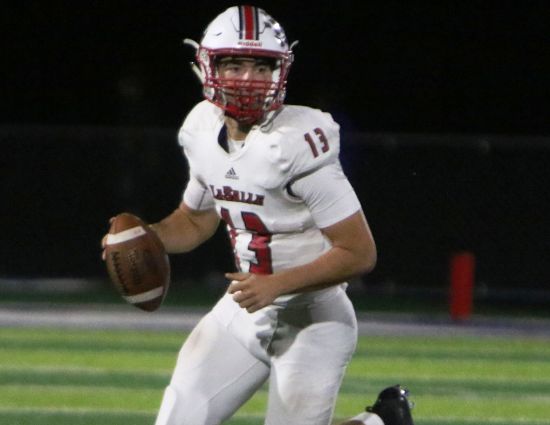 The Lancers were coming off an emotional home loss to Winton Woods last week. Those effects were nowhere to be found at the start of the game. With the GCL South title on the line, La Salle came out with their hair on fire.
Right at the start of the game, the Lancers went on a five-play, 67-yard drive that ended in a Cam Porter Touchdown. They went on to block a punt for a score, and throw a TD pass. Before anyone could blink it was 24-0. Elder scored late in the first, and it was 24-6 going into the locker room.
In the second half, the tables completely turned and the Panthers' offense came to life. Joe Royer caught a TD; Joseph Catania scored multiple TDs in this game as well. Elder's defense limited La Salle to just 20 yards of offense after the break.
The Panthers actually had a chance at the end to take the lead and win the game, but the Lancers' defense stood strong.
Elder cut the lead to two points on a 2-yard run TD run by Catania, but La Salle came up with a huge stop on a two-point conversion to clinch the victory and the league title.
This is La Salle's first GCL South championship since 2016. Elder hasn't won the conference outright since 2008.
No. 15 Mason 35, No. 9 Princeton 19
The Comets made a big statement to the playoff committee tonight. They put on a dominating performance against a team that clinched a playoff berth last week in the Vikings.
The Comets have been one of the more impressive teams in the second half of the season. Here is a team that lost its first three games in disappointing fashion, and many left them for dead. Although head coach Brain Castner has these young men believing as they have won five of their last seven games and now find themselves right in the playoff picture.
Mason handled the Vikings in virtually every statistical category. Mason outgained Princeton in total yards 359-216. Third down efficiency also wasn't close, as the Comets converted close to 50 percent going 7-of-13, While Princeton went 1-of-9. Nolan McCormick led the way on the ground for Mason, tallying 114 yards on 22 carries. Sterling Berkhalter played well for Princeton, gaining 128 receiving yards on three catches.
No. 14 Lakota East 21, No. 13 Hamilton 14
This one hurts for the Big Blue as their playoff hopes hung in the balance in this regular-season finale. The Thunderbirds offense had 323 total yards to Hamilton's 233.
The main key for East in this victory was time of possession. East dominated the ball 31-15. Tavier Lugo-Flowers had 127 rushing yards on 28 carries. Josh Thornhill and Mike Krajewski .
The only bright spot for Hamilton was Kaleb Johnson, who had 116 yards on 10 carries with a score. Both teams finish the season at 5-5, and their playoff chances hang on a thread.
Here are some other scores from Cincinnati teams ranked inside our Blitz 5 Top 25:
#7 Colerain 16, #2 Fairfield 10 OT (RECAP)
#6 St. Xavier 35, Louisville St. Xavier 30
#10 Harrison 49, Northwest 0
#11 Lakota West 41, Middletown 13
#12 Turpin 42, Milford 13
#16 Sycamore 35, Oak Hills 0
#17 Anderson 63, Loveland 8
#18 Wyoming 21, Indian Hill 18 (RECAP)
#23 Clinton-Massie 63, Wilmington 24
#24 Ross 34, Talawanda 21
#25 Franklin 35, Oakwood 0
*Stay updated on high school football updates by following @TSFootball on Twitter.