Wyoming keeps streak alive, wins CHL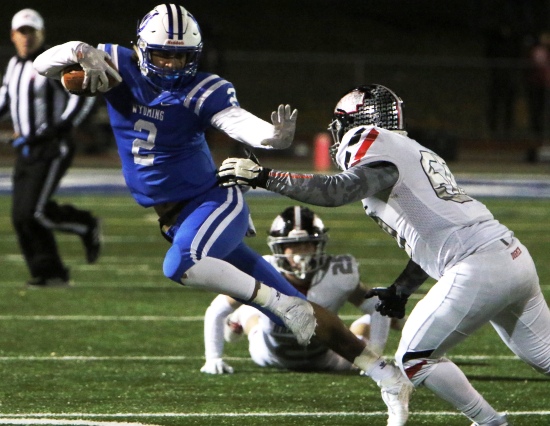 CINCINNATI, Ohio – Defending Division IV state champions Wyoming held on to edge Indian Hill, 21-18, to finish the regular season 10-0 for a fourth straight year. It was the 25th straight win overall and 41st consecutive regular season victory for the Cowboys.
Wyoming captured their fourth straight CHL crown and fifth win in a row over the Braves. The Cowboys have earned the #1 seed in the Division I, Region 16 playoffs.
Senior quarterback Evan Prater changed his uniform from his customary number three jersey to number two to honor his classmate and Wyoming starting running back Elijah McGee, whose season ended came to and with a torn ACL two weeks ago. Prater did his tribute in grand fashion running for a career-high 303 yards on 37 carries with three touchdowns for the victors.
The Cincinnati-bound senior had 242 yards rushing in last year's state championship game win over Girard. Prater is just nine yards (rushing) away from his second season of more than 1,000 yards through the air and on the ground.
Indian Hill stayed close behind the arms and legs of quarterback Tre Lopez. The senior led the Braves to 15 unanswered fourth quarter points, but it was still just short of the end goal. Despite the loss Indian Hill will be headed back to the postseason for a fifth year in a row. It will be the 12th playoff appearance for the program.
As good as Prater was on offense, the Wyoming defense was his equally. It was the 25th straight contest in which the Cowboys have allowed fewer than 19 points.
SCORING BY QUARTERS
Indian Hill 0-3-0-15-18
Wyoming 7-7-7-0-21
RECORDS: Indian Hill (8-2, 6-1); Wyoming (10-0, 7-0)
UP NEXT: Indian Hill vs. TBD; Wyoming vs. TBD
*Stay updated on high school football updates by following @TSFootball on Twitter.
+++
Check out these great photos from TSF Senior Photographer Dan Beineke: