Dayton Round-Up: Northmont now sits atop of the GWOC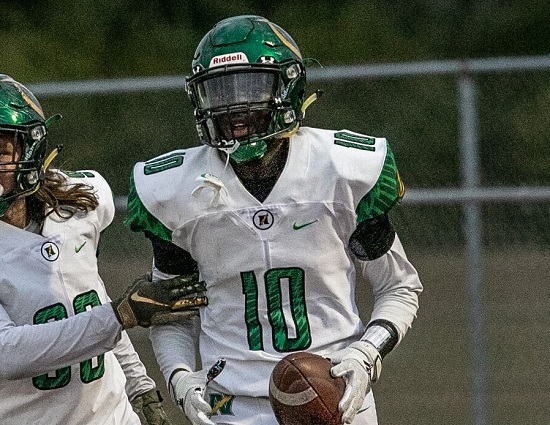 Northmont WR/DB Rod Moore (photo by Shelby Frieszell/TriStateFootball.com)
It wasn't pretty and at times, downright ugly, yet Northmont (4-0) battled back to beat Springfield (3-1) overtime. The teams combined for 163 penalty yards on 18 yellow flags, Springfield committed 13 of those fouls for 107 yards. There were six turnovers, four by Northmont. The bad was bad, but the good was great. The game was highlighted by six electrifying touchdowns of 20 yards or more, including four of 53-plus yards and a game winning field goal in OT.
Northmont's dynamic duo, University of Michigan commits Rod Moore and Markus Allen were nothing short of fantastic. They combined to reel in 18 receptions for 271 yards and four touchdowns. Moore had 11 catches for 150 with touchdown receptions of 20, 37 and 60-yards. Allen caught seven balls for 121 yards and had a 53-yard touchdown reception. Thunderbolts quarterback Cade Rice threw for 295 yards and accounted for five touchdowns (four pass, one rush).
Springfield looked like t was going to run away with this affair after building a 28-7 lead after one quarter of play. The Wildcats went into the fourth quarter with a 28-14 lead.
Northmont would strike with a fury behind the arm of Rice and the speed of Moore and Allen. The Thunderbolts scored 21 points in the first eight minutes of the final stanza giving them a 35-28 lead and their first advantage of the game.
With 1:40 left in regulation Springfield quarterback Te'Sean Smoot would find paydirt for a second time. A Cole Yost extra point tied it up at 35-35 which is the way it would end in regulation. Smoot finished the night with a career high 400-yards passing while accounting for five touchdowns (three pass, two rush)
In overtime Springfield got the ball first. Yost missed a 38-yard attempt. Northmont stalled out on their drive. Then Thunderbolts called upon the leg of Xavier Vuong, who had already recorded two sacks and hit on all five of his extra point attempts. On his first field goal attempt at the varsity level, the junior nailed it from 28-yards out to give Northmont the 38-35 victory.
Here are scores from Dayton area teams that were in action on Friday night:
GWOC
Springboro 35, Centerville 22: The potent Springboro (2-1) offense was at it again. The Panthers are averaging 49.5 points per game after their disposing of Centerville (1-3). Moise Armbruster ran for 134 yards and his seventh touchdown of the year for the victors. It was Armbruster's third 100 yard-plus game rushing on the year. Teammate Titan Case found the end zone three times (two rec, one rush). Case has touched the ball 28 times for 398 all-purpose yards with eight touchdowns.
Fairmont 21, Miamisburg 7: Sophomore Drew Baker had a breakout evening with 127 yards and two touchdowns rushing as Fairmont (1-3) picks up its first victory. Firebirds quarterback Male'k Hillon ran for a game high 138 yards.
Wayne 70, Beavercreek 8: Nine different Warriors found the end zone as Wayne (3-1) won for the third straight Friday night. Beavercreek (0-4) remains winless. The Battlin' Beavers are giving up 56.5 points per contest with an average margin of defeat of 46.5 per game.
MVL
Sidney 28, Xenia 21: Quarterback Ced Johnson ran for two and threw for two touchdowns as the Sidney (2-2) evened its record. Johnson had 215 yards passing another 73 yards rushing.
Tippecanoe 30, Troy 26: Tyler Carlson ran for his second touchdown with just 1:36 left in regulation catapulting the Red Devils to a 3-0 start. Junior Cayd Everhart had 15 solo tackles for Tippecanoe. It was his third game in a row with 10 or more solo takedowns.
Piqua 27, Stebbins 0: The Indians continue to click on all cylinders. The Piqua (4-0) defense recorded its second straight shutout. They are allowing just 7.0 points per contest and have 14 takeaways.
Butler 17, Greenville 6: Despite three turnovers the Aviators finally get into the win column. Greenville is averaging just 1.5 points per game.
GCL CO-EDS
Alter 48, Carroll 0: Branden McDonald carried the ball 14 times for 279 yards and four touchdowns as the Knights won their second straight game. It was the fifth time in his career that McDonald has ran for more than 200 yards. He now has 3,214 yards and 32 touchdowns rushing in an Alter (2-2, 2-1) uniform.
McNicholas 22, Chaminade Julienne 0: The offensive woes continue for Chaminade Julienne (1-3, 0-3) as they drop a third straight contest. The Eagles have not scored more than 21 points in a game this season.
Badin 42, Fenwick 6: Unbeaten Badin (4-0, 3-0) was too much for the Falcons to handle. The Rams limited Fenwick (0-3, 0-3) to just 100 yards of total offense and only three yards rushing.
SWBL
Brookville 28, Monroe 3: Blue Devils improve to 4-0. Senior Brennon Moore ran for more than 100 yards and three touchdowns for the second time this season.
Oakwood 25, Northridge 14: Lumberjacks break a 10-game losing streak. It was also the first time that Oakwood (1-3) has scored more than 14 points in that same span.
Milton-Union 26, Preble Shawnee 8: Andrew Lambert threw a touchdown pass, ran for a score and had a touchdown catch as the Bulldogs improved to 3-1.
Franklin 9, Valley View 3: It is the third straight season that Valley View (2-2) has lost back-to-back games to Bellbrook and Franklin.
Bellbrook 42, Eaton 0: Golden Eagles recorded their third shutout of the year. Bellbrook (4-0) RB Seth Borodny racked up 180 yards rushing with three trips to the end zone. It was the juniors third game with at least 130 yards rushing and three touchdowns.
Middletown Madison 30, Carlisle 20: The Mohawks even their record at 2-2. Madison Senior running backs Logan Gibson (103.3) and Dontai Pendleton (111.5) are each averaging more than 100-yards per game rushing.
Waynesville 48, Dixie 14: Spartans win their third in a row after dropping the opener to Bellbrook. Zane Blaisdell had three receptions for 151 yards and two touchdowns. He also had a touchdown run and an interception.