NKY Round-Up: Beechwood blows past Ryle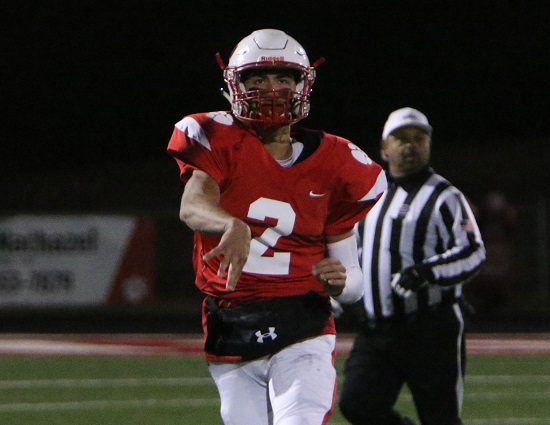 Beechwood QB Cam Hergott (photo by Dan Bieneke/TriStateFootball.com)
Three weeks into the Northern Kentucky football season and the cream is starting to rise to the top at each level. It should set the stage for an exciting month of October ahead.
BEECHWOOD 35, RYLE 14
A week after coming up just short against Covington Catholic, Beechwood erased any doubts early versus Ryle as they picked up their second win of the season.
The Tigers scored 21-0 unanswered points in the first half as they held 179-14 advantage in total yards. Mitchell Berger got things started for Beechwood with a 1-yard TD run with 4:32 left in the first quarter.
Berger added a second TD early in the second frame as the Tigers built a 14-0 lead. Sophomore linebacker Austin Waddell came up with a 21-yard pick six to round out the half.
Cameron Hergott connected with Berger on a 43-yard TD pass midway through the third quarter to add fuel to the fire. Hergott threw for a second TD later in the half when he found a wide open Parker Mason on a 49-yard scoring play.
After starting the year off with a 31-point win over Boone County the Raiders have now dropped two straight, including last week's 23-14 loss versus Highlands.
NEWPORT CENTRAL CATHOLIC 17, NEWPORT 14
The last time the Wildcats won the Fireman's Bell was 1999 and despite coming close in this battle, they'll have to wait at least one more year to end that run. The two teams battled to the end, but the Thoroughbreds' defense came up with the big stops when they needed them most.
Quarterback Ethan Jefferson put the Wildcats on the scoreboard first in the opening quarter with a 6-yard TD run. NewCath's defense though would haunt Jefferson for most of the quarter. They sacked him three times in the frame.
The special teams by the biggest play for NCC though when Justin Schneider recovered a fumbled punt in the end zone to knot the game at 7-7.
Malaki Herndon gave NCC the lead with a quarterback sneak from two yards out. Sam Lavin made it a 10-point lead when he hit a 36-yard field goal just before the half.
Newport cut the lead to three when James Martin plowed in from three yards out. The Wildcats would have their chances down the stretch to pull off the upset, but they fumbled it away with just over a minute to play as NewCath prevailed.
NO. 7 COVINGTON CATHOLIC 41, COOPER 0
The Colonels picked up their 18th straight win in convincing fashion as they breezed by Cooper for their third win of the season. After a scoreless opening quarter CovCath put three touchdowns on the scoreboard before the first hall came to close and never looked back.
Senior quarterback Caleb Jacob threw for three scores and ran for two more in the win. He tallied 51 yards on seven carries and completed 17-of-23 passes for 261 yards. Ethan Reardon led the Colonels in receiving with six catches for 61 yards and two touchdowns.
Here are some other scores from Northern Kentucky teams in action:
Johnson Central 47, No. 15. Simon Kenton 17
Boyle County 46, No. 21 Highlands 7
Oldham County 17, Campbell County 14
Conner 40, Boone County 0
Dixie Heights 26, Madison Central 14
Loveland (OH) 48, Holmes 14
Rowan County 53, Scott 30
Walton-Verona 34, Gallatin County 8
Bishop Brossart 35, Holy Cross 7
Lloyd 54, Bellevue 0
Nicholas County 38, Ludlow 16
Grant County 50, Montgomery County 40
*Stay updated on high school football updates by following @TSFootball on Twitter.