2020 TSF Northern Kentucky OPOY Finalists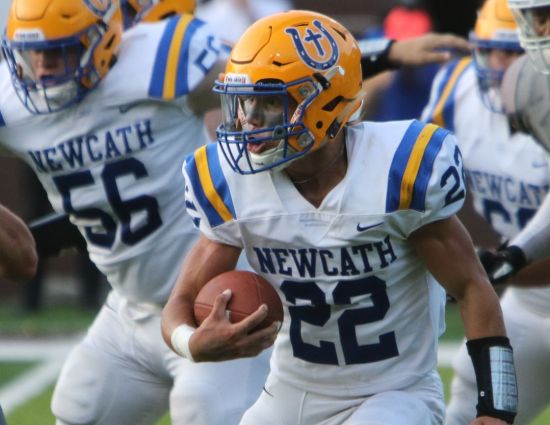 Newport Central Catholic RB/DB Joey Runyon (photo by Dan Bieneke/TriStateFootball.com)
Dual threat running backs, two-way stars and three very established high school quarterbacks top the list of seven finalists for the 2020 TriState Football Northern Kentucky Offensive Player of the Year. Five seniors and two juniors highlight the marquee.
This is the second time that Caleb Jacob (Covington Catholic and Jeremiah Lee (Cooper) have been named TSF NKY OPOY finalists. The become just the 13th and 14th players t to have achieved that goal in this the 14th year of finalist selections. Quincy Perrin (Scott) is the only player to be named a TSF NKY OPOY finalist three times (2017-'19).
Here are the finalists for the 2020 TSF Northern Kentucky OPOY:
Kyle Guenther (Carroll County), Sr, RB/DB – An excellent player in all phases of the game who exploded on offense as a senior. Guenther ran for 1,259 yards, had 23 receptions for 351 yards, threw a touchdown pass and found the end zone 23 times (19 rush, three rec, one KR) on his way to Class 2A, District 5 Player of the Year and Honorable Mention All-TriState Football accolades. On defense he recorded 54 total tackles and snared a pair of interceptions. Guenther finished his career at Carroll County with 2,817 yards from scrimmage (1,753 rush, 1,064 rec), 44 touchdowns (28 rush, 10 rec, two PR, one KR, one FR, one IR, one pass), 65 receptions, 184 total tackles, 11.0 tackles for losses, one fumble recovery and six interceptions.
Cam Hergott (Beechwood), Sr, QB – Was the catalyst for a Beechwood (10-2) team that won its second state title in the last thee seasons with Hergott at quarterback. He amassed 3,545 yards of total offense (2,467 pass, 1,078 rush) and accounted for 41 touchdowns (26 pass, 15 rush) as the Tigers captured the school's 15th state championship. That performance earned Hergott the pinnacle of honors, KFCA Kentucky Mr. Football. He was also the Class 2A, District 6 POY, First Team NKFCA All-NKY and First Team All-TSF. Hergott finished his career with 6,214 yards passing, 2,376 yards rushing, 65 touchdown tosses and 34 scores on the ground.
Caleb Jacob (Covington Catholic), Sr, QB – Threw for 1,796 yards, ran for 558 yards and accounted for 25 touchdowns (15 pass, 10 rush) for the 10-2 Colonels. Jacobs garnered Second Team NKFCA All-NKY (for the second time, also in 2018) and Honorable Mention All-TSF acclaim this past fall. In his three years as a starter, Covington Catholic went 39-3, winning the Class 5A state championship in 2019. Jacob finished his career with 7,445 yards passing, 577 yards rushing, 71 touchdown passes and 25 rushing touchdowns.
Jeremiah Lee (Cooper), Sr, ATH – The four-year starter had his first 1,000-yard season rushing, going for 1,093 yards and nine scores on the ground. He also threw for 576 yards, had five touchdown passes, 26 total tackles, one fumble recovery and one interception. He was named Class 5A, District 5 Player of the Year, First Team NKFCA All-NKY (ATH) and Third Team All-TSF (ATH) for his efforts. This was the third consecutive season that Lee was a First Team All-NKY selection. He leaves Cooper having accrued some very impressive numbers with 4,469 all-purpose yards, 2,607 yards rushing, 2,175 yards passing, 41 receptions for another 523 yards, 23 touchdown tosses, 33 rushing scores, five touchdowns on returns (two KRs, two FRs, one IR), 62 total tackles and seven takeaways (five INTs, two FRs).
Braxton Newborn (Ludlow), Jr, RB/LB – What an incredible season for Newborn! He churned out 1,827 yards rushing, had 15 receptions for 203 yards, hit paydirt 27 times (26 rush, one rec), registered 107 total tackles, had a sack, 11.0 tackles for losses and a fumble recovery on his way to First Team NKFCA All-NKY (RB) and Third Team All-TSF (RB) honors. Will head into his senior season with 2,667 yards and 37 touchdowns rushing as well as 170 total tackles.

Pierce Rohlman (Dixie Heights), Jr, RB/LB – Had no problem becoming the Colonels featured runner this past fall. Pohlman ran for 772 yards with 11 touchdowns (10 rush, one rec) as a junior. On defense, he tallied 51 total tackles and had an interception. That earned him Class 6A, District 6 POY, First Team NKFCA All-NKY (RB) and Honorable Mention All-TSF accolades.

Joey Runyon (Newport Central Catholic), Sr, RB/DB – The "closer" for the Thoroughbreds offense. Runyon found the end zone 15 times (13 rush, two rec), ran for 907 yards, was in on 41 total tackles and had four takeaways (three INTs, one FR) for Newport Central Catholic (8-3) who made it to the Class 1A state semi-finals before being ousted by eventual champion, Paintsville. He was name Second Team NKFCA All-NKY (RB) and Honorable Mention All-TSF for the work. Runyon leaves NewCath having ran for 1,282 yards, having caught 41 balls for another 284 yards, scoring 21 touchdowns (16 rush, four rec., one KR) with 72 total tackles and four interceptions.

Cole Wallace (Rowan County), Sr, RB – Despite playing in just seven games, Wallace got the most out of his senior campaign. He ran for 1,416 yards, had 13 receptions for 128 yards, found the end zone 17 times (16 rush, one rec), was in on 46 total tackles, had three sacks and nine tackles for losses as Rowan County finished 4-3. Wallace ran for 4,721 yards with 57 touchdowns in a Vikings uniform.