Indiana Playoff Primer: Sectional Finals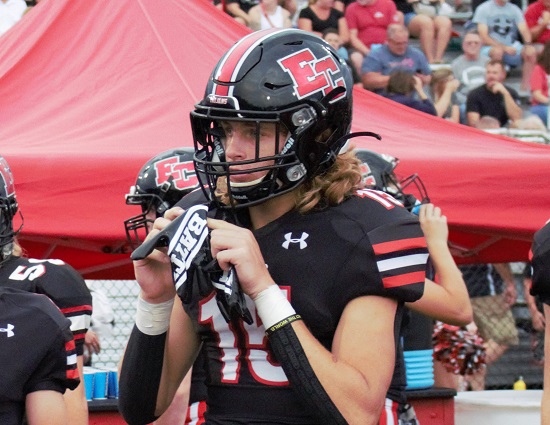 East Central RB Josh Ringer (photo by Greg Shoemaker/TriStateFootball.com)
There are three TriState Football squads in Southesast Indiana playing for Sectional titles on Friday night. It promises to be an incredible evening in the in the corner of the Hoosier state.
Class 1A, Sectional 47
North Decatur (6-4) at Tri (9-2)
Tri Titans can run-up the scoreboard. Tri averaging 55.0 PPG during their current 6-game winning streak. Four Tri players have run for at least 10 touchdowns juniors Parker Burk (19), Gary Paull (12), Mason Wilson (11) and senior Christian McLemore (10). North Decatur has won 6 in a row after dropping first four. The Chargers are looking for third straight Sectional championship and fifth overall for program. They are led by juniors running back Reid Messer 1,422 RuYds, 1,895 APYds & 24 TDs (22 rush, 2 rec) and quarterback Carson Parmer (1,374 PaYds, 14 PaTDs).
Class 3A, Sectional 31
Brownstown Central (11-0) at Lawrenceburg (10-1)
It is only appropriate that two programs that that wrote the books on how to win consistently square off at this point of the postseason. Lawrenceburg has won the last three playoff games in this series dating back to 2015 including a 33-20 victory last season. Last time Brownstown Central beat the Tigers was in 2009. The Braves are looking for their first regional crown since 2018. Lawrenceburg won 10 games in a row for the 4th time in last five years (53-14 in that span). Lawrenceburg looking for 5th Sectional title in last six years. Brownstown Central has posted 41 points or more eight times. The Braves are led by a three-headed monster out of the backfield with senior running backs Kiernan Tiemeyer (1,273 RuYds), Jake Pauley (840 RuYds) and junior quarterback Carson Darlage (1,073 RuYds). Tigers quarterback Garrett Yoon is close to becoming the 12th player in Indiana history to throw for more than 9,000 yards
Class 4A, Sectional 23
Martinsville (7-4) at East Central (9-2)
East Central beat Mooresville 52-26 to get here. Mooresville had knocked the Trojans out of the playoffs in each of the last two years. Sophomore running back Josh Ringer returned for East Central He ran for 202 yards and three touchdowns on 30 carries (two rec., 67 ReYds) in the victory. It was just his fourth game of the year. Classmate quarterback Cole Burton has been a pleasant surprise (1,485 PaYds, 17 Pa TDs, only 1 INT, 147 RuYds, 6 RuTDs). Trojans are looking for first Sectional title since 2018 and first under head coach Jake Meiners. Martinsville lost to Mooresville 49-13 five weeks ago. The Artesians haven't won a Sectional title since 1996. All seven of the school's crowns came between 1980 and '96.