Player Spotlight: Byron May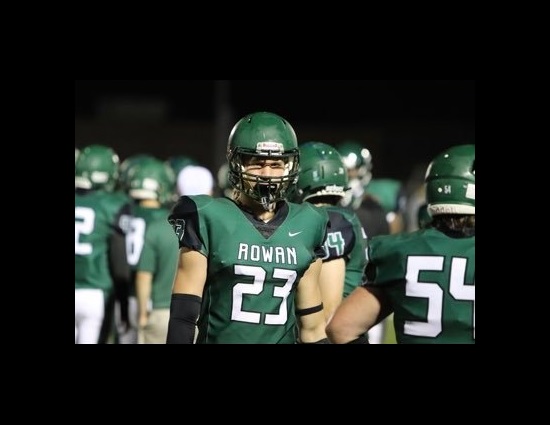 Rowan County DE/OLB Byron May (photo from Twitter: @ByronMay23)
Nestled down in the southeastern most part of TriState Football's coverage area lies a hidden gem of a player that everyone should know about, Byron May. The 6-foot-2.5, 230-pound Rowan County defensive end has a motor that never idles and a propensity for blowing up plays in opposing backfields.
May took advantage of the KHSAA reclassification rule after the 2020 season and came back to replay his junior campaign last fall. It was a move that paid off big dividends. The Vikings senior-to-be finished with 74 total tackles, 15.5 sacks, had 20.5 tackles for losses, with three forced fumbles and a fumble recovery. He earned All-EKC and TriState Football Kentucky Defensive Player of the Year Finalist honors for his efforts.
"My decision to reclassify had many factors in it. The first reason is I felt Covid took away many of the high school experiences I could have had with my teammates and my peers. I also skipped a grade when I was younger so I did not want to graduate at 17 because I knew I was not as mentally and physically developed as I could be as a player," May states. "I also felt that I did not have as good of a season as I had hoped for in 2020. Recruiting was not heating up as much as I would have liked. I wanted to take a fifth year and become the best high school version of myself."
This extra season also allows May to thrust himself into a leadership role on and off the field. He is clearly in the right frame of mind to do so. "The 2022 Vikings will be a young team, loaded will great potential. I am very excited to play along these upcoming juniors and sophomores and for them to show off their hard work on the field and in their weight room. I am also excited because I see more and more people in the weight room and out on the field more regularly than I ever have and it's really inspiring me to compete," he maturely states.
As for the next level, May has an offer from his hometown university, Morehead State as well as Grinnell College. He is also drawing interest from Army and Navy. May has taken heed of what college coaches are wanting him to work on. "They are telling me that I need to become more flexible in the lower body to become more powerful and athletic. I also need to use my length more to lock out an offensive tackle to reset the line of scrimmage."
A driven individual, you can bank on May dedicating himself to perform at an even higher level than he did this past season. That is great news for the Vikings and scary thought for Rowan County foes.