Butler needs to finish off foes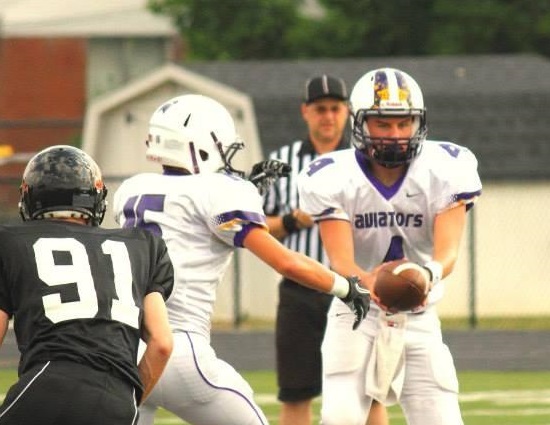 Finish the job that will be the mantra coming out of the Butler coaches mouth throughout the upcoming pre-season. The Aviator started 2014 of with an impressive 19 point win over Springfield Shawnee then things took a turn for the worse. Butler lost its next three tilts by one, four and six points. The squad slipped to a 1-4 start after a fourth consecutive loss to lowly Springfield. The flyboys couldn't correct the tailspin.
An experienced and tested core on defense and some solid skill players returning on offense this Aviators team has a chance to do some damage. This is not a big squad on either side of the line but they have been through the battles. Avoiding getting worn down as the season progresses will be a huge plus. Butler has to show that they can close the deal and that starts with being tough minded.
Division II, Region 6
2014 RECORD: 4-6, 3-2 GWOC North
COACH: Greg Bush (26-25 @ Butler, five years, 26-25 overall)
HONOR ROLL
Chandler Craine, Sr, QB – Craine topped the 1,000 yard mark passing for the second straight season on his way to being named First Team All-GWOC North as a junior. Starting and passing for a 1,000 yards for a third straight season is a feat that very few Butler quarterback's have ever achieved and Craine has the chance to do so this this fall.
Vinnie Fiori, Sr, DL – The soul of the Butler defensive line Fiori garnered First Team All-GWOC North accolades a year ago. He has 101 total tackles at the varsity level.
Dustin Lewis, Sr, DB/P – A ballhawk on defense Lewis had five takeaways (three fumble recoveries, two interceptions) to go along with 46 total tackles. Lewis also averaged 38.3 yards on 28 punts with eight of those landing inside the opponent's 20-yard line. He was named Second Team All-GWOC North as a punter.
Nic Martin, Sr, RB/LB – An outstanding bounce back junior campaign saw Martin named Division II Third Team All-Ohio at linebacker. He also led the team with 10 touchdowns rushing while gaining 441 on the ground. Martin is starting to get serious looks for
OTHER RETURNEES
John Anderson, Sr, DB – Anderson would like to start 2015 like he did '14 and finish strong.
Noah Ballard, Sr, WR – An explosive start to 2014 saw Ballard bust out career high's of seven receptions for 163 yards and two touchdowns in the opener versus Shawnee. He only caught 13 more passes for 197 yards and one touchdown in the Aviators final nine contests.
Zach Calvert, Sr, DB – The small but mighty Calvert proved his worth with 20 solo tackles as a junior. He was one of just five Aviators defenders to accomplish that feat.
Joseph Depoy, Sr, FB/LB – A starter at fullback and running back injuries cut Depoy's promising junior season short after six games. His presence is a big plus on both sides of the ball.
Curtis Davis, Sr, DL – Davis led the Aviators with three sacks a year ago. All of those came in the final five weeks of the season.
Cameron Glover, Sr, WR/DB – Always a threat to break a big play off when he gets the ball in his hands Glover had 23 receptions for 357 yards last season. The Aviators need him to be more consistent he had five games as a junior with one catch or less.
Matt Grossman, Jr, FB/LB – Was starting until an injury ended his sophomore season.
Zach Jackson, Sr, DB – A starter in the secondary Jackson had a pair of interceptions including an 84-yard pick six against Shawnee last fall.
Gavin Kohler, Jr, LB – A solid sophomore saw Kohler get in on 36 tackles, record 1.5 sacks and recover two fumbles as a sophomore.
Delshon Williams, Sr, OL/DL/FB – Williams gives the Aviators valuable depth on both sides of the ball.
Drew Sipos, Sr, OL – The 6-foot-3, 230 pound Sipos started all 10 games at guard as a junior.
Tim Smith, Sr, OL – Smith started all 10 games at center in '14.
NEWCOMERS
Aaron Fields, Jr, WR – Fields came on at the end of the season as a receiver. He will be in the running for a starting position.
Logan Flatt, So, RB – Keep an eye on the sophomore who will be pushing for playing time in the backfield.
Tyler Hoops, Jr, OG- 6'0 215 – Hoops started last three games at guard as a sophomore and looks to retain that role this fall.
Carl Krauss, Sr, TE/LB – As a junior, Krauss played special teams and tight end. He will be vying for a starting spot at tight end or linebacker.
Dylan Sagers, Jr, LB – Sagers earned valuable snaps as a sophomore expect him to be a major cog in the Aviators defense.
PLAYOFF HISTORY
(six appearances, 6-6) – 2013, 2003, 2002, 2001 (Regional Champions), 2000, 1999
2015 SCHEDULE
The first five contests are going to be trying for Butler. At Shawnee, hosting Tecumseh then road games at Wilmington and Xenia who were a combined 14-6 a year ago then upstart Springfield. The Aviators went 1-4 versus that quintet in '14.
TAKING CARE OF THE ROCK
In the last eight games of 2014 Butler turned the ball over 25 times. On the season the Aviators lost the turnover battle 27-21. –