2016 Snapshot: Carlisle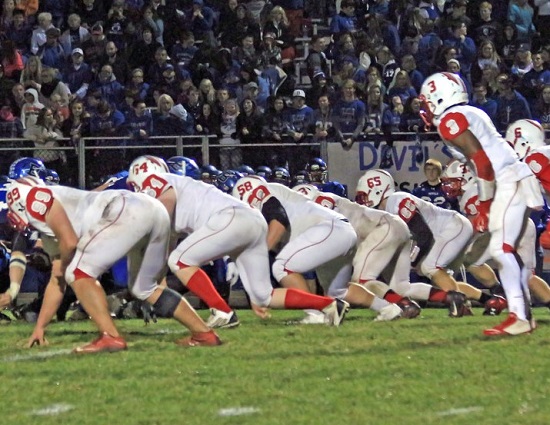 There was a taste of success for Carlisle in 2015. The Indians made it to the playoffs under Mike Brown who was in his first year as the school's head coach. Brown's boys were humbled in the postseason by Southwest Buckeye League rival Brookville, 41-0. This fall there is some business to finish and a hunger to be filled. Carlisle has the talent and desire to get it done this fall.
"We are returning skill position experience that now has one year in a new system," Brown says. Many of the returnees are capable runners and receivers. They are interchangeable parts except one, running back, Ridge Reed. The run rules in November and December. Carlisle could ride a special player like Reed for a long time in the playoffs.
In order to do that help has to come from up front. Carlisle must replace four starters on the offensive line. Coach Brown needs this new unit to gel early. The defensive front has to do the same. The Indians yielded 31 points per game in its five loses a year ago. The average margin of defeat was 21.2 points in those affairs. Winning the war in the trenches is imperative if this team is to take the next step and become SWBL royalty in '16.
Division V, Region 20
2015 RECORD: 6-5, 4-2 SWBL Buckeye
COACH: Mike Brown (6-5 at Carlisle, one year, 39-17 overall, five years)
HONOR ROLL
Ridge Reed, Sr, RB/LB – Already established as one of the top Division V players in the state, Reed was named Second Team All-Ohio and the SWBL Buckeye Offensive Player of the Year as a junior. Five times in his last eight games Reed has ran for 170 yards or more (that includes a one carry tilt against Eaton). He finished last season with 1,825 yards (8.6/carry) and 19 touchdowns on the ground. Reed has 45 touchdowns and 10.0 sacks in his career. It is a very rare feat to his distinction.
Reece Human, Sr, DL – Human was a beast in the trenches in '15. The 6-foot-3, 245 pound lineman was named Honorable Mention All-Ohio and First Team All-Southwest District for his work.
DJ Chambers, Jr, WR, RS – Chambers can change the complexion of the game any time he touches the ball. He earned Honorable Mention All-Southwest District honors last season. Only a junior, Chambers already has 1,741 all-purpose yards and 14 touchdowns.
Zayne Hart, Jr, RB/Slot/KR/PR – It was a breakout campaign for Hart in '15. He ran for 269 yards, had 19 receptions for 254 yards and four rushing touchdowns. On defense, he was in on 46 tackles with two interceptions. Hart garnered Honorable Mention All-Southwest District accolades for the effort.
Steve Summer, Sr, OL – An Honorable Mention All-SWBL Buckeye selection in '15 the 6-foot-5, 295 pound Summer has an offer from Urbana.
OTHER RETURNEES
Adam Goodpaster, Sr, QB/DB – The versatile Goodpaster gives the Indians coaching staff flexibility on the field and insurance against injuries. On defense he came up with seven takeaways (three fumble recoveries, four interceptions) last fall. Touches are hard to come by in the Carlisle offense after Reed. Goodpaster has made the most of his limited opportunities when called upon.
Brad Harrison, Sr, K – Harrison has handled the kicking duties the past two seasons for the Indians. He has connected on 63-77 extra points and 4-8 field goals for 75 points at the varsity level.
Caleb Boy, Sr, WR/LB – Boyd is an all-league caliber football player. He is a terror on defense coming up with a sack, fumble recovery and three interceptions in '15. On offense he caught 15 balls for 138 yards and a touchdown.
Jake Moore, Sr, QB – In limited time under center a year ago Moore completed 61.0% of his passes while accounting for 508 yards of total offense (358 passing. 150 rushing) and four touchdowns (three rushing, one passing). All signs point to a big season for Moore.
Logan Baker, Sr, OL/DL – The 6-foot-2, 245 pound Baker will be called upon to be a leader in the trenches for the Indians.
Spencer Mays, Jr, ATH – Keep an eye on Spencer the youngster could be a real pleasant surprise for Carlisle.
PLAYOFF HISTORY
(seven appearances, 1-7) – 2015, 2010, 2009, 2004, 2001, 1984, 1980
2016 SCHEDULE
Six road games including three in the first four weeks and three in the last four weeks means Carlisle will have to remain focused away from the friendly confines of Laughlin Field. Going 3-1 to start at Franklin, against Miami Trace and on the road versus Oakwood and Waynesville would be a huge boost to the Indians playoff aspirations. From that point on it will all be about taking care of business. There will be no one left on the schedule that Carlisle isn't capable of beating.
UPPER ECHELON EFFORT
The old adage goes "if you want to be the best, you have to beat the best." The last time Carlisle defeated a team that finished the regular season above .500 was Waynesville (7-3) back on September 20th, 2013. The Indians have played 27 games since that victory going 16-11 with all of those wins against lesser foes.